To the USA

Beez Neez
Skipper and First Mate Millard (Big Bear and Pepe)
Sat 16 Apr 2011 22:22
En Route to Fort Worth Inlet, Florida, USA
We were up and ready to leave at six thirty and out at sea by a quarter to seven. The yacht in the sunrise is Eureka - Douglas and Annie en route to Cape Canaveral. Their home is Washington DC and we hope to meet up with them to do the sights. Just like us, it's only when you have visitors do you become a tourist yourself. The forecast for today was for fifteen knots of wind in the right direction, seas nice and calm - Perfect. By eight we had done seven miles, by ten - nineteen, by midday - thirty one, amazing we will be there in a few hours. VERY famous last thoughts.
We saw this yacht called Lyric and heard him chatting to another. They were agreeing that the weather had been just awful since leaving Florida (great we are heading into it) and the winds had not been as forecast (more great news). Lyric did amuse us by saying he "had his engine on for show"............................... Is he seeking a rosette ??? At this point we noticed the wind shift and the seas picking up.

A sport fisherman, not going particularly fast and as a wave hit. Again it is always difficult to get a 3D image of a rough sea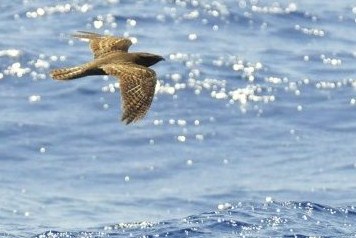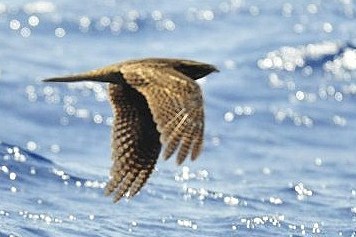 Now call me old-fashioned but I don't go to sea in order to photograph birds of prey. So how shocked was I seeing this young Tiny Hawk. He flew round us a few times very slowly for half an hour or so, looking exhausted. I had hoped he would stop on Beez for a rest and a bit of tuna, but, as both sails were out we must not have looked very inviting. We do hope he made it across OK. Now talking of not inviting, Bear suddenly chirped up, I DO hope that what happened to you yesterday (re: being stalked by something angry looking during my snorkel) will not put you off as you produce some good underwater pictures. "Oh, just call me Stumpy, but I got some cool shots.............". Another amusing call on the radio went like this. "Tanker three miles off my starboard bow, come in please" repeated very nicely. At this, we started singing that well known Trekky song - "Klingons off the starboard bow, starboard bow...." amazing what amuses us if you think about it, please don't. Same message again twice, no response, then came a very bored voice, "You'll have to be more specific, I'm looking at twelve tankers". Blessed silence. The Coastguard must have such a laugh AND they have to record it all. Then you hear something like "This is the Roosevelt, your radio check is loud and clear". The USS Roosevelt no less.
Now things go a bit "Pete Tong". Bear had allowed a two mile undershoot south of our intended inlet - Fort Worth, West Palm Beach, the current taking us north. The wind has done a very strange swing and thirty three knots are hitting us on the nose and it's like being in a medium wash cycle. Rita Scale Eight. One day I will do the full rating scale. The cute little arrows heading north represent the Gulf Stream. As we are up on the shelf of America, the water is not hugely deep, so the current has a real kick to it, sadly taking us north.
The net result, we are going off course from where the cursor is, and will overshoot, no choice but to plough on
The Florida skyline came into view.
From point A to the cursor was eight miles. This took us just over two hours, so not too bad but .................

.............. from the cursor, the last four miles took three hours and fifteen minutes in a heavy wash cycle, Rita Scale 12. I took the wheel for Bear to get the main down and had a Grace Darling feeling
As soon as we were safely in the inlet, all was calm, I started cheering, a couple saw our flag and started clapping, what a lovely welcome. Bear could safely go out on deck and do the 'Flag Ceremony' and we could get our first taste of the ICW (Intra Coastal Waterway), we could now begin to enjoy our new surroundings, FLORIDA, all very exciting. Being the weekend, hundreds of youngsters were having beach parties (on the inlet side, not the coast side) and we even got a peek at a 'one careful owner' opposite the Riviera Marina. We had decided on a marina for our first two nights as we know nothing of anchoring in really busy places, channels, whats allowed etc and in theory to have a real rest with no risk of dragging. Pierre, when we called had said we would arrive after closing time, "So pull up on the fuel dock and we'll sort you out at seven thirty in the morning, Cap". There was already a berk at the far end of said target, fortunately the wind and tide were in my favour and I could gentle squeeze us in - sideways. (He was a berk, ((not American)) ignorant - as he didn't tie off his main sheet (rope that pulls up the main sail) - it clanged ALL night. Thank the Lord most people are considerate or it would be impossible for me to ever sleep in a marina.
No sooner than we had tied up at a quarter past seven, than Clinton and Raina introduced themselves. On board for a quick shooter (vodka and Baileys) to celebrate getting here, then off to see their beautiful girl - Karma and meet Duke who was just getting over a cold. We obviously got in too late to do Customs and Immigration and tomorrow being Sunday we will have to go to the airport. Clinton very kindly offered to take us by car. A HUGE 'Thank You'. If this is a measure of American hospitality - we are in for a fantastic and memorable trip.
The boys deep in conversation about 'Blue Jobs'. Karma is currently going through work to get her ready to head through the Panama Canal, new cushions arriving Monday, she will look very smart indeed. Bubbly to further celebrate, then off for a mudslide, a few beers and our first real American burger on American soil. What could be better.....
....holding one of Dukes shoes. Sorry don't remember the name, but Jimmy Choo would be proud of all that suede and leather.
Miles today = 58.4
Miles since leaving Trinidad = 1689.4
Total Miles This Year = 1549.4
Total Miles = 8954.62 YEAH New York here we come
The final picture of this particular blog has to be.............................
ALL IN ALL A REAL THRILL TO BE HERE
VERY EXCITING - CRACKING
---