Are We....... No

Beez Neez now Chy Whella
Big Bear and Pepe Millard
Mon 28 Sep 2015 22:57
Are We There Yet ??? – Short Answer – No
This morning at half past six Bear announced that it's the highest tide for thirty five years. Off he went with the camera and a tape measure. Don't ask I didn't. Back he came saying that Beez was seven feet above our platform compared to six feet below on the lowest of the low earlier in the week. Today we fly to Port Vila in Vanuatu, so I can put this early enthusiasm down to excitement in the skipper. A cup of tea was now a much needed companion and a few ginger nuts to dip together with an episode of Orange is the New Black. That done, must say season three isn't climbing over anything but a fairly low bar. Must be time for breakfast and get moving. Packing was all complete last night save for the smellies, so it's just a bit of cleaning, sweeping, tidying and making sure the fridge won't frighten me when I get home in a fortnight. That said, I did happen to mention to 'himself' that he could eat as much fruit as he could or see it binned.
Oh my. When I saw the said squirrels breakfast it put me right wrong. The dish above could be any dimension but when I tell you it's actually eight inches across, it may give you, the reader, a fair idea. Half a big pot of yoghurt covers a pile of banana, paw-paw and pineapple. I would have something after I cleaned the en suite - it would have to be the hottest morning we've had in ages but hey, get on with it as we have our lovely taxi man due at eleven o'clock. All done, cases posted out onto the platform, now a more modest upward swing and off we went.
We enjoyed our half an hour journey with Favil, but within seconds of leaving him Bear said Oh Dear. The screen at the entrance to the International Departures had the news highlighted in blue. In a cheery fashion we proceeded onward and a nice ground crew lady said we would be on the move tomorrow morning, for now we were to sit and wait until there was a quorum of five of us, then we would be taxied to a nearby hotel. We were joined by a college tutor on his way home to one of the smaller northern islands and then a businessman who was tapping furiously on his mobile phone, just one more needed.
We sit quietly and watch the world go by. I bimble out to take a picture of the screen bearing the news and get Bear to smile through the thick glass. On my way back I follow a bee case moving at speed.
Next, I bimble over to the orchid collection just inside Immigration Control. "Where are you flying to" asks a good looking guard. Nowhere, sadly, but can I take some pictures of your lovely flowers. He smiles benignly as if I need the distraction, either that or he doesn't want to take on a mad woman.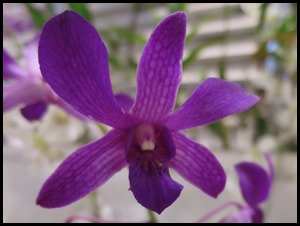 I'm heard to let out a sigh, thanked my new friend and silently wish to walk past the blooms on the morrow, then I bimble back to Bear. He goes off to find the ground crew lady as he feels a certain two Chinese ladies were seen to go off with a taxi driver. On his return, our lady becomes a guide and leads our group outside and tells us to keep an eye on a chap with a happy coloured shirt.
We are now standing outside watching the world go by. I have a gap in the wooden panels just behind me and take a look at how the new fifty million pound departure lounge is coming along. Lots of men in hard hats scratch their heads and stare down at a variety of mobile devices and cluck.
I watch a bit of spot welding and then a minibus and trailer pull up. Off we go.
Delivered to the Mercure Hotel, I sit with the cases out of the way and ponder. At eleven we had been in a taxi with Favil. We were with the ground crew lady at eleven twenty five. On the minibus at twelve ten and reception here by twelve forty. I left the lounge area to peek outside and found a small pool and happy Henry on my way back.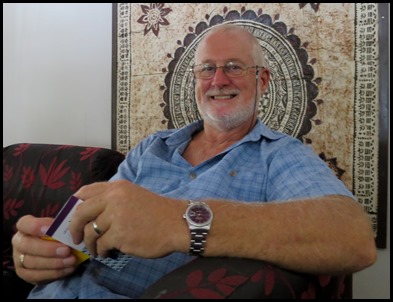 Our fellow passengers or should that be 'the stranded ones' are all resigned and make no fuss as they wait to fill in forms and get room keys. Bear joined me at ten past one but says we have to wait for a porter to take us to our room, 107.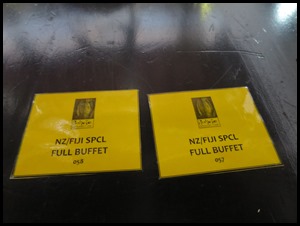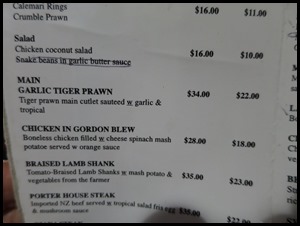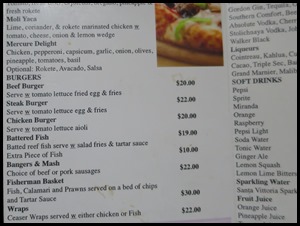 Bear goes for a menu, shows me our ten pound meal allowance vouchers and I wonder what Gordon Blew has to offer on the big menu. I'm pointed toward the 'stranded ones' side of the menu. Battered fish shows batted reef fish, mmm, I'll give that a try.
The lady from reception comes over to apologise for the wait and lets us know we are on the ground floor, reassuring her we are happy and able to wheel our bags, off we go. Beds cannot believe the short time he has been in luggage but is not thrilled that the whole thing will be repeated in the morning, well fingers crossed, he does enjoy the coolness of the room and we check out our view.
We go to order lunch and see the television behind the bar is showing the England / Wales match, knowing how this ends I take my drink to the paddling pool next to the bigger pool and dibble my feet. Bear calls me when our knives and forks arrive, then poses as his Fisherman Basket is delivered.
Bear enjoys his variety of things fishy but finds eating from a real basket a bit of a challenge. I had asked for my batted to be crispy and it was, delicious too. Time for a paddle. Bear joined me back at my position by the paddling pool. He settled in and we enjoyed the afternoon sun. Out he got to sit beside me once more, and I wish I could add a video – he actually nodded off, as his eyes closed he began to teeter forward, had I not made a comment he would have been in again - this time with a bit of a surprise. Let's have a game of backgammon sitting outside at the table. OK. International means twenty three kilos each, plenty of allowance to bring our trusty friend with us. You will never believe it, he threw his die, moved one man nodded and something in his brain must have told him to move his second man. I wouldn't have minded so much but despite his somnolence – he beat me five two..............Growling. We went in for Bear to take a much needed post-shower-nap and then we watched the Australia / Uruguay match. We found Nat Geo and settled to watch all kinds of animals, wierd and interesting. Couldn't help looking up wistfully at one that got away though............
We had just wanted to be in the air for just shy of two hours on a journey of five hundred and ninety nine miles or the equivalent of traveling from Lands End to the Firth of Forth Bridge, instead we are sitting parallel to Beez, oh well, our nice ground crew lady said twelve twenty five. Packed again and ready to leave our hotel at half past nine in the morning. Do you fancy any supper, I'm not hungry after my basket. I did fancy a few crisps and a diet Coke. Oh there is a petrol station right opposite. What could go wrong. I did say be careful though. I settled to write this blog and some time later the door opened. I've got a muddy foot, I fell down a hole. What.......I stepped on a dark patch that I thought was a new bit in the uneven surface and it wasn't. Three young chaps raced over to help me and all is well. On my way back a lady called me from behind so I stopped, she asked me where I was going. I told her I was going back to my room and my wife, Oh she said I had wondered if you would like a good time. So you leave me for ten minutes to fall down a hole and be propositioned by a lady of the night. Well that's it mate, you're not to be trusted and oh that's a bit harsh. No. It makes sense, you could have jarred your weak knee or worse and got yourself into all sorts of trouble with the lady BEFORE we've even left the safety of Fiji. Under breath mutterings. Pardon. Nothing dear, nothing....................I'll close with his thigh-high wound and hope you agree he is not to venture anywhere alone for the next two weeks, if he can't cross a road and spend two pounds what on earth will happen near an active volcano on Tanna Island, not to mention sailing the second half of a circumnavigation.....................She was a very nice lady and the young locals chatted about the rugby after they rescued me. Mmmmmmmmm.........
ALL IN ALL A BUSTLING SORT OF DAY
VERY INTERESTING FORTUNES
---