Moramba Baobabs and Fred's Party

Beez Neez now Chy Whella
Big Bear and Pepe Millard
Thu 24 Oct 2019 23:57
Moramba Baobabs and Fred's Party
We heard a knock this morning and two youngsters in a paddle boat asking for fishing line, pens, pencils and notepaper. Bear asked them to wait a minute while I got to gathering, sadly by the time we reappeared they had disappeared. Such a shame.
After lunch we picked Fred and Maria up and headed in past the coral outcrops.
Yay, baobabs.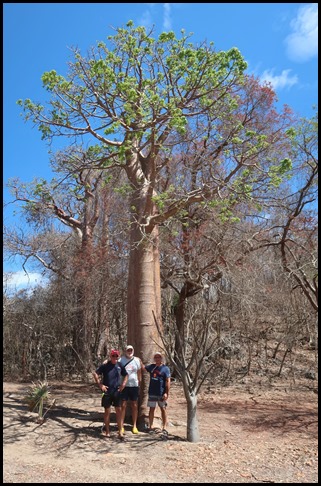 Kimi and Trevor caught up and the boys got straight into talking about weather windows etc, as skippers do. We got them to pose under our first chap. To their left a baby baobab with a spiky trunk to dissuade predators until it is big enough to be safe.
The girls posed and then we saw a gorgeous fan palm.
Bimbling toward the beach on the other side of the bay to the anchorage and found a toilet / shower block, bit of a surprise.
The locals had set out chairs and tables under a tree, how thoughtful.
Maria made for a bright splash on the beach.
We bimbled along the beach toward the far side.
A rustic house with an amazing view across the water.
I posed and then Trevor did under another chap. We enjoyed seeing one lady.
Kimi managed this picture of the new mum preening her babe.
On our way back we spoke to a man who told us that this building (near the shower block) will one day be a resort. I was very pleased to get back into Baby Beez as I was under attack from horseflies. Six painful holes on my hands from their blunt cocktail stick stabbers.
We returned to Beez to get things ready for Fred's birthday party.
A pretty sunset as Kimi and Trevor arrived having picked up the birthday boy and Maria.
Maria, Trevor, Kimi, Fred and Bear with pre-supper drinks.
Silly pressies including a tin of Spam.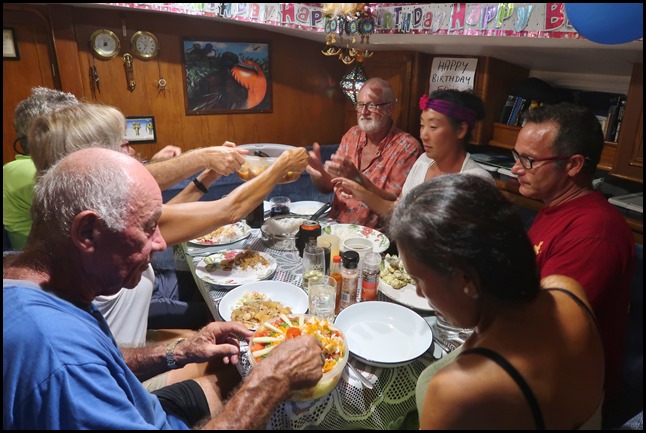 Kevin amd Irma arrived and down we went to eat.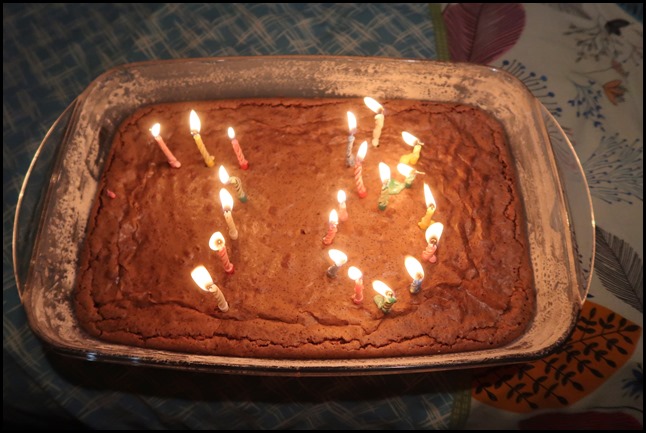 Kimi had baked a large chocolate brownie adding candles to form a seven and an eight. Maria brought a sweet as well.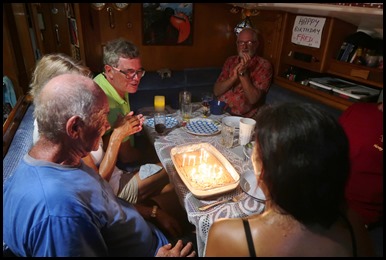 We sung to the man who claims not to celebrate birthdays anymore, but we think he had a good time.
ALL IN ALL WONDERFUL SCENERY AND A FUN PARTY
NICE SURPRISE FOR FRED
---