Visitors

Beez Neez now Chy Whella
Big Bear and Pepe Millard
Sat 8 Dec 2012 23:17
A Smorgasbord of Visitors
This handsome pair came down the tree............
.................scuttled along the ground to a well chewed hibiscus bush
Supper
Tender leaves are always hard to reach
Mouth watering stuff
A very good looking boy
Sunbathing gets tricky with a visit from Lola and Blacky (mum and daughter)
We brought these chaps in for the Moths to see
The pool crocodile had his own visitor
Blacky, who was white before her first hair cut does a cute dance
Our daily visitors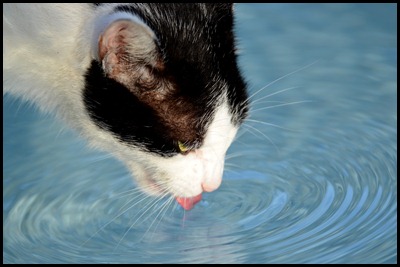 Kitty uses the pool as his own personal water bowl
Hugo and Mark watch as the Asst. Moth considers surgical intervention.
Mark had an all round bad day. First he got up to no hot water in the boys villa, then the toilet overflowed. He thought a good long bike ride would put the day right – no he was attacked by a dog and ended up flat on the floor. A Canadian neighbour of the dog was very helpful, first getting his wife to clean up the puncture wounds, then he gave Mark a lift to the Police Station. Apparently American residents leave their dogs in their yards, go back to the USA without them thereby avoiding the hassle of transportation - they hope that neighbours will drop in a food bowl and meanwhile the animals are going loudly feral.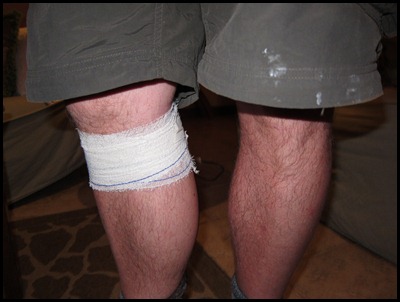 Post game analysis and the injured leg
After an unrewarding time at the station, the nice Canadian took Mark to the nurse, five sutures later and a painful leg he hobbled over with Hugo for supper with us. To finish off his day of suffering he found himself having Mexican Train Domino lessons from the mad quartet, finishing with a record losing score of 559. He did manage to win the double nought and final round. Other statistics: Asst Moth managed to get rid of eighty in one go and Bear's best loss scored him minus 123. I squeaked a win with 202 winning a record (for me) six rounds.
The boys left late with Mark due to get up very early in the morning to go off on a jaguar finding day. On todays form is it likely that Mark will see, let alone photograph the rustling he hears ??? As betting people, we don't fancy the odds!
Baileys o'clock then.
ALL IN ALL SUCH VARIETY
---