To Crater Bay

Beez Neez now Chy Whella
Big Bear and Pepe Millard
Wed 14 Aug 2019 23:57
To Crater Bay
The first time we were anchored in Hellville we heard a knock and Bear went to chat to a local who wanted to trade. I shouldn't get embroiled trading in pigeon French-cum-Malagasy. For a big piece of rope and forty pence he secured a pineapple, two pawpaw and a bunch of bananas. I would call that a success. This morning the same chap came back.......the banana bunch huge, spookily a pineapple and two pawpaws. No rope and he had to be dissuaded from taking a shine to my fishing lure. Four pounds, so I didn't do so well this time. I thought it was fine if you take an average of the two trades..........
Engine on at nine, I had to run Beez forward a bit as Bear fought with the very, very well dug in anchor. Still fascinated by the local girls and the expert way they are handled. A crew member is sitting on a plank holding out the sail.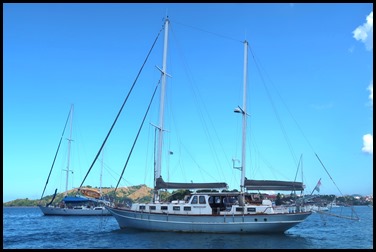 We passed a couple of big girls.
Weha Schulah busy unloading as we went by.
Advice came through the other day that maybe the autopilot would play nice and work if we did a chartplotter update. 734 megabytes was too big to load on the 3g signal at Sakatia Island so I woke Bear at two thirty this morning (free time after eleven pm) as it needed to be done direct, I had tried to do it via my laptop and got nowhere. Done and dusted and settled back to sleep ready to try this morning. I was skeptical as Beez was heading the right way but facing the wrong way........ Bear did several circles to recalibrate the compass, pressed the autopilot and ........no. Still on the list to be sorted then. Hand steering for the six miles to the blue cross in Crater Bay.
Without warning the blue direction arrow grew a dotted line, only for a few seconds.......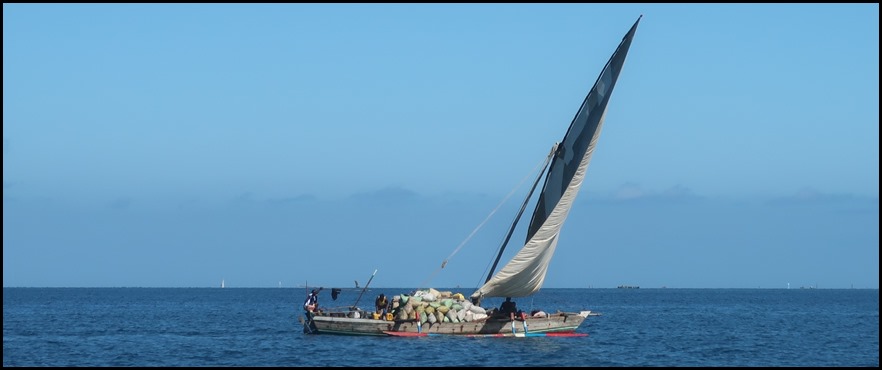 A heavily laden local.
Crater Bay, we headed right and anchored at the edge, in shallow water.
I enjoyed watching a variety of fishing vessels when Bear went to pick up the fridge man. Talk about Comedy Is Us. We moved to Hellville to get Richard to fix the big fridge and he wanted us in Crater Bay. Bear rang when we arrived and where was Richard, yes, in Hellville...... Even funnier, shortly after we anchored in Crater Bay the mobile rang. It was the DHL office telling us our parcel had arrived – in Hellville..... (Thank you Virgin for sending a card reader to us, needed next month for signing in to on-line banking).
An hour later Richard and his colleague were rummaging and it was a little odd to see a flame.
Within minutes the office desk was demolished and 'stuff' was strewn. The lounge as always takes on the bomb-blasted look when work is ongoing. The men removed the fridge plate fairly certain that the big waves en route to Madagascar had dislodged a bit of rust or debris that now blocked the works. Bear took the men back to shore where they blasted high pressure air around the maze of refrigeration pipes. We enjoyed boiled eggs for a late lunch and back the chauffeur went to return the men. Richard asked that we cross our fingers. Fitted and re-gassed, switched on and yay, cold to the touch in seconds. Fifty four pounds handed over and I was able to put half the load in to cool. Overnight to settle and I can put everything else in. Bear gets cold beer and my carrots will be joyous.
Bear taking the lovely chaps back to shore one last time.
Our scenery looking away from the anchorage.
One of the girls from this morning came in to anchor at dusk. Great excitement on Beez this evening – other than having a cold fridge – we received confirmation and a booking number from the Victoria and Alfred Marina in December, Cape Town here we come.......
ALL IN ALL A GOOD STEP FORWARD
GREAT TO GET SOMETHING FIXED
---