Red Bus Route

Beez Neez now Chy Whella
Big Bear and Pepe Millard
Sat 5 Nov 2016 23:07
Red Bus Route, Singapore Hop On Hop Off
We jumped up and headed to the happily coloured dining room of our hotel. Bear, all ready to dive into the best buffet breakfast we have ever seen - curry, chips, cereals, fruit, yoghurts, macaroni, muffins, juices, salad, and a chef to conjure up anything that can be fried, poached or thrust into a wok. The toaster was one of those you post the bread and it goes on a slow ride, flinging itself out from below and then there was a choice of spreads, jams, marmalades – the list was endless and all washed down with countless types of tea and coffee. Fortified we headed to the hotel shuttle which took us to Novena – a Metro station below a posh shopping mall.
A few stops on the underground and we surfaced in Little India, well, colour me happy – a mini.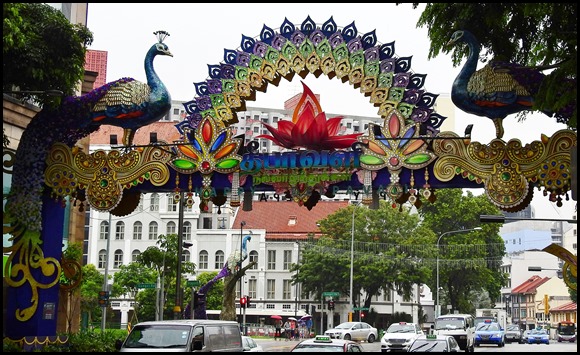 Decorations were up as the Festival of Light (here known as Deepawali) is in a few days. A real carnival atmosphere as we waited for our Hop On Hop Off bus, then it began to pour but that didn't dent the tourist need in us.
A digger, a decoration and a high rise, a great start.
Little India and beyond, it was great to be on a bus, earphones chatting our information.
It bucketed down, we are however the Great British abroad, so up went the umbrella as the wind was blowing rain under the shelter at the back of the bus and on we went. The voice in our ear told us to go to the Sim Lim Tower for all thing electrickery.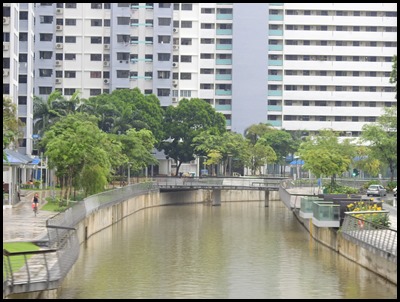 We passed Raffles Hospital and crossed a waterway.
Art Deco sits near modern and then we were in Arab Street, located within the conservation area of Kampong Glam.
Alsacoff Arab School (established in 1912) and on Muscat Street, the Masjid Sultan gazetted as a national monument on the 8th of March 1975.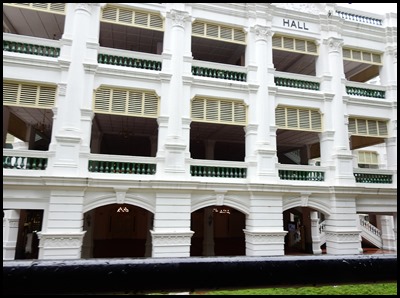 Our first glimpse of the Raffles Hotel was of the hotels Mall.
A little look at St Andrew's Cathedral and a Government building.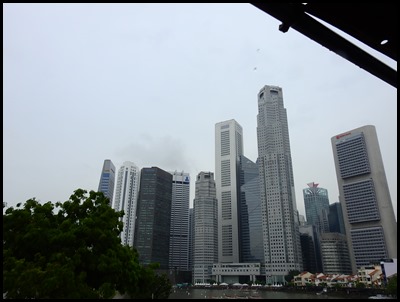 Into the city centre and across the river where we saw boat races going on.
A neatly preserved facade and a happy block of flats.
We passed the Sri Srinivasa Perumal Temple
or

Sri Perumal Temple,

one of the oldest temples in

Singapore

, not long after we started the red route but it was on our second passing we got decent pictures. It is located in

Little India

on Serangoon Road, where its tall

Gopuram

(tower) shows the different incarnations of Lord

Vishnu

. This large complex, dedicated to Vishnu, dates from 1855, but the 20-metres-tall

Gopuram

is a relatively recent addition, built in 1966 at a cost of S$300,000. The temple's five-tier

Gopuram

was a donation from

Indian

migrants who made good. He ultimately set up a chain of popular general goods stores in Little India and was known for his

philanthropic

works, a legacy continued by his sons today.
The area around the Perumal Temple was once filled with ponds and vegetable gardens. A stream used to lead into the temple and was an important source for devotees to ritually cleanse themselves before beginning worship.
This temple is the starting point for devotees during the annual Thaipusam festival. Devotees, their tongues and cheeks pierced by great metal skewers supporting kavadi (cage-like constructions decorated with wire and peacock feathers), make their way to the Chettiar Hindu Temple on Tank Road in this colourful procession. This is done in gratitude or supplication to Lord Murugan.
The temple was gazetted as a national monument in 1978.
ALL IN ALL SUCH COLOUR – EVEN IN THE RAIN
REALLY GOOD TO SEE LITTLE INDIA AND ALL
---