2nd Day Bali

Beez Neez
Skipper and First Mate Millard (Big Bear and Pepe)
Wed 14 Sep 2016 22:57
Our Second Day in Bali
There were to be no formal rally events on Bali then we hear there will be a welcome dinner at eight o'clock. That time changed from 16:30,17:00, 18:00, 19:30, 20:00 back to 19:30 until there were scrambled message about 18:30/ Why oh why Raymond (rally co-coordinator) cannot drop us a bullet point email each week we'll never know....... Going ashore at sunset.
Following others in.
The anchorage from ashore. Two rallies are in.
Tonight the dolphin was laser lit.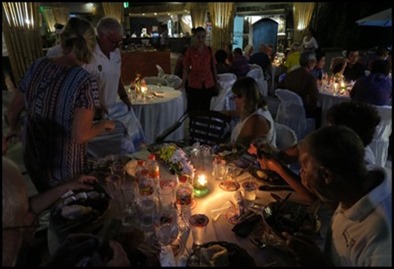 The 'welcome' dinner was nothing more than a grab a table amongst the other diners, choose from the buffet and move on. No speeches, no nothing to suggest this was a rally event.
The front was crammed with scooters and motorbikes.
Temporary market stalls as far as the eye could see.
Years since we seen goldfish in bags at a fair.
Bored and fed up, the rest hope to go unnoticed.
Disgruntled, loads of us settled in a bar but it ran out of Bintang beer. Determined to make an occasion out of being in Bali we moved to the beach and enjoyed a really good band.
During the performance one of the barmen entertained and dished out doses of what was probably arak, local hooch from a bottle between times balanced atop his head.
Mask on and centre stage.
Back in the crowd, now flaming.
Dancing with a tourist.
Along the beach a gambling business, in many ways similar to roulette. So much money changed hands, satchels, bags, piles and baskets of the stuff. You can bet on a number, pair, group of four and when all bets placed a man rolls a heavy ball on a dimpled surface with corresponding numbers, where it settles is the win. A few rallyers put a few bob on and left as soon as they broke even. Locals had been at it for hours. Time for bed said Zebedee.........
ALL IN ALL CROWDED CHAOS
BACK INTO THE WORLD OF TOURISM
---