Pangkor Gala

Beez Neez
Skipper and First Mate Millard (Big Bear and Pepe)
Wed 23 Nov 2016 23:57
Pangkor Gala Dinner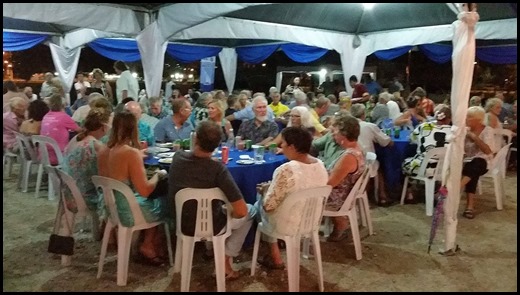 We spent the day resting and doing a few chores, in the evening Melian and Ian picked us up and took us ashore. Our first look at the marina that Beez will have her rest whilst we are in the UK. James welcomed us – what a professional who understands yachties needs. We settled under a huge marquee and Bear was handed a beer (free for the evening).
The band were ready under the canopy of the stage.
Sazli – Sail Malaysia Rally organiser spent a few minutes officially welcoming us and James invited us to enjoy the buffet. What a buffet, steak, lamb chops and chicken along with pasta, rice, vegetables, salads and fruits.
We sat on a big table that included Claire and Errol (Restless M) and I was snapped by Melian.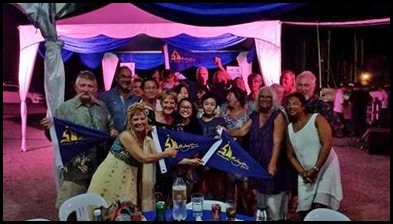 We all received a rally flag and had a group shot.
Four of the girls gave our thank you – the guitarist on the left was superb, as were the lead singer and drummer on the right. They took requests.......
..........dancing, limbo and much singing all rolled into a fantastic evening.
ALL IN ALL A GREAT EVENING
FABULOUS WELCOME
---