To Livingston

Beez Neez now Chy Whella
Big Bear and Pepe Millard
Wed 20 Jun 2012 10:40
To Livingston, Guatemala
Day One: Our second attempt to leave Isla Mujeres was a great success. Engine on at nine thirty. New chip in the chart plotter playing nicely. Off the fuel dock at twenty to eleven, passing the end of the beach and out between the island and Cancun, then out to sea.
Bajo Pepito was a photo must, just before we left the end of Isla Mujeres
Parking space for one......Not what we expected to see so far out from the coast
Our final look at the hotel end of Cancun.
Georgeann had left a couple of hours before us, we caught up just feet from a major squall, rough seas and losing sight of each other.
It rained and rained. The sea had been the colour you see in travel brochures, now an inky grey. I had a shower in the cockpit - just as I had a handful of talc (chafe zone prevention) the wind gusted and took the lot to my seat – snow, now that's something new. The dorado (a funny looking cover outside scoops a breeze through an opening. We have one in the office and one in to the sea berth, they have both been threatened with surgical removal with a sledge hammer by me before) in the office decided to leak. Water drops dolloping on the desk. Just above, the office window decided to leak a little. Dorado in office now stuffed with kitchen roll and a quick check of the one in the sea berth elicited bad language from me and more kitchen roll stuffing. The en suite toilet decided to act like a geyser and bubbling water threatened to come over the top of the bowl. Bear closed the discharge pipe and the inlet pipe (the usual one we close in rough seas), still an alarming gurgling sound. We had the Big Trio Caribbean Sea Waves hitting us from the left, so as it was my duty I decided to head into them to give Bear a better, more comfortable sleep. This made our speed 1.8 knots, if I was riding a bike I would have fallen over, but, hey, this is life at sea.
Day Two: I got up at ten to find a pleasing sky in front of us. Behind was a different picture with a squall line (hope it doesn't want to overtake us) with rain clearly tipping out. Bear settled for his usual cockpit nap. Rain and yet more rain. In between showers the sun was incredibly hot. My salt water spray that Bear fitted for me to wash the fish we catch during the messy post landing phase, came into it's own as a cooler-off. The rain rinsed us and a proper shower at sunset put us right.
Day passed into evening with the odd chum overtaking
Sunset showed a mixed bag of clouds. Bear went to bed as usual at half past seven and I was left to have fun dodging the enormous lightning clouds. At one point the rain fell and visibility was next to zero, fortunately a short, sharp downfall. I went to bed at ten, leaving Bear with conditions not too bad. Our 02:00 handover, Bear said the wind has been stupid, the rain on and off, Goodnight. Right then, a busy four hours for him. Overnight (my duty ends at 06:00) the lightning was so very bright. The first clap of thunder was sudden and deafening, it made me not so much jump as squeeze my shoulders together in a kind of ducking to hide posture and shut my eyes tight. Oh well squalls-r-us.
Day Three: Was nice enough for a game of backgammon and the the afternoon playing Rummikub. What a wonderful change in weather.
Day Four: Bear just had to be woken from his nap to see the great gang of young friends racing over to see us (own blog). The highlight of the day. No matter what, just the sight of these friendly little faces make us laugh, you can almost hear them saying "YePeeeeeeee".

Late afternoon and we caught our first sight of Honduras to our left
The last bit of Belize to our right
Overnight a gentler sort of thunder and lightning. The sea toilet has decided to leak. Another thing added to Bear's ever growing job list. A freighter overtook and it became our own private guide for the last part of the journey.
Day Five: Our final bit of the journey was complete with Bear doing the flag change ceremony as we neared Livingston. The guide books say this is a sphincter tightening experience as you have to cross a bar before anchoring next to the town for formalities. Hey we have just spent a year on the ICW, we are the "well hard Millards", bring on shallow depths, anything over 0 is a bonus. We did time it overnight to get here on a rising tide and felt sure we would have at least a foot below us.
Marker buoy found, of we headed to find a tiny chap as the welcome committee
The average crossing the bar was around 0.4 metres below us, but there were one or two showings of 0.2 and a massive 0.9 for a few seconds
The jungle to our left
Bar crossed the next thing to find was the concrete dock, our sign to move off fifty yards and anchor.
We had done as the guide book asked, to radio in to the Port Captain. We did, nothing heard. I suggested we wait until nine before pumping Baby Beez up. At eight the Port Captain graciously welcomed us in good English. He would gather the relevant authorities and be out to us at nine. Hang on a minute my watch says nine fifteen. What time is it sir ??? "Oh it's a quarter past eight". Right, we must have changed time zones yet again. Just as well we oblivious crossing the bar.
Time for breakfast, take in the town and watch as people get going for the day.
Soon after nine the gang arrive. Chap on left – Agent. Lady on right – Medic. Lady on left – Immigration. Port Captain, at the back just there to welcome us.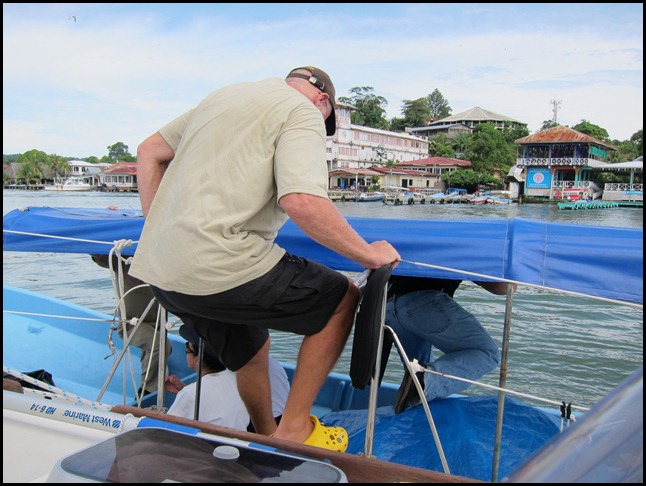 Our agent tells us Customs isn't here as his computer is playing up. The lady on the left said nothing but smiled and stroked the bee on our crew list in Spanish. The medic just asked if we were well. The port captain smiled and within minutes they were all loading themselves back on the water taxi that had brought them such a short time before. No one had left their cockpit seats, not even a look downstairs. Marvelous.
Bear disappeared in the launch with a cast of many at 09:40. I settled to chores and downloading pictures not expecting him for a few hours. 10:40 there he was, we are ready to potter up the gorge to Rio Dulce (dull-say not doll-chay).
Journey:
346 nautical miles in 96 hours
3.8 knots = Average Speed
1.8 knots = Norm for the first day
7.1 knots = A few seconds on day two
50/50 = Ratio of sailing to motor sailing
ALL IN ALL A REALLY MIXED BAG
---