Fort Lauderdale

Beez Neez
Skipper and First Mate Millard (Big Bear and Pepe)
Wed 2 May 2012 22:28
Lake Sylvia and Fort Lauderdale, Florida
Beez Neez sitting quietly on the left. The narrow entrance to Lake Sylvia is just next to the tallest building
The morning after we arrived we saw this "air flying", looks like a lot of fun, the last we see of the sun for a week.
We go off to explore. Under a small bridge behind Beez, down a cul-de-sac toward the ICW passing many big houses, this one stood out
The 'wet bar' has been taken over as "the potting shed" has grown. I can just hear the lady of the house saying, "You play outside with your toys, no bringing them in the house".
We cross the ICW and head up the cul-de-sac opposite
I see a boat called 'Beardog' and we pass the FL Police Launch 'car park'
At the end we see Southport Raw Bar where we can tie baby Beez up for $10. If we eat, the deposit comes off our bill. I loved the fried chicken on Caesar salad for $7.50 and Bear liked fish and chips.
We go through the bar, out to the front where Bear chatted to a neighbouring yacty – right opposite – what do we see – AMAZING. The very B&B we stayed in during our Florida road trip. The Bridge looking just as we remember. Well that means the incredible map shop is just down the road. Off we wander to get a flag of Mexico, a Rough Planet Guide to Cuba and two new log books. Marvelous.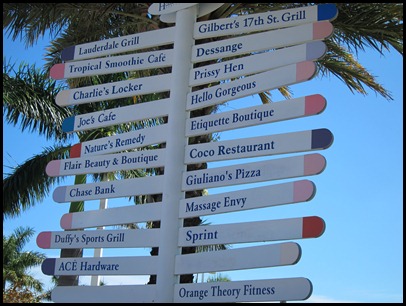 On another trip in we explore in the other direction and found Pepe is a good Mexican name. The sign led us to Joe's Café, an ice cream for me and rice pudding for Bear, topped with whipped cream and nutmeg, yuk – I like mine naked.
Talking of Pepe's. This picture was kindly sent to us by Steve, Mags and Trooper (thank you Trooper for searching for us in Titusville after your return visit – sad we missed you for a hug). Must find this eatery when we get to Key West, especially as it is the "eldest" eating house in the Florida Keys.
On another trip, Bear said he wanted to walk to Sear's, to change his new air-con remote as it has no back door to the battery compartment. How far is that I gaily ask. Oh, it's an inch and a half on my Hoppy (his HP tablet). OK and off we trot. In hindsight I should have asked the vital question – what scale are you looking at......... I was happy taking in the sights of back roads, schools and such. I was not so sure when we had to walk UNDER the river in a very noisy tunnel. Feet beginning to whine now, cars amazed to see the only two people walking anywhere in Fort Lauderdale. A police lady stopped, did a u-turn just to wave at the mad tourists. A bit on from the tunnel we see a Starbucks, to heck with the cost, I ask Bear for a smoothie and a rest for the now throbbing gently feet. Strawberry please, while I sit and catch up on emails. Now don't get me wrong, I'm known to enjoy a banana sandwich every so often, but I don't like them sneaking up on me. I had no idea there would be one hiding in my smoothie, so for the rest of the day indigestion was an unwelcome visitor and frequent taste as a reminder.
How much further I try to sound light and airy. Oh we are about half way. I swallow the gasp and trot on. En route we pass Mario's and Bear said we would have to take a couple of snaps for the grandsons.
We get to Sear's and the chap refuses to help Bear. Fortunately I was doing my usual washing machine/fridge hugging as the department manager came over to see why a woman was ooing and arring over his sale items. As we were chatting Bear wandered over looking dejected, probably fear bodily pain from me. The manager's eyebrows shot up when bear told us of his failure. Off the man rushed to feel behind his display machine and 'Voila' the mission was a success. Thank the Lord, the earache would have been murder.
The lady in the bikini and t-shirt department took pity and ordered us a cab. We did the two and a half miles to an enormous West marine. The Aladdin's cave of all male boaters. I located a bean bag, a book and settled for a siesta. Bear managed to find me, trolley brimming with essentials. Yeah, Yeah. It's not far to walk back to Baby Beez and I'll buy you lunch. I felt he said that far too glibly, but on I trotted.
I sit down for my lunch at a quarter to five. Bear offers me a stiff drink, very amusing in a bar that sells wine and beer only. Diet coke no ice then. A small beer captain...
I had the full laundry experience (US movie type – a first for me) the day Bear wanted to go back to West Marine for the bits he had forgotten.
Our last trip in today was to go to Homeland Security for a Permission to Travel form (our Cruising Permit has run out), which took all day. All set in Baby Beez, engine starts, conks out. Full service and lunch later and off we set again. I was allowed a cab this time – also we had no idea where we were going. Last fried chicken on Caesar salad and fish and chips for Bear. The wind is still blowing quite hard as it has done for the last fortnight. We feel so sorry for anyone who has saved for years to be in Florida this last two weeks. Atrocious thunderstorms, rain every day and a few nights we have had the quilt on.
On our final trip back to Beez the bridge was open, our first tomorrow morning.
ALL IN ALL FUN DESPITE THE WEATHER
.
We have had fantastic internet signal here in the Lake, sadly at three a.m. UK time, so no Skype.
ALL IN ALL A GOOD WEEK
---