To Namrole

Beez Neez now Chy Whella
Big Bear and Pepe Millard
Wed 3 Aug 2016 22:17
To Namrole
Ready to leave at three o'clock with Matilda, I turned by our neighbours so Bear could raise the main.
One of the fisherman sorting his net.
Final look at Banda Neira, just two yachts on the wharf as a big ferry is due in.
No sooner than we got to the first corner, there was the ferry.
Coming at quite a lick Matilda and Beez banked left.
A view to make you get a move on........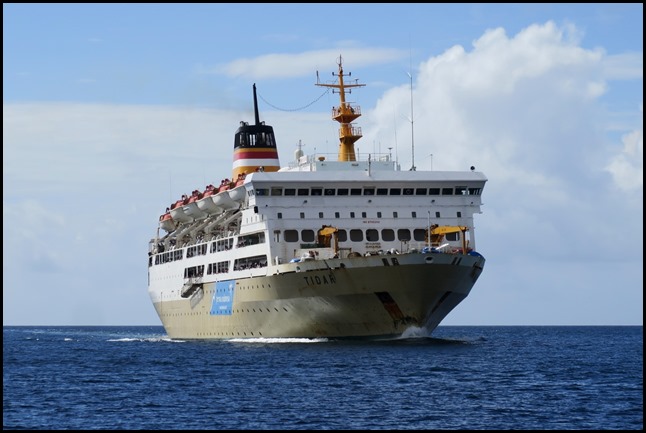 Tidar pushing up quite a wake.
As she passed there was plenty of cheering, flashes of a myriad cameras and "Hello Mister". I've got used to being Mister now.
Minutes later she was heading in to town.
Meanwhile, the starboard marker came and went.
Rounding the far side of Gunung Api.
The lava trail looks new not 1988.
A fishing platform out in over two hundred metres.
Matilda looking mighty fine.
Wins at backgammon and tri-ominoes was all too much for the skipper. I settled to back to back audiobooks by Amanda Quick and the rest of the two hundred and eleven miles went by really quickly. Speeds everything from 3.8 to 8.2 knots, slowing to go through a fishing fleet and timing our arrival for daylight.
By seven thirty I was up and we were nearing land.
Mist laying in the forest.
Further to our right the rain made the vista grey scale.
By eight o'clock we could see anchored rally boats between the islands.
The anchorage of Nam-roll-ee, boy does it roll.

Complete with a small chum on the dock. Anchor down at eight forty five. Citee, our personal guide hopped aboard to swap phone numbers. An official arrived at nine with a bag each containing a flag, cap and tee shirt (to be worn to the welcome ceremony. A local long boat, driver and Citee arrived at nine thirty to take us ashore. Timing clearly is everything. Let's just call it a whirlwind.
ALL IN ALL A SMASHING JOURNEY
VERY PLEASANT LOTS OF WINS AT TRI-OMINOES
GROWL.......
---