Cu Chi Day Trip

Beez Neez now Chy Whella
Big Bear and Pepe Millard
Tue 26 Dec 2017 23:17
Cu Chi Day Trip – Stuff We Saw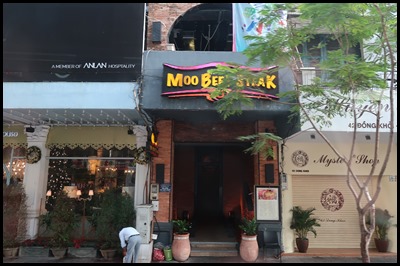 We left the trendy eatery area of town, including Moo Beefsteak and headed through the less expensive area.
The shoeshine man enthusiastically waved after I took this picture. Couldn't believe the chap in the cream shirt, he balled up an empty carrier bag and chucked it in the gutter.
A bit of electrickery.
Sad to say, we see many bird cages holding wild birds too beautiful to be trapped just because they are colourful or sing prettily.
Typical street scene.
A Hindu temple. Coolie hats are the height of fashion.
A happy lady selling her satsumas.
A general store on the move.
A depressing scene of litter and rubbish.
Our guide pointed (top centre of picture) and told us that this was where the famous, Pulitzer Prize winning photograph of Kim Phuc, the little girl running down the street, naked after a napalm attack. Kim grew up and began her studies to be a doctor but part way through her course was taken out and pedalled around as a propaganda tool. In 1986 at the age of twenty three, she was given permission to finish her studies in Cuba, where she met her fiancé. En route to their honeymoon in Moscow they asked for political asylum in Canada when their plane made a scheduled fuel stop in Newfoundland. In 1997 Kim passed her Canadian Citizenship with one hundred per cent and lives in Ontario with their two children. Kim still has to have surgical procedures on her left arm and back.
A pot shop.
A butcher and a general store.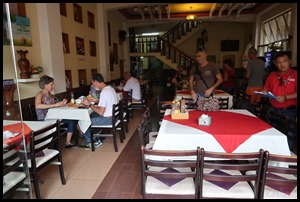 Lunch was a low-key affair where vegetarians were split from family and friends and made to sit segregated in a corner....... Loved the Winnie plate and the tree house table.
Felt sorry for this chap in a tank that looked uncomfortably small, loads of wild birds too, in cages for finch-sized birds.
After lunch, our guide put on a particularly graphic film not to the taste of some who hid.
A real mix at the Cu Chi Tunnels, one minute looking at heavy guns, the next, pretty art in the shop.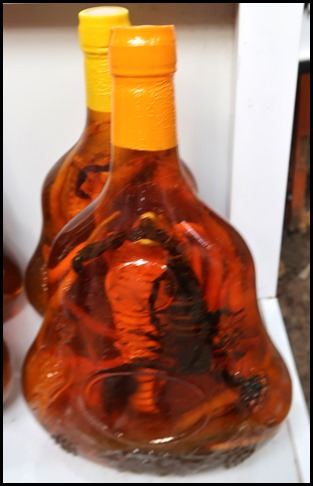 We tried our first snake venom and rice wine, a pleasant combination.
Back to the city, now lit for the night.
ALL IN ALL SUCH AN ASSORTMENT
A VERY VARIED CULTURE
---