To YH Phuket

Beez Neez
Skipper and First Mate Millard (Big Bear and Pepe)
Thu 5 Jan 2017 23:57
To Yacht Haven Marina, Phuket
The engine went on at 08:30 and as usual I take a few pictures whilst the skipper washes the anchor as it comes in. Motor forward a little can you. Rightee-oh.
Come and look at this. Whoa, that's a lot of net.
I nip back to the cockpit and enjoy the 'rear view'.

We finally leave Chalong Bay at 09:30.
On the right we see a little anchorage and beach.
On the left we see a resort and more beaches.
We get to the corner and turn left.
No sooner than we had rounded the corner we saw a few small chums resting. Bear was quite happy On Comms so I took the opportunity to defrost and clean the freezer and leave some meat out to make up some curries, carbonara and bolognese.
Bear took this small freighter.
An industrial area.
He called down Wild Fox has just popped up on the AIS, then he chatted for a while to our old friend, Anthony.
I stuck my head up to see some islands to explore.
An exclusive resort on an island.
A small resort with a chap parascending.

Wow, to our right as we turn left at the top of the island, all the Hongs in the Gulf of Phuket, we went no closer as that is a definite exploration with Alex.
To our left a tourist ship and we can see Ao Po Grand Marina.
Another island on the right.
All of a sudden we see huge groups of local fishermen.
Everywhere we look there are more all stabbing and lifting.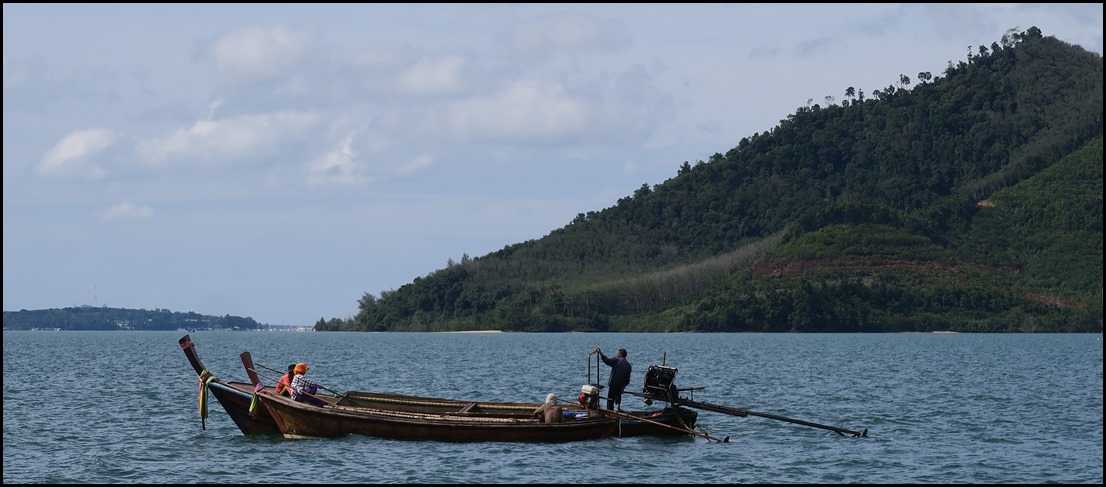 After watching for a while we realise the chaps at the front are wielding tridents. OH MY, they are stabbing itch-arses. As you know dear readers, my one marine weakness, (whilst I think jellyfish are extremely beautiful) they have a profound affect on my nether regions. I began to look at the surface of the water. OH MY, MY, they are beige and the size of waste paper baskets.............. We watch open-mouthed at the sheer numbers of creatures floating by.
This is what a typical starter of jellyfish looks like supposedly made tasty with sesame oil and chilli sauce,....................... I swallow at the very thought of it and cringe at the same time........... Apparently, the locals earn quite well – 35 Wingnuts (Baht here in Thailand) or seventy nine pence each – by the way they were being hefted into the long tail boats, as if fishing in a barrel, the day would be profitable. Another apparently this 'delicacy' is enjoyed mostly by the Chinese and Japanese to the tune of three hundred and twenty thousand tonnes each year. Gulp, swallow hard and try to overcome that 'itch'..............

It was nice to see a 'normal' fishing boat.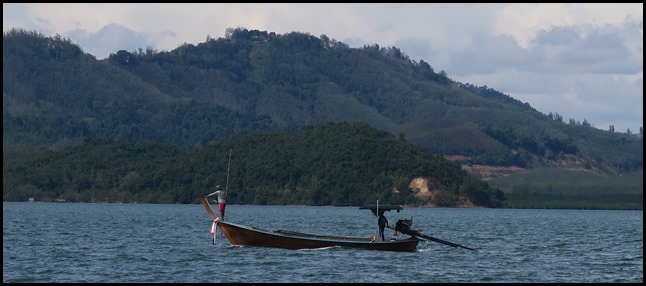 OH NO not again, we watched this boat stabbing and swinging aboard at least fifteen 'creatures' . Gulp and swallow and no, I didn't get the big lens out to get an action shot of the 'haul'.

To our left a floating fishing village.
Todays journey began at the yellow star and finished 32.6 miles later at the red star.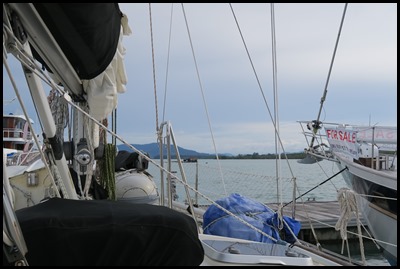 We radioed in and the nice marina lady asked us to stand off whilst they settled the two big girls who had passed us. Half an hour later a very charming chap came out in his dinghy and led us in to A35, three brilliant line handlers took our ropes and within minutes Beez was settled for a massive clean, tidy and Alex-ready. To our left a lady from Alaska, to our right a lady 'for sale'. We look out toward the bay – busy with itch-arses....................... Eight dinners cooked, cooled and in the freezer, a great win at backgammon putting me at 2 – 1 and seventeen dollars up. Huh and double huh.
ALL IN ALL A BUSY DAY, JUST FOUR SLEEPS UNTIL ALEX ARRIVES - YEEHA
GETTING EXCITED NOW
---