To Oamaru

Beez Neez now Chy Whella
Big Bear and Pepe Millard
Thu 24 Jul 2014 22:37
To Oamaru
Slowly we got up, bit of a shock having no electric blanket overnight, half of my face so cold I thought I had had a stroke. Revived by the good man making me a cup of tea. Off we went. For a change – instead of blog writing, I drove. Bear took co-pilot and photography duties. His first effort was the Rose Garden in Timaru, once the third largest in the world, wrong time of year to visit, very neat hedges though.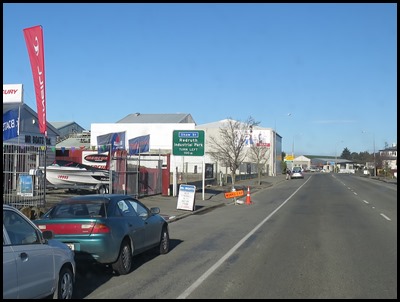 We passed through Redruth.
The mountains were the far side of the greenest, lushest grass that went for miles.
The villages of St. Andrews and Makikihi were next.

Dairy cows and grass for miles and miles.
Then ginormous dairy plants.
A fast flowing river.
Very blue looking out to the right.
The outskirts of Oamaru.
There are nesting colonies of blue penguin and also the very rare yellow-eyed penguin, but the main draw for us is the promise of the most intact 19th limestone buildings in New Zealand. Not everyone's cup of tea but it'll make a nice change after the very flattened Christchurch.
The War Memorial on the very wide Thames Street. We asked later, so the bullock trains could do a u-turn.......
We crossed the railway line and saw two penguins on this crossing sign.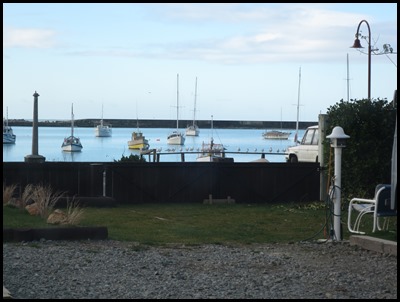 The wicked witch was not displeasing to me and we soon parked opposite the harbour in a 'being built around us' privately owned camp. Very inexpensive, with an interesting neighbour whose door sign read "Party Animals Only". Bear trotted in to speak to the manager who warned that if we took Mable out to be careful not to run any penguins over as a few pairs nest at the back by the kitchen..........OK then.........that's a first.
We went for a bimble – own blog, stopping at the Star and Garter for a late lunch.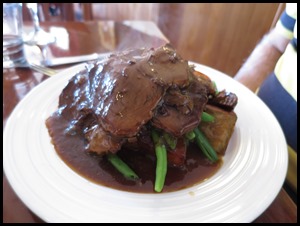 My lamb shank and Bears roast beef were superb. All smiles.
This was a lovely old building with an extensive memory board of weddings over the years.
Opposite was the Information Centre, complete with penny farthing, often seen around the town, especially during festivals and carnivals.
Bear rode an elderly machine outside the Loan and Merc Bar. I saw no ships in the Friendly Bay Play Park.
The playground was provided and maintained by the Friendly Bay Improvement Society – the area receiving its name from the Societies 1922 Queen Carnival where one penny per vote chose the name "Friendly Bay". In 1975 the Society ceased their volunteer activities and the playground fell into disrepair, until 2011 when the Waitaki District Council created today's children's playground.
A smashing play area.
This community mural commemorates the visit of the ship Terra Nova to Oamaru in February 1913 bringing news of the deaths of Captain Robert Falcon Scott's polar party to the world. It was finished in time for the Scoot 100 Celebrations 2013 and unveiled by Mayor Alex Familton, Patrick Tipa and Lieutenant Commander Ian Marshall, of the Royal New Zealand Navy.
We did indeed move Mable to the end of Bushy Head Road. Bushy Beach nightly home of the yellow-eyed penguins.
Hoiho or yellow-eyed penguins. In contrast to the migratory habit of most penguin species, hoiho remain at their home beaches throughout the year. Nests are established in August and normally two eggs are laid in September. Incubation is shared by the adults. Hatching occurs after thirty nine to fifty one days. For their first six weeks the chicks are guarded by one parent bird while the other is at sea catching food. Beyond six weeks, both parents are required to supply the rapidly growing chicks.
Chicks usually fledge in late February. They are totally independent from then on. In their first year they head north as far as Cook Strait, but will return to their natal site in their second year. The death rate for juveniles can be as high as eighty per cent.
Yellow-eyed penguins feed on fish, mainly opal fish, silverside, sprat, ahuru and red cod. Arrow squid is also important in their diet. To reach preferred fishing grounds, the penguins may swim up to forty kilometres offshore and dive to a depth of up to one hundred and twenty metres.
Hoiho habitat at various places along the Otago coast is protected by the Department of Conservation and Yellow-eyed Penguin Trust. At Bushy Beach efforts are being made to extend the native vegetation. A predator trapping programme, carried out throughout the breeding season, catches mainly feral cats and ferrets. To assist with research most birds are banded. Humans and dogs are not allowed on the beach after three in the afternoon as the birds come home any time after half past. They didn't have their watches on today as we saw our first one at half past four. He didn't want to be the first and headed back out.
The next chap at five seemed more confident.
He marched straight up the beach, found his marker and into his house.
A pair, a singleton and another pair were next.
Although we were very high up above the beach on an official viewing platform, it was still a treat to watch one of the world's rarest penguins and we could just about make out that they indeed do have yellow eyes. What was really wonderful to watch was when our chap knew his wife was coming home. He came out of his house, waited as she waddled up the beach, greeted her and then they disappeared together. By now we were frozen, time to get Mable back and our electric blankets on.
We could see why the town was likened to Los Angeles on these steep hills. Nice sunset on our way home.
ALL IN ALL A PLEASANT DRIVE AND PENGUINS, SMASHING
WONDERFUL VARIED DAY AND CHAPS
---