Bridge & Back

Beez Neez now Chy Whella
Big Bear and Pepe Millard
Tue 8 Dec 2015 23:37
To the Sydney Harbour Bridge and Back
To the first corner and there it was, the Sydney Harbour Bridge. All very excited aboard.
The Australian Royal Navy came by to welcome us.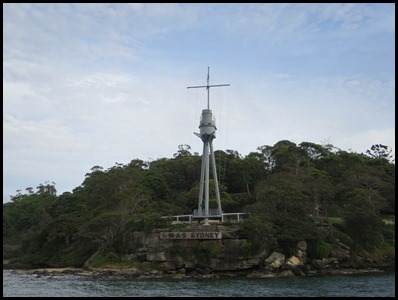 To our right and to our left.

Wow. Something we have looked forward to for so long.
Time for the skipper to enjoy the moment.
Life about us carried on in it's usual way. We had to go around this group fishing intently.
First Mate thrilled to bits.
Sydney, sleek and iconic.
"Mine, mine, mine" I had hoped to say welcomed us but I guess they were too busy looking for Nemo.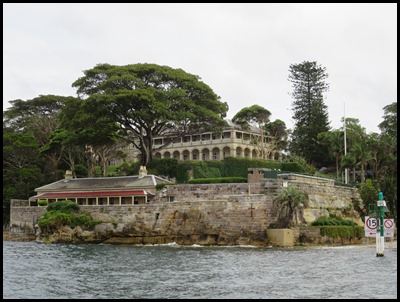 A lovely building to our right, just before the bridge – so much to find out about.
We just needed to wait for this working lady to cross................
..........and the very powerful Betty Cuthbert to undertake us and then we'll take our turn........
Just as we sailed up to the Verrazano Narrows Bridge in New York, we began to clap as we went under.
Luna Park Fairground as we popped out the other side.
The picture of Beez Neez on the chart plotter, the far side of Sydney Harbour Bridge. Crabbin' along. The fluxgate compass indicates a very strange direction, but a new one is now on order.
We pulled slightly into Lavender Bay, dropped the main and turned, ready to do it all again.
Passing Luna Park again.
Fabulous, back we go for more.
Bear is delighted when a train comes into view.
So very chuffed.
How many pictures can you take of Sydney Opera House ???
The scene changes every few minutes.

To our left. Wonder what rental these waterfront properties command.
To our right, an even bigger Royal Naval lady.

Fort Denison or Pinchgut Island,
is a former penal site and defensive facility occupying a small island in the harbour, we can feel a tour and lunch coming on soon.
Half way back to to the Heads or in my book – 'the doorway', we pass Neutral Bay on our left.
The name "Neutral Bay" originates from the time of the early colonial period of Australia, where different bays of Sydney harbour were zoned for different incoming vessels. This bay was where all foreign vessels would dock, hence the name

neutral

.
The

Aboriginal

name for the area was 'Wirra-birra'. In 1789, soon after the arrival of the

First Fleet

in Sydney, Governor

Arthur Phillip

declared this bay a neutral harbour

where foreign ships could anchor and take on water and supplies.

Neutral Bay was far enough away from Sydney Cove to discourage convicts from escaping on these vessels and to keep possible enemy ships at a distance from the main settlement.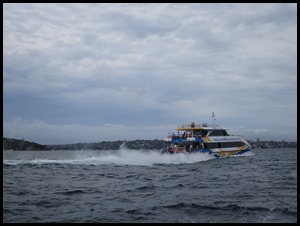 Sydney Harbour, the markers and the traffic – this journey of nine point four miles there and back have been wonderful. Now it's time to go around the corner and get Beez settled into Cammeray Marina. What a day to remember.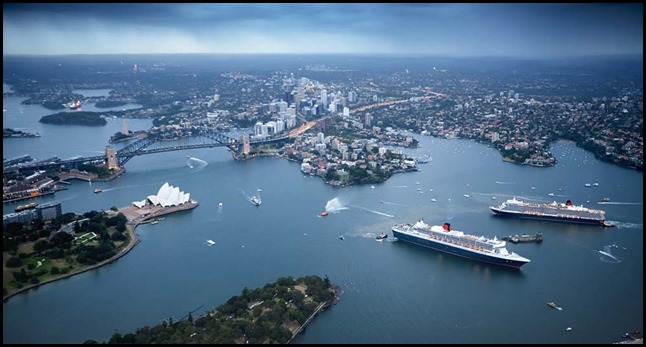 We so look forward to exploring Sydney, seen here when two very special ladies were in at the same time.
ALL IN ALL A MAGNIFICENT HARBOUR AND A MAGICAL EXPERIENCE
SPECTACULAR, A DREAM SINCE NEW YORK
---