Tsukiji Market

Beez Neez now Chy Whella
Big Bear and Pepe Millard
Sun 15 Oct 2017 22:27
Tsukiji Shijō Fish Market
We bimbled into the Outer Market and stuck our head in the first shop, all looked quite normal if you discounted the huge puffer fish in a tank by the door.
Shame this chap was in a steamed up tank, hard to believe but he was a foot across.
These crab legs were over a foot long.
Many things we recognised.
Some we did not recognise.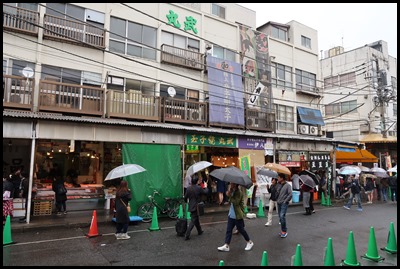 We stepped out in the rain and decided to explore one of the side streets. A lady was selling nothing but small lobsters at six pounds seventy pence each.
We loved the huge crab and tuna high on the wall of one of the shops.
A shop full of dried fish (quite a bitter small) and the next stall was unmentionable......
Oh Lord, I was just about to reach for my flip-flop. I think the base layer was clams with stuff........
Oh Dear, just when I thought it couldn't get any worse, I watched in shocked horror as I passed a young man poking what looked like brown string in his mouth, wobbling off his chop sticks. I looked at the stall only to find anemones on ice. What nutritional value ????? give me a chicken drumstick every time.......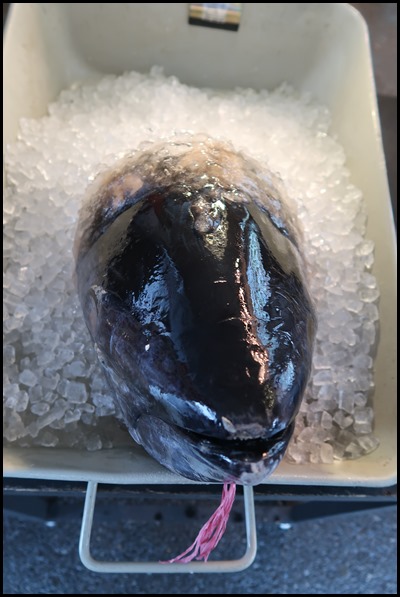 At last, a chap I have caught, cooked and eaten. My beautiful assistant modelled with him with aplomb.
The go-to shop for all things serving pot, plate, salver.
Tsukiji Shijō is a large

wholesale market

for fish, fruits and vegetables in central

Tokyo

. It is the most famous of over ten wholesale markets that handle the distribution of food and flowers in Tokyo. Tsukiji Market is best known as one of the world's largest fish markets, handling over 2,000 tons of marine products per day.
The sight of the many kinds of fresh seafood and the busy atmosphere of scooters, trucks, sellers and buyers hurrying around, make Tsukiji Market, a major tourist attraction. In fact, the numbers of visitors have increased so much over recent years, that they have become a problem to the course of business, as the aging market's infrastructure was not anticipated to serve as a tourist spot.
Tsukiji Market consists of an inner market where most of the wholesale business and the famous tuna auctions are taking place, and an outer market whose retail shops and restaurants cater to the public. A few restaurants are also found in the inner market. In order to avoid interference with business, different rules should be followed when visiting the different areas of the market.
A basic map of Tsukiji Market.
Visiting the tuna auction:
The number of visitors to the tuna auction is limited to 120 per day, the maximum number which the market's infrastructure can accommodate. Tourists, who wish to see the auction, have to apply at the Osakana Fukyu Centre (Fish Information Centre) at the Kachidoki Gate, starting from 5:00 am (or earlier on busy days) on a first-come, first-serve basis. A first group of 60 visitors will be admitted to the auction between 5:25 and 5:50, while a second group of 60 visitors will be admitted between 5:50 and 6:15.
Visitors usually start lining up hours before 5 am, and the maximum number is likely to be exceeded, in which case later arriving visitors will not be able to see the auction. Successful applicants will be able to view the auction from a designated visitor area. It is not allowed to view the auction from anywhere else or to use flash photography or to interfere with the business action in any other way.
Visiting the wholesale area
The wholesale area consists of hundreds of small stands in a large, crowded hall, where buyers and sellers hurry along narrow lanes with their carts and trucks. It is an exciting area for tourists to view and photograph the fish and the action, but it is also an area where tourists are likely to interfere with the professionals at work.
Consequently, in order to prevent accidents and interference with business, tourists are not allowed into the wholesale area before 10 am, when the peak of the business activities take place. Even when visiting after 10 am, tourists are asked to refrain from bringing any luggage into the market and to be constantly alert of what is happening around them to avoid blocking traffic.
Visiting other areas of the market: Instead of visiting the inner market, tourists are encouraged to visit Tsukiji's outer market, which is located just adjacent to the inner market and caters to the public. The outer market consists of a few blocks of small retail shops and restaurants crowded along narrow lanes. Here you can find all sorts of food related goods, knives and fresh seafood and produce for sale in smaller (than wholesale) portions.
We would love to have gone, knowing we had to queue from eleven o'clock at night to ensure a ticket, but, in the pouring rain we decided very simply not to.
We headed toward the Rainbow Bridge and a sensible buffet lunch in the Aqua Centre before catching the ferry to the other side and catching the train back to base.
ALL IN ALL SO MANY SIGHTS, SOUNDS AND AROMAS, BUT NOT FOR ME...
DIFFERENT AND GREAT TO SEE ALL THE FISHY BUSINESS
---