Nan Lian Garden

Beez Neez
Skipper and First Mate Millard (Big Bear and Pepe)
Wed 26 Dec 2018 23:47
Nan Lian Garden
We left the actual Nunnery, walked over a connecting bridge passing a roof garden of bonsai trees to..........
Cutting through Diamond Hill's myriad of high-rise apartments is the tranquil Nan Lian Garden, a public park also built in the style of the Tang dynasty. Its scenic garden is meticulously landscaped over an area of 3.5 hectares, in which every hill, rock, body of water, plant and timber structure has been placed according to specific rules and methods. There are permanent exhibitions of Chinese timber architecture, rocks and potted plants but we stuck to enjoying the garden and the gorgeous bonsai trees.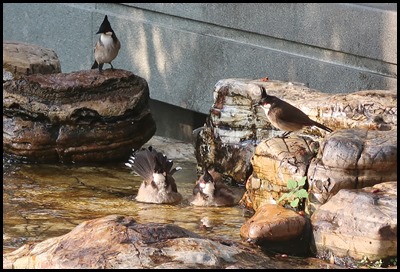 After our visit to the Nunnery and Garden we hopped on a bus and next to our digs found an eatery that had a good menu (that we could understand). Asking if the curry and satay were fiery and being reassured they were not, we ordered. Bear's beef curry came with rice and salad, together with a can of Fanta was five pounds and five pence, oooo twice the price of Malaysia but very tasty. My beef satay came with noodles but I asked for rice and pineapple juice, literally chunks of pineapple in water with loads of ice (mine was a bargain at three pounds, ninety four). I mixed the chunks in my food and it was marvellous. We'll be back.
ALL IN ALL A GORGEOUS GARDEN
STUNNING IN THE MIDDLE OF THE CITY
---