To Sydney

Beez Neez
Skipper and First Mate Millard (Big Bear and Pepe)
Tue 8 Dec 2015 23:27
Finally to Sydney
Engine on at 17:30 and Newcastle Marina soon began to get smaller behind us.
We passed the flat bed we had admired on the way in, but no Darling was parked next to her.
The 'Q' ball where our Australian At-Venture had begun. In on the docks were K&A SE of Panama and opposite was Szechuen.
Cannot wait to explore this area on our way north.
Well colour me happy, at the end of the cul-de-sac there were two working girls speeding toward us and who was at the front...........
None other than our friend – Darling. Vigorous waves from all on board. Happy me.
Silent wishes to the Lady as we got to the corner.

Well paint my cheeks even more happy, in fact, with quite a glow – four working girls coming at us. Darling and her friend had released a chum and this little band had just released theirs, now seen rounding the last corner and out to sea.
Carrington in the lead of this second group.
Something a bit different to keep eyes peeled for – a couple of racers.
Five to six on the town clock.

Final straight. Funny to watch the chum over the other side of the breakwater.
People enjoying the beach before sunset.
Newcastle shot across in front of us not once but twice. OK so Beez isn't a chum but respect.............
Out to the final marker, main up, genoa out, engine off – I would be thoroughly enjoying this but for the growling pain just below my diaphragm. Mmmm. Time for painkillers and enjoy the good book I had just started listening to on the way into Newcastle.
Some things are very soothing in the grand order of things – I swear that man is smiling in his sleep. Oh, just after I took the first picture the mouth dropped and the first gentle snores escaped. A good journey is promised.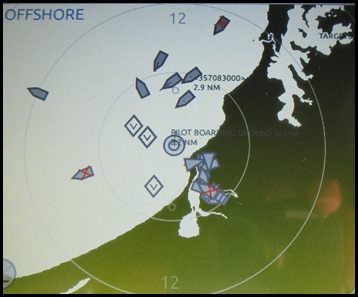 The sky shows a gentle night ahead and I have plenty of chums to keep me company.
I made a target of Aegean Bulk A - - neithe, no idea how to decipher two of her letters, very frustrating as I won't be able to look her up.
My next target. Things on the pain front became so much worse. I stood, sat, wiggled, rubbed, indigestion tablets, Tic-tacs, time to bring out the Panadeine. Everything I tried was to no avail and for the first time at sea I woke Bear at 20:45 instead of him coming awake and taking over at 22:00. I didn't feel as guilty as I might have as it is only an overnight and I had managed since five in the cockpit. Bear wasn't bothered at all about being asked to come on early and was only concerned about me, I went to lay in bed but a squeak escaped and Bear appeared with a hot water bottle which I gladly pressed against what now felt like a gunshot wound and spreading fast to the right. Bear urged me to stay put and not come on at two but by half one I couldn't lay anymore.
Hotty under arm, I presented myself for duty but Bear insisted he sleep in the cockpit to be nearby. Looking at the chart plotter brought joy, we had passed where we had had to turn back, we were getting near. Fun sounding place – Barren Joey Head. Actually sitting was easier. Laying down everything sloshed from side to side, sitting everything went up and down.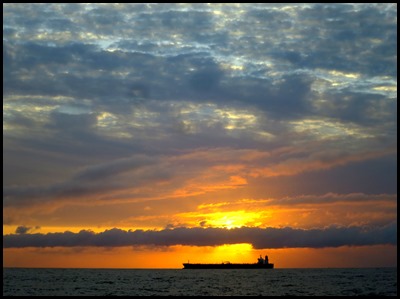 This chum looked pretty in the sunrise, she was resting as she waits for her Pilot and entry later on. Getting exciting now.
Passing Manly, looking very fine indeed.
At ten to six, our first look at 'the door' to Sydney.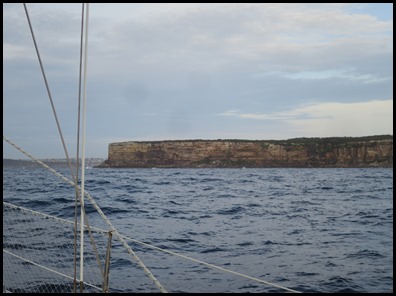 Over to our left – South Head and to the right, interestingly called North Head.
Sandstone is everywhere.

Finally, in the 'doorway'.
Two very thrilled people.
Wow, our first look at the city.
First job was to cross the ferry routes.
No holds barred.......
.........and expect a bit of wash.
Especially when you get a few in quick succession. This is a fast cat, no arguments from us.
We crossed over and tucked ourselves against the natural wall of the harbour.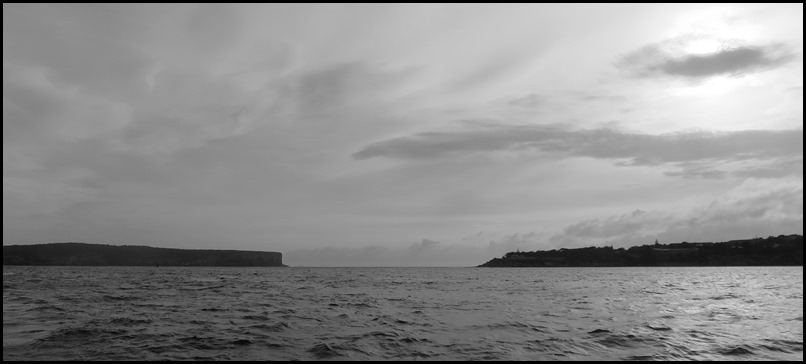 Looking back out to sea through the 'doorway'.
ALL IN ALL SO VERY EXCITING
FANTASTIC
---