To Albert Cove

Beez Neez
Skipper and First Mate Millard (Big Bear and Pepe)
Fri 3 Jul 2015 22:37
To Albert Cove, Rabi Island, Fiji
We got up to a beautiful Pacific Island morning in Katherine Bay, even the tatty copra shed looked neat.
Very lovely to be nestled by the mangroves but discipline wins, well it is always so easy to stay put and enjoy the scenery – hence why it has taken us seven years to get this far...... The anchor was up at half past ten for the fourteen mile hop up the coast.
Out of the bay and turn right at the hard stuff.
A fisherman at one with his world.

The 'mainland' opposite...............
....................fading behind us as we head north.
We re-lived our bus journey of yesterday, the road barely showing in the trees.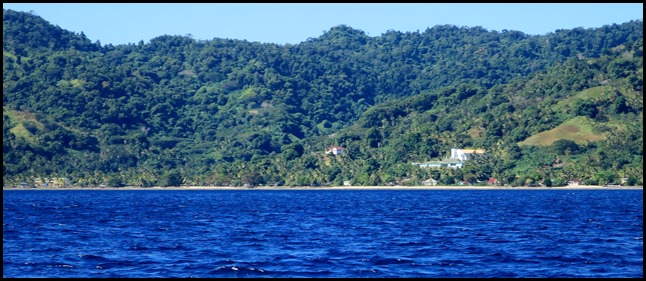 Passing the church at Nuku.
Elizabeth Bay can be used as an anchorage, again behind a reef.
Our first look at Albert Cove.
Getting bluer as we shallow.
To our right the shallow reef, us tucked in, to our left we could just see the pale reef.
We anchored behind the pale blue line. Idyllic.
ALL IN ALL SO VERY PEACEFUL
SAFELY TUCKED UP, TIME FOR A SNORKEL
---