KT Camp

Beez Neez
Skipper and First Mate Millard (Big Bear and Pepe)
Thu 26 Apr 2018 22:57
Koshi Tappu Camp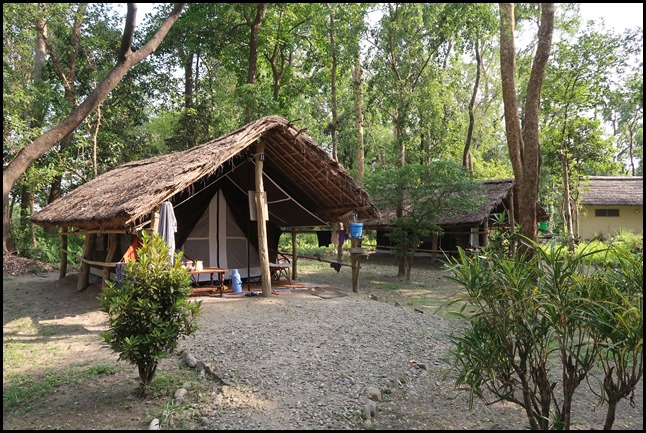 Our nest for the week. To the right (of our number 11) is number 12, housing a guide for a couple of days, furthest right the kitchen to the dining room.
20th April, 22:00. So.......were dropped off by our mad taxi driver in the pitch black, miles from the nearest village, it did feel like we were being dropped in the middle of a scene from The Deliverance. A kerosene lamp hanging on a hook outside, two rechargeable lamps and a torch for indoor use. Our washing water in a suspended blue bucket with tap and an aluminium bowl beneath. Bear went off for a 'welcome dal bhat', I found enough 'stuff' for the night. To say our beds were hard was an understatement and if we threw a pillow at each other we would have died. There was a wedding reception going on somewhere nearby – that went on all night. Three a.m. the men did a stint at singing that can best be described as painful. This may be a very long week.
The dining room.
21st April. We breakfasted at nine (to quickly become a habit for the rest of the week, save for our six o'clock National Park day). We had expected to be full board, all inclusive to be told "No, just bed and breakfast". After Bear ate enough for the whole day we bimbled back to number 11 for a sort out. My heavy, heavy bed was moved next to Bear's, we moved the mats about and set up an outside table indoors as a tea making jobby. Any of the four men here were happy to keep us supplied with a huge flask of hot water. Sooooo pleased we brought a bag full of Lipton's tea bags and a powdered milk.
Then we settled to bird watching from our garden chairs. Seventeen – including a grey hornbill, drongos (Bear became Mr Drongo Expert), Oriental magpie robin (not a redbreast in sight), a pair of Small minivet and a Red-vented bulbul.
A beautiful BBJ – big brown job.
22nd April. We had so much fun sitting with garden visitors, we did it again. The treat for us both was spending ages watching Woody at his hammering (black-rumped woodpecker). A great sadness is you could shove a wooden lollipop stick in the ground here and it would grow something. Just a few hibiscus, bottlebrush and yellow bell plants would bring in loads of sunbird, babblers, warblers, wagtails and everyone with an interest in colour, but no – a sad lack of interest in anything but sweeping the path near the dining room.
I was in the shower (washing a bit at a time as too whimp to fully stand under the cold onslaught. Someone shouted "owl" and Bear set off with the big camera. Well done him. A brown hawk owl.
We settled early as we were due on a car visit to the National Park at six the next morning, but no sooner than we had settled there was an alarmed man at our zipper demanding we run to the dining room. A young, troubled bull elephant, just coming into must was on the rampage. All around the camp we could hear locals beating trays, honking horns and screaming. Twenty minutes later we were told that all was well but sleep was thin on the ground due to an army of dogs barking madly for the rest of the night. At three a lesser cuckoo went mad and a very loud koel took over at five.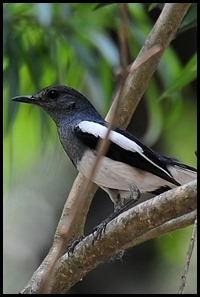 A noisy Bronzed drongo, a pretty Spotted dove, a busy Great tit and a handsome monochrome chapess – Mrs Oriental magpie robin..........
A pair of Asian pied starlings scruffing about.
23rd April. Car day to National Park. A successful day, eighty-two birds seen plus a load yet to be identified. Fresh water dolphins (extremely rare now), wild water buffalo and heavily guarded, critically endangered white-rumped vultures. We got back to camp at half past six, just after dusk and Bear fancied a dal bhat. Sadly, it knocked him off his feet.
24th April. Bear slept the whole day save for the very frequent races to the toilet. A good dose of Cipro and he hoped to be well for the next day. I sat and made lists for Beez, did my eight thousand stomps around the garden (kept to the stony path after seeing a four foot paddy snake in the leafy bit) and listened to a really good audiobook. Bed that night I heard a clacking, not the footfall of our big, resident gecko, more a four-footed clack. Torch on and in the corner a small frog. Took a while for it to feel safe behind my pillow and Bear caught it in a piece of tissue. As he hoyed it out, it tinkled on him, not pleased at having to wash, yet another night of disturbed sleep.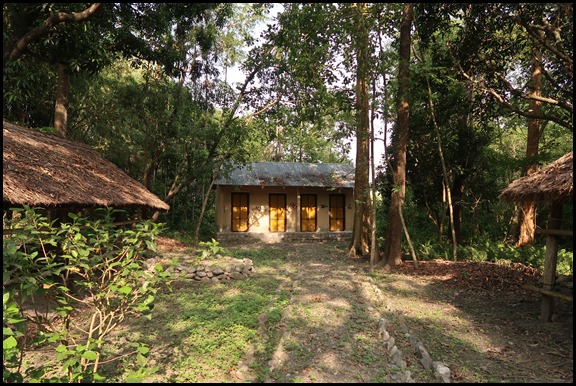 Back to our camp bimble. Between us and number 10, the facilities. Lurch, as we called him, put a kerosene lamp each end outside each evening. Cold showers with whichever insects were taking shelter at the time.........became the 'norm'.
10, 9 and Number 8 looked fairly functional.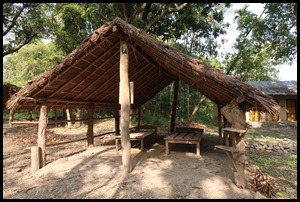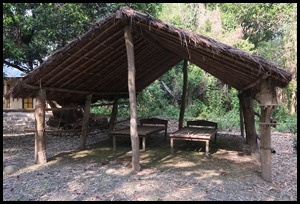 Number 7, 6 and 5 all fading off by degree.
Number 4. Things are getting poorly now, as are the facilities in the corner.
Number 3, barely hanging in there.
25th April. Bear needed a rest day so we sat and chatted about Beez job lists, drank lots of tea and retired early. More elephant dissuasion from the locals and we both sat bolt upright at the unmistakable claw-fall of a jackal walking across our grass mat outside the one layer of zipped door......
No electricity for a whole week became a chore in as much as having to go indoors around five o'clock because of the savage mosquitoes (didn't matter how much spray I put on, they just bit me through my trousers...). I'm used to sitting up after Bear nods off for an hour of blogging or photograph editing. Frustrating as they have a wire going the length of the garden for a line of bright, bright electric bulbs (said to scare off the elephants) but anything we needed to charge up was squirrelled to the men's hut where they had big electric fans........
We could just about make out the stumps of numbers 2 and 1. The hide was washed away three years ago but still listed as 'in use' on the website – last updated two years ago. All phone numbers incorrect and most sites listed the place as 'full'. So why were we Billy Nomates the entire week ???
All that's left of the three bird tables.
The dining room from left to right, piled high with garden furniture, Bear enjoyed his breakfasts but the second time he had dal bhat he got really poorly.
Feeling brighter but very tired-looking. Time to move on tomorrow wethinks....
26th April. I explored the three, big ponds that were behind the dining room. A perfect wilderness garden. This place should have birdwatchers racing to get here, not be a sad reflection of it's former glory. At the ponds I saw moorhen, kingfishers, coucal, koel and so much more.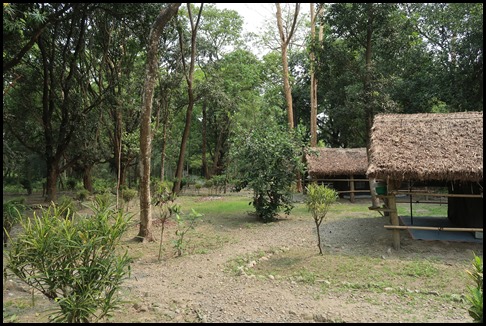 ALL IN ALL IF IT WAS WITHOUT BIRDS IT WOULD BE TRULY HAVE BEEN TRULY GRIM
FANTASTIC SETTING SHAME ABOUT THE NEGLECT
---