Train Tickets Yangon

Beez Neez
Skipper and First Mate Millard (Big Bear and Pepe)
Thu 7 Dec 2017 23:47
Yangon Bimble for Train Tickets
We jumped in a taxi outside our digs and headed for the train station, a twenty minute ride that took an hour through thick traffic. Clearly many buildings are what we now term as 'dated splendour' like this one called Fatherland.
The train station was a bit of a 'one careful owner'.
I looked up and across as Bear waited at the ticket counter.
I loved this weight machine that also gave a horoscope..... We were told to go outside and round the corner as the counter only sold tickets for today. We stuck our heads in with some bikes but a man said the next corner. At the end of the building another man told us to "turn left and left again, along the road, over the tracks and to a hotel with a ball on top. You find ticket place". Off we went. In the blazing heat.
Elderly trains and a real One Careful Owner.
On the right we saw the hotel with the ball on the top, crossed over to find a ticket office – that was for airline tickets. They told us to "walk to the crossroads, cross over and walk to the overhead bridge and find a ticket office on the right just below it". Off we went.
More dated splendour.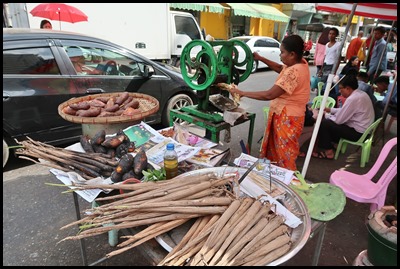 We bimbled past lots of food stalls, some with quite delicious aromas, others not. We haven't seen a sugar cane press in quite a few years. A puppy seller, these little chaps were not too pleased to say the least.
We reached the overhead bridge, which turned out to be the one from the station that goes over the tracks. I wanted to hit the last man who had set us off on this wild goose chase. We found the ticket office – it sold airline tickets. It was nice when we walked in when all seven counter staff stood and bade us 'welcome'. The one with the best English told us to go back the way we had come and find an opening. I decided that I would give this caper another five minutes before finding a taxi back to our digs. But what about the circular train ride around Yangon. I cannot possibly type the next few words that I uttered but the basic inference was No. Soldiering on, but only for five minutes on my part we went through an entrance and found what looked like an auctioneers yard. So much stuff in such variety but the young man said "next entrance". Here we go as the clocks ticks to three minutes.............
Well, colour me sceptical, under the cover of darkness were loads of lines to ticket booths. "No, not here over there". OK colour me with knitted brow as we followed to where the horny finger pointed. Across the yard, through a gap in the fence to more booths.
There I stood, midst the grime I could see piles of tickets, so close "No, all sold out upper class for tomorrow." The poor man saw the imminent outbreak across my face after forty minutes in forty degrees as I turned to Bear one finger raised. "Wait, lady wait". I paused mid pucker of cheeks. Five minutes later he returned.................."I have found two tickets". Lying little - - - - , it was because he was just sitting down to a very late lunch and didn't want his gruel to get cold. He did sensibly stand back about a foot from his side of the counter – out of my reach............. We walked away with our tickets. Upper class. For tomorrow. For Mawlamyine. Ten hours away. Oh but it will be great fun. Let's get todays fun over with shall we, thought I.
Bear's relief was palpable. I stood and looked at the ceiling for divine inspiration and to calm my beaten nerves.
We head back to the bridge that will take us in minutes to platform four, needed for our circular ride around Yangon, although my enthusiasm at this point is a little dented to say the very least. Coming toward us was a cart, a person somewhere behind. I stop to take a picture of a car, its windshield cooler a 'Little Bear'. I look to the left of the car and gape.
A lad, clearly been digging all day with basic tools trying to and successfully finding a water leak. Exhausted, but manages to give us a hearty grin, and pose for us. He will take home one pound fifty pence for his efforts today. I now stop........ on the spot....... and think I have so much to be grateful for.
Perked up, I now enjoy a pair of working bikes, get to the bridge, get up all the stairs, meeting a man barely able to cover himself with his longyi having just relieved himself. Nothing will dampen my new mood, the man and I giggle at each other and on we go.
The bridge itself is a long walk and we stop for a couple of slices of watermelon before heading down the steps to platform four.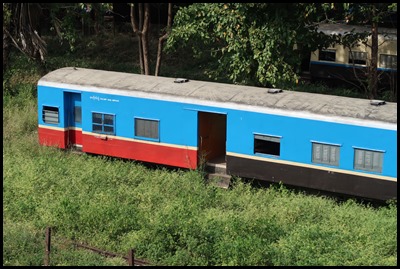 More careful owners in the field to our left.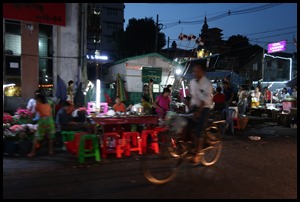 After our circular train ride, somewhat deflated at the amount of rubbish we saw, we get into a taxi to head back to our digs. Rush hour, it takes over an hour. It has been said to us that "Yangon grows on you the longer you stay", that will not happen, just the one night is sufficient until we come back for our final night to do the big pagoda and fly out the next day. Meanwhile, we have to wiggle our way through the night market.
So many stalls it's a wonder any of them make a decent living. So gridlocked is the traffic ahead, our taxi driver points up the road to our hotel, we get out and walk the last bit.
So tired are we both that we decide to head straight for the hotel restaurant, as if either of us see our bed we won't be able to resist the urge to fall in. The restaurant is massive, run separately and Chinese, suits us. We are the only customers. Sweet and sour chicken, chicken and cashew nut, two portions of pineapple rice, a Sprite and a beer all came to six ponds ninety pence. I cannot help stroking our Upper Class Tickets. They cost two pounds fifty each. Add that to the eleven pence each we spent on the circular ride and we have been 'the last of the big spenders'.
.
.......................
ALL IN ALL A RESULT IN THE END
A BIT OF A NUISANCE
---