Flores Bimble

Beez Neez now Chy Whella
Big Bear and Pepe Millard
Sun 16 Sep 2012 22:39
Flores Bimble
We ate a hearty breakfast, I sat next to the hotel trike, I must own one, one day. Back to our room for a couple of hours sleep, as once again the Independence Day celebrations went on until just after three. The woman who kept clapping and shouting encouragement as her friends performed shooters was at one point, at risk of me pushing her in the lake and holding her head under until the bubbles stopped. Having restrained myself as I don't yet want full membership of the GOF Club (Grumpy Ol' Farts).
Bear wanted to go for a bimble around and had to promise me an ice cream at the end to get me to stir my stumps. We were not disappointed to see Berger Paint alive and well. The electric supply was up to standard too.
Not a soul around, Bear had to remind me it is the 'morning / afternoon after the night before' and we are off season, technically
Bear had promised good pictures from up at the town square, but I felt a deserted smoothie stand, an ugly statue and a locked church was not up to much.
The view wasn't much better of the lake until.........
........ a great roof garden
What have I said about eating too many frijoles.......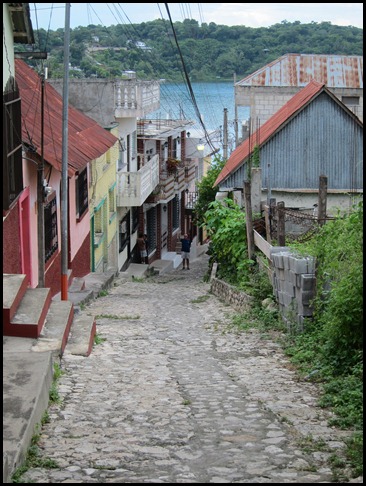 Enough fun, time to go back down to the ice cream shop.
Good to see Pizza Hut out and about. We have been told that the youngsters in the Burger King we passed on the way here get paid 70Q per day or five pounds forty or the price of two burgers...........
We stood and watched motorbikes coming off the ferry
Little pearls and a great open plan kitchen, complete with dog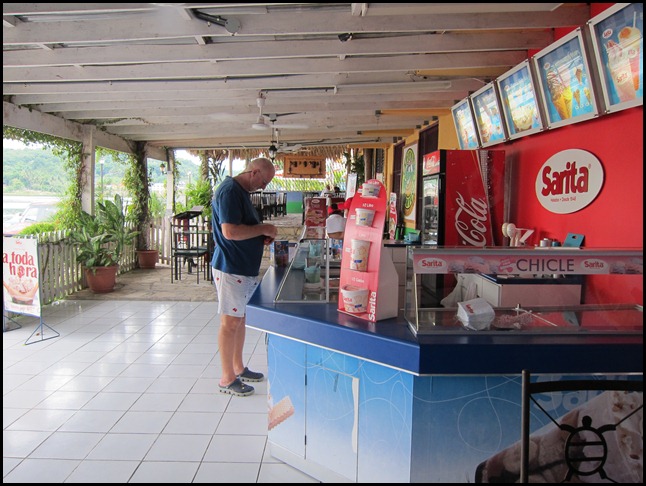 Finally, Bear delivers on his promise
Result of a good night ????
We settled in Bill's Place for the afternoon, the idea was to have a Pacific Planning Meeting, not too in depth as I had no pen and paper - always a must. Happy Hour special was a bottle of vodka and two soft drinks for 80 Q or six pounds and seventeen pence, the exchange rate yesterday though was 13 Q to the pound so an even better bargain. It would have been rude not to ask for two diet Coke's and help Bear out – it was a 500ml bottle. Planning went so well as far as Galapagos – our first stop, not bad, shush - that we repeated the exercise with the aid of a plate of nachos, Mmmm more frijoles......... The lovely lady who looked after us (on the left) was called Nuella, she left at five and her equally happy twin Lucy took over.
About seven we went back to our hotel and got waylaid by a waiter who insisted we join a party of new arrivals.....Cocktails, cute decoration and Bear immersing himself very smoothly into the group, whatever he was telling these ladies it was a big one or was he trying to start a Mexican Wave – wrong country love.........
Back to our room for an early night, alarm set for four thirty to be downstairs ready for our five o'clock bus to San Ignacio.
ALL IN ALL QUAINT
AND RELATIVELY MODERN FOR GUATEMALA
---