Dutch Side

Beez Neez now Chy Whella
Big Bear and Pepe Millard
Tue 22 Dec 2009 22:12
Sint Maarten
Off we went in our hire car from Fatso for two days of tourist shopping on the 20th and 21st of December. If we were good girl and boy Santa may buy us something nice.
Since 1919 Sint Maarten has been the seat of the Governor of what are called the Dutch Windward Islands (Sint Maarten, Saba and Statia). They are presently formerly joined to three other territories in the Dutch Leeward Islands, north of Venezuela (Aruba, Bonaire and Curacao). Together the four territories form the self governing Dutch Netherlands Antilles Federation whose Governor general and Legislative Assembly are in Curacao. The population on this side of the island is around thirty five thousand.
Sign on the road by the top of the airfield. Just by way of a change we are featuring a very different kind of "One Careful Owner".
OOPS
The number plates on this side of the island have this wonderful moniker "The Friendly Island"
If in the past the Sint Maarten economy depended on cane sugar and salt ponds, these days it is all radically changed and the duty free, tax free zone is nicknamed "The Little Hong Kong" of the Antilles. Real Estate development is going full tilt and reclamation in the lagoon and leveling of the hills is helping Philipsburg grow. The sole object of all the hotel construction is to attract tourists, preferably American. The dollar rules, with the result that the Florin (or Guilder) is largely an administrative fiction. In just the same way few speak Dutch because everyday life is conducted in English (if often mixed with the Papiamento of Curacao). On official maps all the names of places and bays etc are in Dutch, though in fact the tendency is more and more to call them by anglicised versions.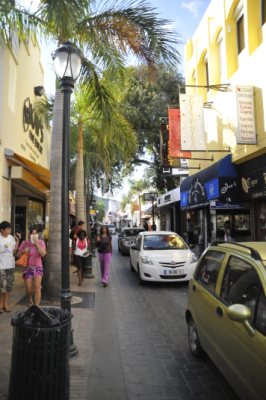 Philipsburg High Street. Bear modeling.
When Bear and I got together I brought in a young friend to go through his wardrobe, that way it was a third party who said "Hawaii patterned shirts were best seen on Tom Sellick in Magnum PI or at a push on the Beach boys, the rest should forthwith gain the rack in a charity shop". With that 99% of his wardrobe disappeared in black sacks. I used to put a portion of said collected garb on the floor of a charity shop and run before they could gasp at what I had just deposited. Since that day I have only bought Bear plain clothes. We walked past a pure silk shop and the attendant was very obliging at letting Bear try on new fashions. I'm not sure if he looks like an American Perv or a Brit who should know better. Comments please. Needless to say we left the shop having bought him PLAIN again. I even think the dummy behind him in the last picture looks gay.
The pretty Courthouse. Bear has a penchant for looking into the window of what he calls Posh Pant Shops - he is clearly working on the memory of when I wore such garb, instead of the Bridget Jones I now use as standard. This particular Pant Shop was called Freya, so to our dear friends Anne and Alan of Freya of Clyde, we think of you - really pleased you cater for those needing a J Cup. Blimey Duck.
Daniel, Bear and Anastasios. And with me. Santa bought me a Tanzanite ring to match my necklace - only a four year search..... "Yes well Santa bought you a new laptop....."
Shopping is incredibly hard work for a Bear - time for a serious smoothie. A street seller wearing her wares.
While Bear and I waited for a Techy to split the hard drive of my Mac, we watched this girl leave. The last of four that that day.
The statutory KFC, and yes, we did slip in for a portion. The local Government building decked for Christmas
On the way back we couldn't resist going to take this photo. At the bottom of the runway is this sign. Apparently (and we know folk who have done it) you stand holding the perimeter fence for as long as possible before the jet blast shoots you across a road, over a small wall, across a narrow beach and into the sea. It is a well known tourist "must do". Flaming Nuts. The French side at night.
We thought this hardware shop was particularly festive. One of the streets near where we had to turn to get back.
Another new approach to the "One Careful Owner" we saw on the quayside as we fueled up. A friend saw us off as we left for the BVI's at 18:00 on the 22nd of December.
The sunset as we got on our way.
ALL IN ALL A REALLY FRIENDLY ISLAND OF MANY CURRENCIES, PEOPLE AND ATMOSPHERES.
VERY COLONIAL, VERY BIZARRE TO HAVE TWO COUNTRIES IN SUCH A SMALL GEOGRAPHIC AREA.
---