London Eye

Beez Neez now Chy Whella
Big Bear and Pepe Millard
Sun 20 Aug 2017 22:57
The London Eye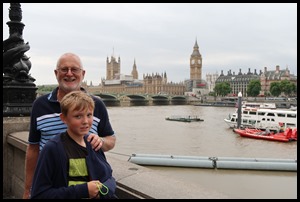 Harley's first look at the London Eye caused a "Wow". Posing beneath with Grandpa and with Big Ben.
Time for a cup of tea before our 'flight'. Wiki says:
The London Eye is a giant Ferris wheel on the South Bank of the River Thames in London. As of January 2015, it has been advertised as the Coca-Cola London Eye.
The structure is 443 feet (135 m) tall and the wheel has a diameter of 394 feet (120 m). When it opened to the public in 2000 it was the world's tallest Ferris wheel. Its height was surpassed by the 520 feet (158 m) tall Star of Nanchang in 2006, the 541 feet (165 m) tall Singapore Flyer in 2008, and the 550 feet (168 m) High Roller (Las Vegas) in 2014. Supported by an A-frame on one side only, unlike the taller Nanchang and Singapore wheels, the Eye is described by its operators as "the world's tallest cantilevered observation wheel".
It is Europe's tallest Ferris wheel, and offered the highest public viewing point in London until it was superseded by the 804 feet (245 m) observation deck on the 72nd floor of The Shard, which opened to the public on the 1st of February 2013. It is the most popular paid tourist attraction in the United Kingdom with over 3.75 million visitors annually, and has made many appearances in popular culture.
Our capsule – number eight and off we go.
The wheel's 32 sealed and air-conditioned ovoidal passenger capsules, designed and supplied by Poma, are attached to the external circumference of the wheel and rotated by electric motors. Each of the 10-tonne (11-short-ton) capsules represents one of the London Boroughs, and holds up to 25 people, who are free to walk around inside the capsule, though seating is provided. The wheel rotates at 26 cm (10 in) per second (about 0.9 kph or 0.6 mph) so that one revolution takes about 30 minutes. It does not usually stop to take on passengers; the rotation rate is slow enough to allow passengers to walk on and off the moving capsules at ground level. It is, however, stopped to allow disabled or elderly passengers time to embark and disembark safely.
In 2009 the first stage of a £12.5 million capsule upgrade began. Each capsule was taken down and floated down the river to Tilbury Docks in Essex.
Half way up.
At the top.
The London Eye was pegged as the highlight of the beginning of Our London Week and the experience for Harley delivered in spades, he chose eight o'clock as he wanted to see the lights come on. Seventeen years since we were here and it was a thrill for us too. We all enjoyed the scenery, the walk across the river and the journey back to our digs, a long, fun-filled day.
ALL IN ALL A BRILLIANT ICON
WONDERFUL TO BE ON THE EYE AT DUSK
---