To Christchurch

Beez Neez now Chy Whella
Big Bear and Pepe Millard
Thu 17 Jul 2014 22:57
To Christchurch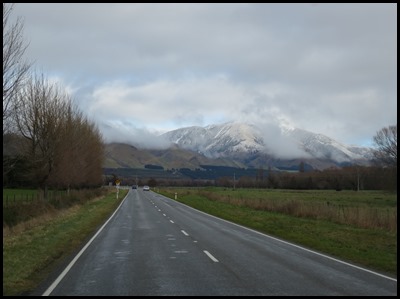 After our late night, it was a slow start this morning. A sprinkling of snow on the mountains and our breath causing clouds on the way to ablute. Is it the Spa Bath then, I asked almost sheepishly. To be honest if Bear really wanted to go I would have been brave, hired big towels and not got wet above the neck, but the thought of standing up in the freezing air was a minus figure on my bucket list. No, it will be too harsh, I can wait for the warmer weather and enjoy the experience when we get to Rotorua. Thank the Lord in His Heaven. Never been so pleased to hear Bears words. Packed and on to the quiet road, off to Christchurch it is.
We stopped to take a picture of the
Waiau Ferry Bridge
.
Down river. I thought I would just bimble down the road a little to get a better view of the mountains.
No good trees, bit further. No good power lines, bit further. No still power lines, bit further.
That'll do then. I look back to see Mable a long way up the road. I know I'll break into a trot. Well, just a couple of hundred yards. I climbed up into Mable, Bear had the heat full on for me. Oooo did that make me cough. I thought you were walking back to do the Spa Bath, looked out the window and you had gone quite far. Growl as he giggled at my breath coming in short pants, gulps and much coughing. I told you jogging was a dangerous activity........
Over the bridge and the view up river.
Midday and it's only six degrees. The main road.
The Waipara River cut the Weka Pass by wearing down the soft limestone and mudstone in the area. Erosion has created a number of distinctive limestone formations in the pass.
The whole picture looks like its leaning over, until you see that the tree is straight
This one is called Frog Rock.
We stopped at Waikuku Beach and ate our lunch, inside Mabel..........
Interesting reading the information on Tsunami Warning.
A 'one careful owner' and ten minutes later we were on the Top Ten site in Christchurch.
ALL IN ALL READY TO EXPLORE ON THE MORROW
---