Oscar's 7th

Beez Neez
Skipper and First Mate Millard (Big Bear and Pepe)
Sat 29 Apr 2017 22:57
Oscar's 7th Birthday Party
Birthday Boy Oscar, warming up for battle.
We set off from Swindon early this morning with Jack and Seth, stopped for a snack and rolled up to Wembury ready for the bouncy castle and gladiator fun. The weather was perfect, the Pimms tasty and I was put in charge of hot dogs. Bear was the bouncy castle 'wiggle man' as all the youngsters wanted to climb the side wall and be knocked off. Martin was in charge of the gladiators and we were sad that Kim didn't beat him in the adult rounds.
Let battle begin.
Oscar concentrating hard for the win.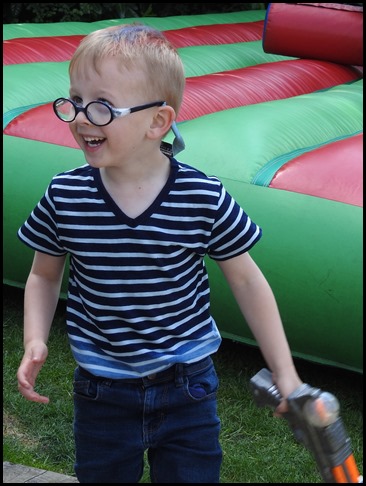 Jacob, if anyone should play professional rugby it's this lad. Seth having fun.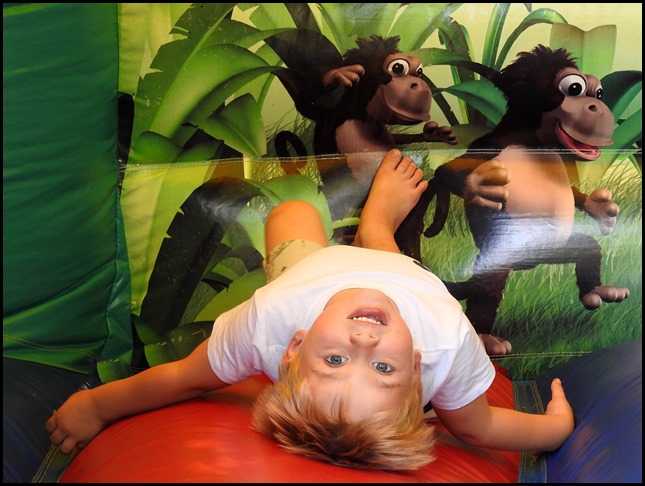 Jacob looking lovely on the bouncy castle.
Seth and Jacob take a breather before Seth looks serious behind his gun.
Grandpa is successful knocking the lads off.............
...............then has a breather with Bella.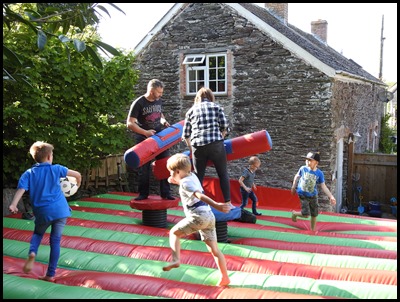 Martin takes on Kim, then Jacob and wins.
Love the picture Diane (Kim's mum) took of Kim, Martin and Oscar.
Most of the party but everyone had a good time. After Oscar's friends had been picked up the family bounced and fought until the apparatus was collected. Oscar bunked with Jacob and Seth bunked with Seth – to our amazement and surprise, all the boys settled to sleep and slept soundly until morning, refreshed for the next party at Diggerland for William.
After the guests had left the cousins posed with their grandpa.
ALL IN ALL A GREAT DAY
GOOD BOUNCING FUN FOR ALL AGES
---