Argyle Falls

Beez Neez now Chy Whella
Big Bear and Pepe Millard
Mon 21 Jun 2010 22:55
The Argyle Waterfalls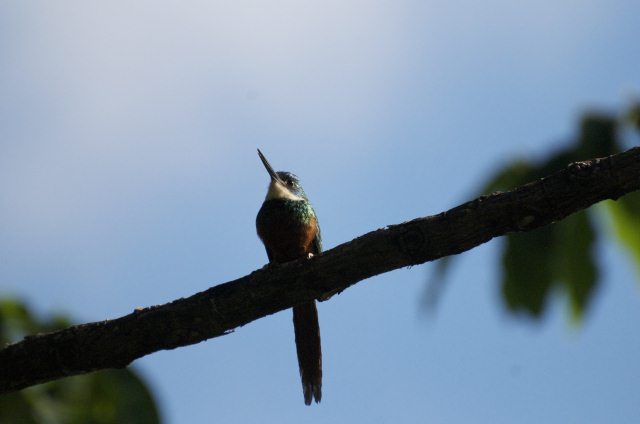 Our first ever look at a Rufous-tailed Jacamar
Off we went one day on an adventure to visit the Argyle Waterfalls. Bear drove our now well-proven, trusty steed along the short but only main road, the Claude Noel Highway, by-passing Scarborough, past Hope and notable sounding places such as: Goodwood, Windsor, Pembroke, Richmond, Glamorgan and finally Roxborough to get some petrol. The falls are l
ocated near Roxborough and are Tobago's highest waterfalls, tumbling in a series of stepped cascades from a height of about one hundred and seventy feet. Our lovely guide was called Alison Bascombe and after a very short walk she had called a Jacamar for us.
A very handsome little chap
The Jacamar is a fairly common resident of both Trinidad and Tobago, and can be found from Southern Mexico to Ecuador, Bolivia, Northern Argentina. The nominate species range from North Colombia and Venezuela to the Guyanas and Northern Brazil. Definitely not seen on any bird table in UK. The Jacamar is about ten inches tip to tail and is an insect eater, catching on the wing and perching to eat after battering its prey to death on the branch. Like kingfishers they nest in a burrow, laying two to four eggs, both parents raise the young. During courtship the male woos the female by catching insects, battering then stripping the wings before offering the gift. They are very unaware of man as a predator, we watched a pair and when we got too close to their burrow they flew slightly away to a further perch and waited until we moved off.
Alison with her brolly shoved down a burrow
Our fist ever pair of Motmot
Further along the track was this handsome fellow - a good six inches across the back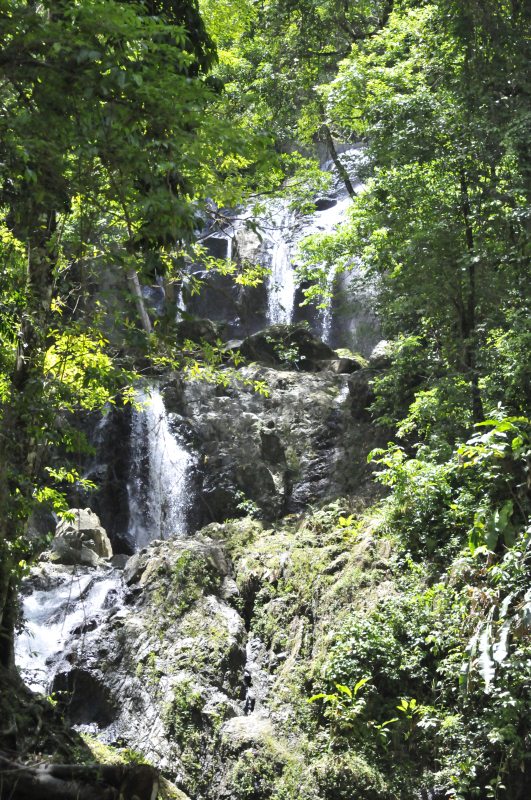 Bear enjoying cooling off
After our swim it was back along the track where we saw this Blue-crowned Motmot
Fruit bats enjoying the shade
ALL IN ALL A WOW TO TICK OFF THE JACAMAR AND MOTMOT
---