A Very Wet Time

Beez Neez now Chy Whella
Big Bear and Pepe Millard
Thu 7 Jan 2016 23:57
A Very, Very, Very Wet Week
The very wet weather system next to Sydney.
December was the wettest month ever recorded in the UK, with almost double the rain falling than average, according to data released by the Met Office on Tuesday. Last month saw widespread flooding which continued into the New Year, with twenty one flood alerts in England and Wales and four in Scotland in force on Tuesday morning.
The record for the warmest December in the UK was also smashed last month, with an average temperature of 7.9C, 4.1C higher than the long-term average.
Meanwhile........ Sydney had a warm December in 2015, with severe storms causing heavy rain, hail and a tornado on the 16
th. So chippy at night the quilt has come back out.
The most significant weather event of the month occurred on the 16th of December, when a series of severe thunderstorms crossed the city. A category F2 tornado damaged several properties and the desalination plant in Kurnell, with a wind gust of 213 km/h recorded, the strongest wind gust ever recorded in New South Wales. The thunderstorms also produced heavy rain and localised flash flooding, with 53 mm in 30 minutes in Rose Bay. The heavy rain collapsed a roof in Bondi Junction Westfield, while hail of up to 3 cm in diameter was reported in several locations in southeast Sydney including Cronulla.
This week the wet weather has continued with a solid four days, then the odd ten minute break which causes a heavier start after the short interval.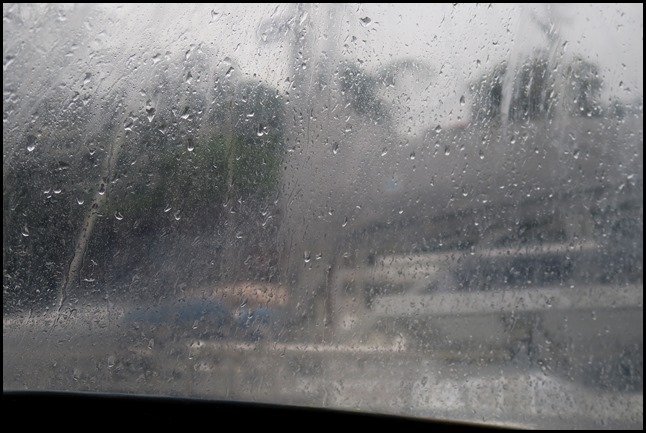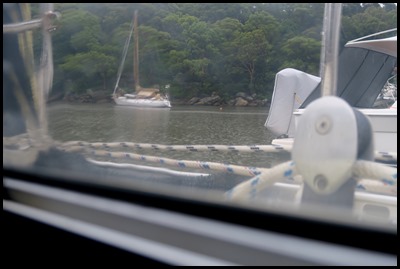 Not bothered what my reins were doing as I quickly looked something up....... This caused huge mirth from himself. Meanwhile, the scabies incident continues to be the saga aboard. I have hundreds of glass pin head blisters from my right little pinky tip to wrist and blotches up my right arm. These turn themselves into beasts in the middle of the night when I awaken to find myself trying to rip my hand off with the nails on my left hand. On Monday we both showered and covered ourselves in Lyeclear, changed the bedding and now I await with baited breath for the protein in my system to stop producing the blotches and blisters..........You will just have to be.........say another word about patience and I will do you a bodily disservice with my blistered fist.......
We did venture out on the 4th, brollies to hand, to collect my Mac which had been with the MacMedic for a Christmas holiday. All shiny with a replacement for my broken glass screen, a new battery and an unblocked cursor. Time to play with ITunes for a day or so. I decided to get rid of duplicates. Mmmm. They are in the audiobook chapter titles – track 1, track 2 etc. Plan – to put the title of the book before each track number and therefore get rid of the duplicates. Ninety seven books need this treatment, easy if each hour is a chapter and there are just twelve to deal with but the record goes to a certain gentleman with nine hundred and four tracks, not one of them longer than three minutes......... Nothing for it but to settle with a good-well-watched-old-friend-film and a packet of wine gums. No guilt as himself is pottering around the estate with a lunch box – soon to be a waterproof station for the shore power unit [which trips out every time it starts to rain, meaning he has been in and out like passed wind in a colander].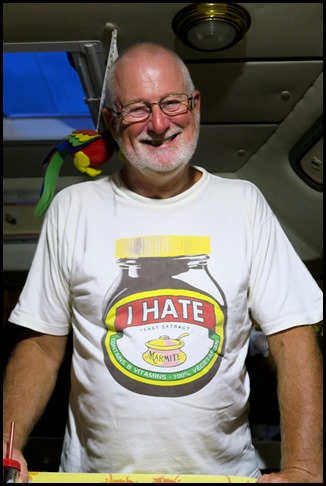 Meanwhile, his royal smugness began the backgammon year as he did last year, seeing me in the dollar red. No sooner than we had got back after New Year than I hit a five nil mashing and minus ten dollars. This went as far as minus twenty four before I got the bit back between the teeth and as of last night was plus five on the money front but five three down. Today after lunch another five nil thrashing and back to being minus two, this just has to stop.........a revenge game with no friendliness was played after supper. I snuck a five two win and the last rubber was a sneakier backgammon for eight dollars bringing me to plus thirteen. Yay. To say I'm not one bit pleased.............and just look at Mexican train dominoes – I've lost all three games with a terrible seven hundred and thirty five to your one hundred and sixty one on the middle game. Well colour me happy then........
ALL IN ALL CHORES, GAMES AND FILMS ARE IN ORDER
---