To Shotover

Beez Neez now Chy Whella
Big Bear and Pepe Millard
Fri 22 Aug 2014 22:57
To Shotover
I so could have turned over this morning and had a lie in, in fact, a whole duvet day but Bear was up chipper as a lark and nipping at my ankles to get going. I dragged myself to the shower and made my way through the motions of becoming a cheery and enthusiastic tourist. I of course had to admit that I was thrilled Bear got us out of Queenstown, as within a few miles the scenery was jaw-dropping and he found me a chap sitting at the side of the road. He posed momentarily before gliding on the thermals.
The morning haze.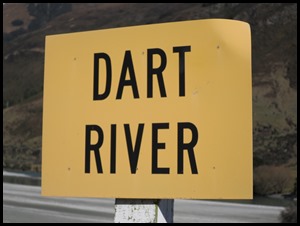 We followed the edge of Lake Wakatipu and crossed the Dart River. The bridge was opened on the 25th of May 1974 as it says on the plaque.
Looking upriver, slightly different vista to our Dart River in Devon.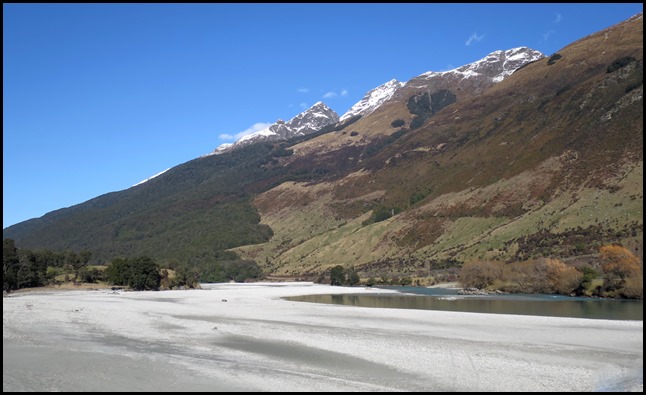 Looking downriver.
We enjoyed the views on our way back to Queenstown. Stopping in the tiny hamlet of Kinloch.
A couple of 'One Careful Owners'.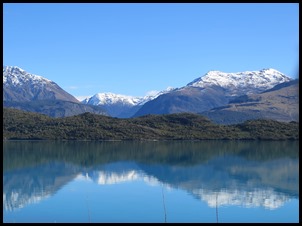 To our left the Humboldt Range to our right the Richardson Range.
Our only traffic, a duck.
Nearing Queenstown once more.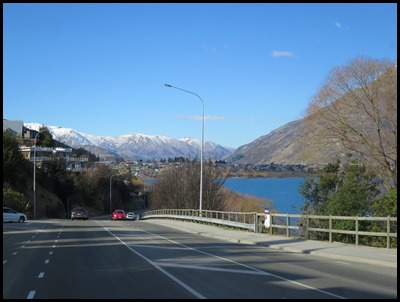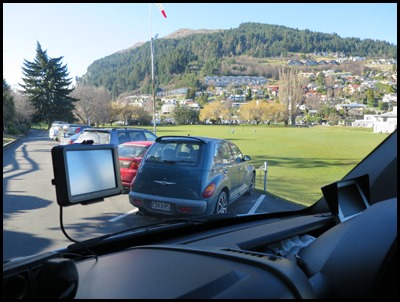 Driving through Queenstown we saw a bug.
We came to the bridge crossing the Kawarau River. This place on our left has become world famous as the birth of the bungy jump. We thank the company for their wonderful photograph. Neither of us fancied the one hundred and forty one feet drop at a cost of ninety pounds. But had we, this is the place to do it.
"
Not only is
Queenstown
the Adventure Capital of the World but it is also the location of the 'World Home of Bungy Jumping'- The Kawarau Bridge Bungy! In November 1988, Bungy pioneers AJ Hackett and Henry van Asch jumped into the World spotlight by launching the World's first commercially operated Bungy Jumping Site, off the historic Kawarau Bridge.
With over 25 years of operating experience we have become renowned as one of the most exhilarating
things to do in Queenstown. If you want to be tied up & thrown off with a friend, then this is the Bungy Site for you, as it offers Queenstown's only Tandem Bungy Jump. Just remember that sharing the thrill doesn't mean halving the fear!".
Not too much further along the road, than Mabel was pulling in to her slot and the boys had a new friend.
ALL IN ALL A FULL DAY IN THE SUNSHINE
---