Tambopata Lodge

Beez Neez now Chy Whella
Big Bear and Pepe Millard
Wed 8 Sep 2010 21:40
Wasai Tambopata Lodge
Our lodge with Bear testing out the hammock
Accommodation here at Wasai Tambopata Lodge is for up to forty people (four large bungalows with two person rooms with private bathrooms, mosquito nets, etc and three smaller two person bungalows). These bungalows are constructed in the typical style for the region - that is wood with palm roofs.
Our next door neighbours, Anne and Alan's lodge. There are twenty kilometers of forest trails around the lodge and it is possible to visit the local community of Baltimore, the El Gato Waterfalls, and collpas - licks - of parrots and mammals. Fishing is also possible, we met a couple from Lithuania who were there to fish, mostly for dogfish and catfish. Up-river from the lodge there are no more dwellings. The lack of people and the closeness to the Andes produces an abundance of flora and fauna not seen in other areas of the Amazon.
I was straight away aware of the nests of oropendola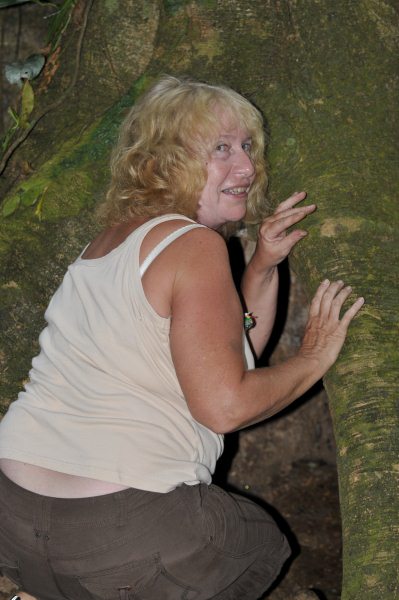 Anne scurried in and out of an enormous tree to take a picture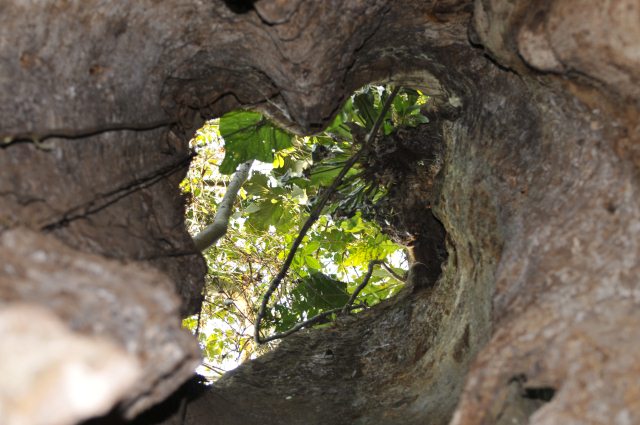 That is a tree that grows hollow
Anne and Alan at the base of an enormous tree. Omar and the boys trying to call a Mot-mot for me
I was expecting Omar to pucker his lips but he had fancy recordings of birds. The tall straight Wasai tree that the lodge is named after
There is also a Camping Area. Central Lodge building with Dining Area, Kitchen, Toilets, Common Areas to Relax, Hammocks, Research Centre/Library. Radio Communications including free Wi-Fi with a very good signal. River Transportation. Expert full time local guides, ours was Omar. Fishing Equipment. Canoes. Just about anything you could wish to do at such a wonderful place, truly a jungle paradise. The two nights we stayed were amazing, the birds, animals, insects etc and the noise at night made for incredible entertainment AND no mossie bites at all.
ALL IN ALL AN EXPERIENCE NOT TO BE MISSED
LUXURY CONSIDERING WE WERE IN THE JUNGLE
---