Sakatia Island Bimble

Beez Neez now Chy Whella
Big Bear and Pepe Millard
Sun 1 Sep 2019 23:57
Sakatia Island Bimble
We picked Irma and Kevin up at nine and were soon on the beach at low-ish tide.......Mmmm. More of that later...... So love the rock anchor on this local boat. We had a very high tide last night and the debris line shows how close the water came to this dwelling.
With the help of some ladies on the beach and a couple of wrong turns until a lady left her front garden to put us on the right track to follow a path up from this 'one careful owner', passing homemade bedcovers and tablecloths for sale along the way.
A herb window box and a very neat garden.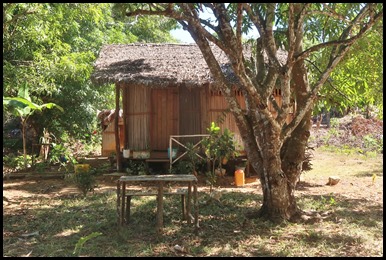 A rustic house and a mum teaching her babies to scruff about.
Getting somewhere now. We follow Irma and Kevin up a natural staircase, pass a jackfruit and down to cross an open field.
A poorly looking shelter with a very neat concrete bridge over a stream.......
.........the perfect spot to have Irma and Kevin pose for a picture. Up the next rise we found a pineapple field. A lovely traveller palm with a little boy, one of three that bimbled along with us for a while.
At the top of the next rise our scenery changed to hot and dry.
At the top of the hill we found a tiny settlement - spick, span and so very neat. The view took in a couple of masts looking down toward the main anchorage.
One of the houses we saw at the top.
We bimbled on through dry scenery.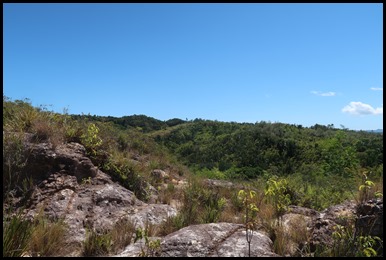 Up to the top on the east side of Sakatia to look across to Nosy Be.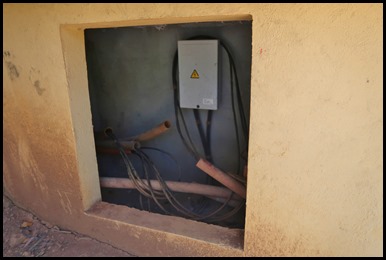 Down past solar panels and an electrickery box.
Down through a closed resort – loved the banana leaf lightshades.
Down onto the beach with interesting rocks.
A kingfisher surveying his kingdom.
Over some rocks toward the next headland. An apparently dead log but showing so many roots. The red plastic cap was the only rubbish we saw.
Past another resort and on to the next headland.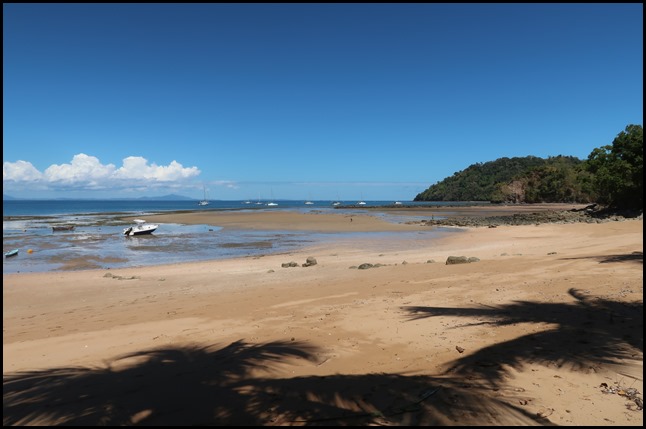 The tide really was out.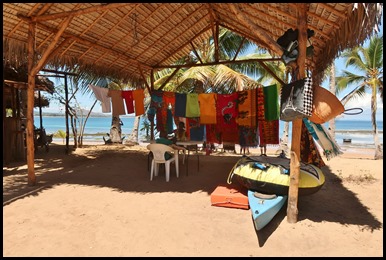 Over a rickety bridge, up a hill and down a steep 'driveway' we saw a sarong and tee shirt stall, next to it a bar. Silly not to stop for a cold one, it was now midday. Irma asked about a menu and the chap told us as it was Sunday they made paella. He checked there was enough, "yes, in about an hour". Perfect.
A hopeful customer.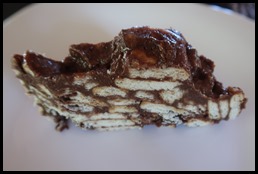 A delicious starter of deep fried prawns and cucumber served with a mustard mayonnaise. We decided to go mad and share a bottle of wine. Out came the main event measuring a metre across, those who fancied could go up for seconds. Next came chocolate cake accompanied by a small coop filled with tinned fruit, espresso to follow. A lovely meal.
Just as we were leaving – out came the trigger finger..... We clambered over the rocks at the next headland and finally saw the yachts at anchor.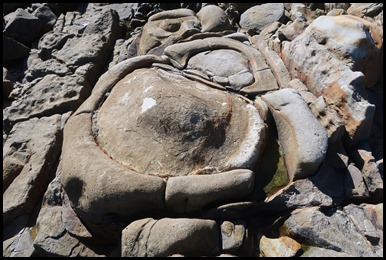 More fascinating rocks.
A brief stop to chat to some yachties and to watch children splashing about. (Beez Neez on the left).
Final corner.
Girls at anchor.
The tide had come in a fair way on the southern side of the island and Baby Beez was having a whale of a time. I offered to go and persuade her to come back to the beach......
En route.
Still en route.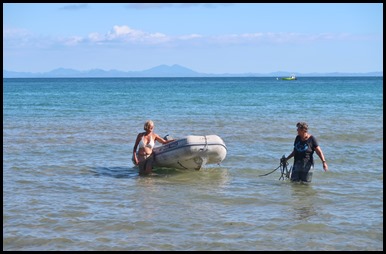 Irma strode out to meet us whilst the boys watched. Much laughter. Soon ashore and heading back to Canace, Irma and Kevin offered us a libation but as I was dripping wet and in need of a shower we headed back to Beez. Thank heavens we did, as I stripped off my favourite but elderly and thin elephant print trousers I was aghast to see the whole nether region from waistband to lower seem had simply shredded, not a sight for anybody, a massive hole with wet knickers on show. Poor things deserved a burial at sea but cannot risk them not sinking. Only kidding, but unlike most tee shirts and cotton items past their sell by date, the material of my trousers cannot stand up to becoming polishing rags – bin it was then. Sadly.......
ALL IN ALL A LOVELY WAY TO SEE THE ISLAND
GOOD EXERCISE AND NICE VIEWS
---