Mekong Lunch

Beez Neez now Chy Whella
Big Bear and Pepe Millard
Wed 27 Dec 2017 23:37
Mekong Lunch Hour
We leave our tour boat for our lunch break, steamed fish on order. We pass pretty plants.
Topiary..........
.........and crocodiles.
We passed a surprised fried fish, found our table and Bear posed with our fish.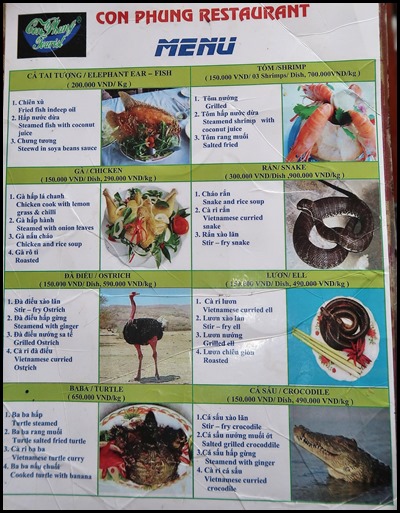 Along with the two types of elephant ear fish, we could have chosen shrimp, chicken, snake, ostrich, eel, turtle or crocodile, as well as vegetarian options.
Bear took on a flimsy bridge watching bubbles rise to the surface......
Just when you think nothing will astound or silence you.......we watch koi being fed pellets from babies bottles. Plenty of squealing from the tourist bottle wielders when all the fish flap at one and the same moment, soaking those nearby.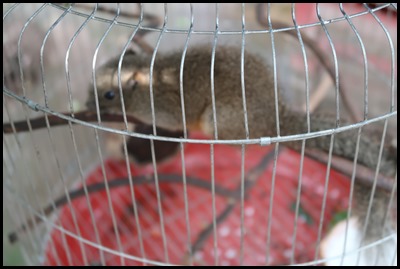 Sad to see this heron tied by the leg on a piece of string. Also sad to see the squirrel in a small finch cage.
For a small fee tourists can pay to waggle a piece of meat over the hungry crocs........
.......The fun stops when speed overcomes the angler.
Back to the manicured gardens to wait for our boat and guide.
ALL IN ALL SUCH STRANGE CONTRASTS
GLAD THE FENCES WERE TALL
---