Day 2 to Vanuatu

Beez Neez
Skipper and First Mate Millard (Big Bear and Pepe)
Thu 22 Oct 2015 12:00
I'm used to going to bed at six in the dark, so I was delighted this morning to see the light of dawn.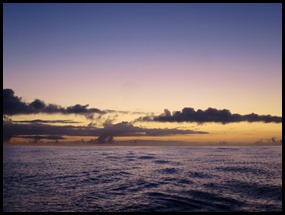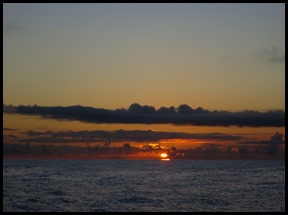 The first try of the sun, the gentle pinks, the harsher greys.
By six a lovely sunrise.
After lunch the genoa was unfurled and the engine was switched off, we glided in silence save the odd ripple against the girl. We did indeed settle to games. I won at backgammon and reported a new record at winnings - and so many weeks left to finish the year with a massive pot. Don't upset me. Then as the water was as flat – as if someone had taken a iron to it, we played Mexican train dominoes and I was given an easy win. I'm really upset now. Then we played rummikub, Bear let me win ten to his three and my winnings increased modestly. I'm really, really upset now and need to start growling........
We notched up one hundred and twenty nine miles.
Total two hundred and forty one miles.
19:21.53 South 173:35.25 East.
So pleased to report save seeing a little freighter at some distance, we had the ocean to ourselves. A hearty lunch methinks.
ALL IN ALL PERFECT SAILING ON A DUCK POND
GREAT TO BE SAILING IN BEAUTIFUL WEATHER
---