Sullivan Bay

Beez Neez now Chy Whella
Big Bear and Pepe Millard
Mon 22 Apr 2013 21:24
Sullivan Bay and Snorkel
Seen from the top..................
....................Our neighbour looked quite impressive up close.
After our Master and Commander photo opportunities from the summit trail, we went back to Vision for snacks and to collect our snorkel kits. Skipper ready for the off, I did point out that the white blob didn't in fact add to 'the image'. Around the boat we saw a few sharks and some really fat puffer fish.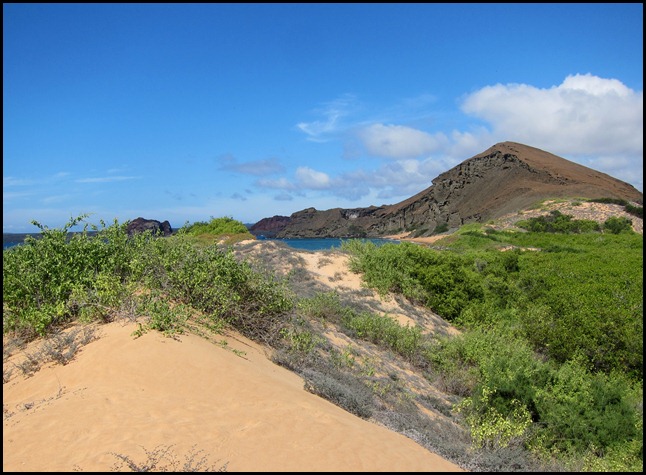 Back to shore we followed a track to South Beach, Bartolomé Island.
No sooner than we had stepped onto the beach we were up close and personal with Galapagos Hawks (own blog).
In the surf we saw our first white tipped shark.
Then another.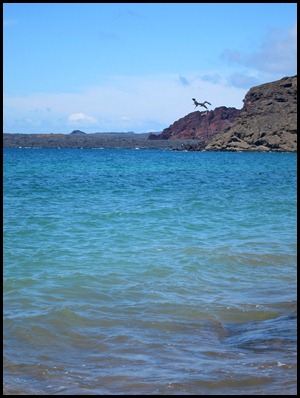 New turtle nests, hawks, frigate birds. A rather lovely beach.
On our way back we found a little one who hadn't made it.
Back in the panga, Chino said he had seen penguins, so off we went in search. A blue-foot on a great vantage point.
A Galapagos Hawk complete with shadow.
What a setting for a snorkel.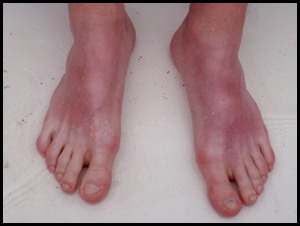 We had our own red-foot aboard as Tony's feet had turned a very bright shade. We did see one penguin shoot through the water, stand up on the beach for a split second, flop back down and swim off so fast, no one had time to even pick up a camera, let alone focus. Our guides picked a spot for Chino to drop us off for our first snorkel. As always everyone fell backwards and swam off – me – as always, has to work my way in inch by inch, so pleasing that I can swear away up my breathing tube and no one can work out what I'm squealing about. Words like "it's cold" and "I hate cold water" Yeah right, you even moaned about the Bahamas being cold. Yes, but like I say I'm OK when I get in and get going.
Once in and my first gulp has to be fought for, I get busy and forget the fact the water is in no way similar to being in a bath. That said as soon as I get used to it I can stay in for up to an hour, maybe here half an hour happily. Fish soon began to appear.
New ones to our eyes.
With teeth.
Lumpy Head.
A happy blenny.
Bear did some serious whispering to get these chaps to sit still.
A ray with a stubby tail. What next. Loads of fish.
Sleeping beauty, resting on the bottom.
ALL IN ALL A TV WILDLIFE EPISODE
FABULOUS EXPERIENCE
---