Church Bimble

Beez Neez
Skipper and First Mate Millard (Big Bear and Pepe)
Fri 10 May 2013 22:27
A Bimble Around the Church in Puerto Villamil
We saw the church was open and went in to take a look.
The inside delightful, happy and welcoming.
The carving just inside the door.
The altar was unique, a huge lump of tree.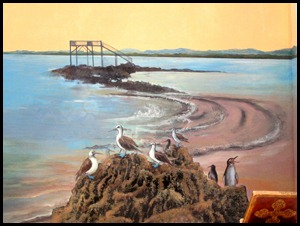 The main mural. I thought it was stunning. So informal yet dignified, complete with local flora and fauna.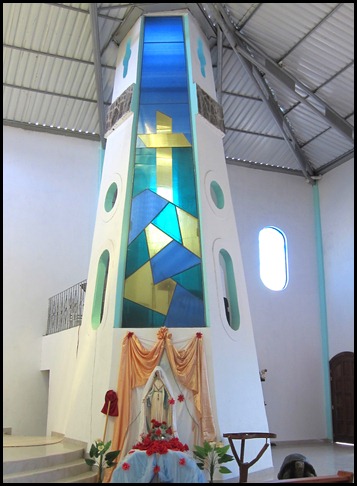 Our lady had a friend beside her.
The wall pictures.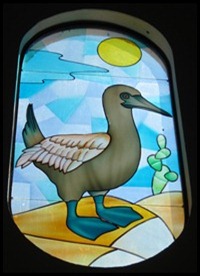 The wonderful windows.
As we left you know who made a comment about a job lot as St Francis, the wolf and the dove looked remarkably similar to the one outside the church in Puerto Ayora, Santa Cruz. See the warning signs.
Have you ever seen a bottle of tropical mix juice aimed with such accuracy and force.
Bear has.
Run Bear, Run
We bimbled up a side road to find the 'supermarket',bought a new bucket and some salad.
Happy chaps adorn the wall at the end of the fixed market.
We wandered back to the laundry where Alan and Bear talked yacht stuff.
Outside were some interesting displays for sale. Wander to the pier via the beach and a water taxi back to Beez for a game of backgammon.
ALL IN ALL SO VERY QUAINT
ONE OF MY FAVOURITE CHURCHES – PARTICULARLY LOVELY
---