Our Transit

Beez Neez now Chy Whella
Big Bear and Pepe Millard
Thu 21 Feb 2013 23:37
Our Transit through The Gatun Locks, Panama Canal, Panama
I asked Bear to write his own blog experience of our Panama Canal transit from his perspective - here is the general one of our first day.
Twelve thirty came and we saw Zebedee off with a cheer. Rod (Sheer Tenacity), Sian (a lovely Australian backpacker) and Steve (Scott Free) joined us as our linehandlers and soon it was Beez Neez turn to leave for the Flats – to anchor and wait for our Advisor to come aboard. My greatest concern of the whole two days was to come off the dock neatly, our new propeller still an unknown quantity to me. That done, I could sigh, then thoroughly enjoy anything thrown at me and our transit to the Pacific Ocean. Soon Bear was on the radio asking permission to enter and cross the main 'road'. I followed Zebedee and took this picture as the first 'chum' was taken on. (Zebedee has been so taken to heart she will have her own transit blog – I could say 'him' as many boats in this area are indeed named after men and Zebedee on the Magic Roundabout was a chap, moustache given it away).
Once anchored and snacks served, I could take up one of my favourite occupations – Chum watching. My first was Atlantic Highway, officially she is a roll-on, roll-off passenger ship by type, in reality a car carrier en route for a drop off in Florida and then on to San Juan, Puerto Rico. Her call sign is Hoby, her gross tonnage comes in at fifty five thousand, four hundred and ninety three tons, deadweight tonnage at seventeen thousand, two hundred and thirty two. Her six hundred and fifty six and a bit feet in length slipped by and off into the Caribbean Sea. At an average speed of twelve and a half knots, she was soon out of sight.
Plenty of action to keep me happy, this time watching a Pilot delivery
A spot of fishing and catching up on phone calls on the catamaran waiting with us.
Meanwhile, the boys were busy uncoiling our lines, soon we could see our Advisor en route
The delightful Ricky, safely aboard, off we went toward the Gatun Locks
Beez Neez is there on the schedule.
The first girl to pass after Ricky joined us was Maersk Danbury.
Maersk Danbury used to be called Charles Dickens in a previous life. Her deadweight tonnage is over sixty seven and a half thousand tons, clearly I gave way to her and slide over to the right hand side of the channel. We did a jaunty wave from the workers aboard who looked tiny. Her top speed is just over twenty knots and her average is around eighteen knots, I was delighted she went past relatively slowly, but I still had to hop over her bow wave.
A.P. Moller – Maersk Group, or simply Maersk, is a Danish business conglomerate. Maersk has activities in a variety of business sectors, primarily within the transportation and energy sectors. It has been the largest container ship operator and supply vessel operator in the world since 1996. Maersk is based in Copenhagen, Denmark, with subsidiaries and offices in more than one hundred and thirty five countries worldwide and around one hundred and eight thousand employees.
P.M. Møller (1836–1927), who was a deeply religious Christian, attached a blue banner with a white seven pointed star on both sides of the black chimney on the steamship Laura when his wife recovered from illness. In a letter to his wife, P.M. Møller explained in October 1886, "The little star on the chimney is a memory of the night when I prayed for you and asked for a sign: If a star would appear in the gray and cloudy sky, it would mean that the Lord answers prayers." The same star later became the logo for the Maersk Group.
The largest operating unit in A.P. Moller – Maersk by revenue and staff (around twenty five thousand employees in 2012) is Maersk Line. In 2013 the company described itself as the world's largest overseas cargo carrier and operated over six hundred vessels with three point eight million TEU (Twenty-foot Equivalent Units) of container capacity.
In 2006, the largest container ship in the world to date, the E-class vessel Emma Maersk (trots along at a whopping twenty five and a half knots or nearly thirty miles per hour), was delivered to Maersk Line from Odense Steel Shipyard. Seven other sister ships have since been built, and on the 21st of February 2011, Maersk ordered ten even larger container ships from Daewoo, the Triple E class, each with a capacity of eighteen thousand containers. The first is to be delivered will be in 2014. There are options for ten to twenty more. One more fact about Emma is her height from her deck to the edge of her keel is ninety eight feet, considering Beez is around fifty four feet, no wonder she looks so tall.
As of February 2010, Maersk had an order book for new ships totaling eight hundred and fifty seven thousand TEU (including options on the Triple E class); that backlog is larger than the existing fleet of the fourth-largest line, Evergreen Line.
Maersk Line cooperated with the US Navy on testing 7-100% algae biofuel on the Maersk Kalmar in December 2011.
In January or 2012 Søren Skou took over as CEO of Maersk Line from Eivind Kolding. Later that year the company ceased its business in Iran in order to prevent potential damage in the company's business with Western countries, particularly the US, due to the sanctions regime lead by those countries. Back to the business in hand.......
One of my favourite pictures is of my captain as we approach the locks. Pacific overtook us as we tied up to Zebedee.
Beez Neez new friend Zebedee was not just transiting at the same time, but was now firmly rafted against her. I was just about to call the whole thing (raft) off as I couldn't control steerage, even with the odd tweak from the bow thruster. Just as my resolve was about to weaken, Tarzan (aka Kevin in the black knickers) admitted our outboard being used to propel Zebedee, was indeed – in reverse. Mmmmm, Alan called out a few orders, skippers and advisors happy and all was well. The wind was gusting eighteen to twenty two knots which could have proved challenging. I took this last shot to show that for me to control a straightforward approach to the locks, I was actually steering a very long way left. (little blobs seen below the 189 degree numbers).
A wave from one of our friendly, accurate linesmen. Monkey fists landed at the front of Beez and her A Team went swiftly into action attaching our lines, feeding them back for shore based tethering to the massive cleats. Safely tethered behind Pacific these upward locks are the hardest work for the linehandlers and Beez own, did indeed have quite a job to keep her central, I helped where I could with little tweaks and revs.
A girl next door as our light lines are walked forward as we move into the lock.
The lock gates close on our final look at the Caribbean side of the Atlantic Ocean. Soon the water gushes in.
The light lines walk up the final leg. Our raft is held beautifully rock solid by the A Team, none of us fancied being in the light fishing boat, as the water swirled – so did she.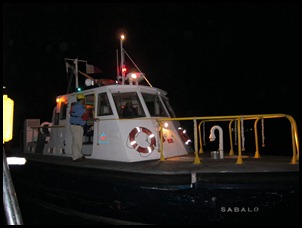 We say farewell with a backward glance to the last Gatun Lock chamber and Ricky directed us to tie, side on to a massive buoy. Different, as I had expected to anchor as we had on our practice run. The nimble Sian leapt on to this massive bobbing creature as Rod fed the rope to create one of the springs. Very soon Ricky left us as darkness fell. Not before a massive hug from me..........
I actually had to put this picture in of Ricky and Me in a black and white format. I had been too busy concentrating all day to think about sun, hat, windburn. The red glow off me is too painful on the eye to view it in colour. Thank heavens that will fade overnight, needless to say you could fry burgers on my cheeks quite swiftly.........
ALL IN ALL A BUSY DAY
A GREAT START
.
---