Hurricanes

Beez Neez
Skipper and First Mate Millard (Big Bear and Pepe)
Wed 3 Jun 2009 22:42
Hurricanes
Hurricane photo from the 1800's
NOAA - The National Oceanic and Atmospheric Administration, United States Department of Commerce - National Weather Service is the primary source of weather data, forecasts and warnings for the United States and its territories. The NOAA National Weather Service operates the most advanced weather, flood warning and forecast system in the world, helping to protect lives, property and enhance the national economy. NOAA, is dedicated to enhancing economic security and national safety through the prediction and research the of weather, in particular to predict hurricanes. Through the emerging Global Earth Observation System of Systems (GEOSS), NOAA is working with its federal partners and nearly sixty countries to develop a global monitoring network that is as integrated as the planet it observes.
A view of a hurricane, how they are formed and where they occur.
Hurricanes begin when areas of low atmospheric pressure move off Africa and into the Atlantic, where they grow and intensify in the moisture-laden air above the warm tropical ocean. Air moves toward these atmospheric lows from all directions and curves to the right under the influence of the Coriolis effect, thereby initiating rotation in the converging windfields. When these hot, moist air masses meet, they rise up into the atmosphere above the low pressure area, potentially establishing a self-reinforcing feedback system that produces weather systems known to meteorologists as tropical disturbances, tropical depressions, tropical storms, and hurricanes.
Fortunately, fewer than 10 percent of disturbances grow into hurricanes. Development of a fully fledged hurricane requires a rare combination of atmospheric events. First, the tropical disturbance must produce converging air masses. Second, the converging air must rise - but not in an area where there are either strong winds or descending air masses aloft. Hurricane development requires both an organized pattern of convection that is destroyed by upper atmosphere winds, as well as unstable air masses in the upper atmosphere that can carry rising surface air away from the upper end of the developing storm.
If these three phenomena occur together, a self-sustaining circulation develops in which moist surface air rises and its moisture condenses, releasing latent heat that warms the upper atmosphere. The heated atmosphere creates lift that extends the low pressure area upward and further reduces its already low pressure. As winds in the upper atmosphere carry moist air away from this growing cylinder of low pressure, dry warm air from above can enter the centre of the cylinder, ultimately reaching the sea surface and forming the cloud-free area known as the eye of the hurricane.
A system of this type will continue to intensify as long as the upper-level outflow of air exceeds low-level inflow. The relationship between inflow and outflow is controlled by the heat content of the ocean water and the latent heat contained in the moisture in the rising air. In other words, once formed, hurricane circulation will continue as long as the storm is over warm water, has access to moist air, and doesn't drift into areas where upper-level winds can tear it apart. The diameter of the eye can be 1.9 to 230 miles across, the average being 25-40 miles. Other names for a hurricane are cyclone, willi-willi and typhoon. Hurricane season lasts from the 1st of June to the 30th of November.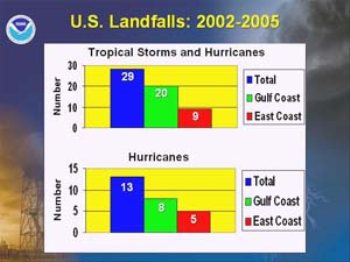 The NOAA website is full of fascinating data
A fully formed hurricane carries three major threats: low atmospheric pressure, high surface winds and heavy rainfall. These threats are realized in different ways.
Low central pressure becomes a threat when ocean water bulges up under it and forms a storm surge when the hurricane comes ashore.
High surface winds can damage property directly, but create an even more destructive force by creating high waves on the ocean surface.
Heavy rainfalls creating flooding increasing both erosion and pollutant input as they run off the land.

1926 "Miami" Hurricane

Causes
Warm wet mass of air over the sea that begin to evaporate
Water has to be 79 degrees or warmer
Combined actions of air water, and heat produce a huge spinning system of clouds rain and wind
Effects
Rain causes floods
Thunderstorms are produced
Wind smashes everything in its path
The most dangerous part of a hurricane is the storm surge
Wind causes ocean waves to rise over the land, these waves can reach 30 feet in height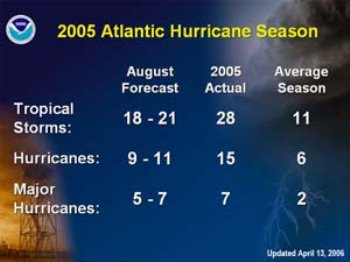 Predictions, 2005 a season of firsts. Map showing the southern USA.

Top Ten Hurricane Disasters by cost
1926 "Miami"

$157 billion

1900 "Galveston"

$99.4 billion

2005 Katrina

$81.0 billion this is before loss adjustment, expected well over $160 billion.

1915 "Galveston"

$68.0 billion

1992 Andrew

$55.8 billion

1938 "New England

$39.2 billion

1944 "Pinar del Rio"

$38.7 billion

1928 "Okeechobee"

$33.6 billion

1960 Donna

$26.8 billion

1969 Camille

$21.2 billion
Top Ten Hurricane Disasters by loss of life
1780 Great Hurricane 27,500+

1998 Mitch 11,374-18,000

1900 "Galveston" 8,000-12,000

1974 Fiji 8,000-10,000

1930 "Dominican Republic" 2,000-8,000

1963 Flora 7,186-8,000

1776 "Pointe-a-Pitre" 6,000+ This is where we were in Guadeloupe

1775 "Newfoundland" 4,000-4,136+

1928 "Okeechobee" 4,075+

1899 "San Ciriaco" 3,433+
Hurricane Hugo
Names.
It was clear a naming process had to be agreed so meteorologists could identify a hurricane and also to sensitise the general public. The practise began with the Spanish in the Americas, when hurricanes were referred to by the name of the saint on whose feast day the storm struck. Early in the 20th century when meteorologists began following the paths of hurricanes, they identified them not by name, but by the lat and long at which they were first sighted. That was not manageable for sending messages to ships. Beginning in 1953, American meteorologists began identifying them by the names in the phonetic alphabet then in use, Able, Baker, Charlie etc. But that led to confusion when the International Phonetic Alphabet was adopted and by then they decided to use women's names. That continued until 1979 when the WMO under pressure from feminists decided to use men's names as well. 30 Names are chosen from an alphabetical list of alternating male and female names The National Weather Service started using men's names in 1979. There is now a list of names on a six year cycle unless a name is retired. In the Far East that thought of giving something so destructive a name is considered unseemly so they have lists made up of animals, flowers, rivers etc.
2009 Atlantic Hurricane Names - Ana, Bill, Claudette, Danny, Erika, Fred, Grace, Henri, Ida, Joaquin, Kate, Larry, Mindy, Nicholas, Odette, Peter, Rose, Sam, Teresa, Victor and Wanda.
2010 Atlantic Hurricane Names - Alex, Bonnie, Colin, Danielle, Earl, Fiona, Gaston, Hermine, Igor, Julia, Karl, Lisa, Matthew, Nicole, Otto, Paula, Richard, Shary, Tomas, Virginie and Walter.
The Retirement of Hurricane Names
Hurricanes that have a severe impact on lives or the economy are remembered generations after the devastation they caused, and some go into weather history. The National Hurricane Centre near Miami, Florida, monitors tropical disturbances in the Atlantic and eastern Pacific Oceans which could become a hurricane. Whenever a hurricane has had a major impact, any country affected by the storm can request that the name of the hurricane be "retired" by agreement of the World Meteorological Organization (WMO). Retiring a name actually means that it cannot be reused for at least 10 years, to facilitate historic references, legal actions, insurance claim activities, etc. and avoid public confusion with another storm of the same name. If that happens, a like gender name is selected in English, Spanish or French for Atlantic Storms. There is an exception to the retirement rule, however. Before 1979, when the first permanent six-year storm name list began, some storm names were simply not used anymore. For example, in 1966, "Fern" was substituted for "Frieda," and no reason was cited.
Retired Names since 2000.
2007 Noel hit Puerto Rico, Cuba and the Bahamas. 2007 Felix hit Nicaragua and Honduras. 2007 Dean hit Mexico and Jamaica. 2005 Wilma hit Cuba and Florida. 2005 Stan hit Mexico, Guatemala and El Salvador. 2005 Rita hit Louisiana, Texas and Florida. 2005 Katrina hit Louisiana, Mississippi, Alabama and Florida . 2005 Dennis hit Cuba and Florida. 2004 Jeanne hit Florida and Haiti. 2004 Ivan hit Grenada, Cayman Islands, Cuba, Alabama and Florida. 2004 Frances hit Florida. 2004 Charley hit Cuba and Florida. 2003 Juan hit Nova Scotia. 2003 Isabel hit North Carolina, Virginia and Maryland. 2003 Fabian hit Bermuda. 2002 Lili hit Cuba and Louisiana. 2002 Isidore hit Cuba, Mexico and Louisiana. 2001 Michelle hit Cuba and the Bahamas. 2001 Iris hit Belize. 2001 Allison hit Texas. 2000 Keith hit Belize and Mexico.
Measuring the Storm: The Saffir-Simpson Scale ranks hurricanes by wind speed and damage potential. Herbert Saffir, an engineer in Coral Gables, Florida, and Robert Simpson, then-director of the National Hurricane Centre in Miami, created the scale about thirty-five years ago.
They told National Geographic that they devised the scale to help relief and public-safety agencies prepare for hurricanes and noted that it had been known mostly only by officials but is now widely known by the general public because of the increase in major storms.
Saffir told the magazine that he's "very pleased that the public is aware of the scale and can see the difference between a Category One and a Category Five storm. That's extremely important."

Hurricane Wind Speeds. Barometric Pressure. Storm Surge. Likely Damage.
Category 1 74 to 95 miles an hour. No lower than 980 millibars. 4 to 5 feet. Minimal. No significant damage to buildings. Damage will be mainly to unanchored mobile homes, trees and shrubbery. There also will be some coastal flooding and minor damage to piers.
Category 2 96 to 110 miles an hour. 965 to 979 millibars. 6 to 8 feet. Moderate. Damage to some roofs, doors and windows. Considerable damage to trees, shrubbery and mobile homes. Some flooding damage to piers and small craft. Some small craft may break their moorings.
Category 3 111 to 130 miles an hour. 945 to 964 millibars. 9 to 12 feet. Extensive. Some damage to small residences and utility buildings. Mobile homes destroyed. Coastal flooding destroys smaller structures, and larger structures damaged by floating debris. Flooding may occur far inland.
Category 4 131 to 155 miles an hour. 920 to 944 millibars. 13 to 18 feet. Extreme. Heavy damage to many residences, with roofs completely destroyed on small residences. Major erosion of beaches. Flooding may occur far inland.
Category 5 Exceeding 155 miles an hour. 920 millibars. More than 18 feet. Catastrophic. Roofs completely destroyed on many residences and larger buildings. Some buildings completely destroyed. Major flood damage to lower floors of buildings near the shore. Massive evacuation may be required. Flooding may occur far inland.
Damage caused by Hurricane Andrew
Hurricane Andrew. The first named storm of 1992, is the second most powerful, and the last of three Category 5 hurricanes that made U.S. landfall during the 20th century, after the Labour Day Hurricane of 1935 and Hurricane Camille in 1969. Andrew caused 65 deaths striking north-western Bahamas, southern Florida (south of Miami), and southwest Louisiana around Morgan City in August. Andrew caused $26.5 billion in damage, with most of that damage cost in south Florida. Its central pressure ranks as fourth-lowest in U.S. landfall records and Andrew was the costliest natural disaster in U.S. history until surpassed by Hurricane Katrina of the 2005 season. It was also the first of two Category 4 or higher storms to strike the United States that year (Hurricane Iniki in the Central Pacific struck Hawaii a couple of weeks later.
Aftermath of Hurricane Ivan
Hurricane Ivan was the strongest hurricane of the 2004 Atlantic Hurricane season. It was often dubbed in the media as Ivan the terrible. The cyclone formed as a Cape Verde-type hurricane in early September and became the ninth named storm, the sixth hurricane, and the fourth major hurricane of the year. Ivan reached Category 5 strength on the Saffir-Simpson Hurricane Scale, the strongest possible category. Ivan became the sixth most intense Atlantic hurricane on record. At its peak in the Gulf of Mexico, Ivan was the size of the state of Texas. It also spawned 117 tornadoes across the eastern United States.
Hurricane Ivan Deaths/damage by country/Total
(USD) Barbados 1 death / $5 million. Cayman Islands 2 deaths / $1.85 billion. Cuba 0 deaths / $1.2 billion. Dominican Republic 4 deaths / Unknown. Grenada 39 deaths / $1.1 billion. Jamaica 17 deaths / $360 million St. Lucia 0 deaths / $2.6 million. Saint Vincent and the Grenadines 0 deaths / $40 million. Trinidad and Tobago 1 death / $4.9 million. United States 54 deaths / $13 billion. Venezuela 3 deaths / unknown Totals: 121 / $16.442 billion.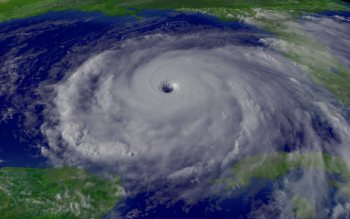 Hurricane Rita
Hurricane Rita was the fourth-most intense Atlantic hurricane ever recorded and the most intense tropical cyclone ever observed in the Gulf of Mexico. Rita caused $11.3 billion in damage on the U.S. Gulf Coast in September 2005. Rita was the seventeenth named storm, tenth hurricane, fifth major hurricane, and third Category 5 hurricane of the historic 2005 Atlantic hurricane season.
Rita made landfall on September 24 between Sabine Pass, Texas and Johnsons Bayou, Louisiana, as a Category 3 hurricane on the Saffir-Simpson Hurricane Scale. It continued on through parts of southeast Texas. The storm surge caused extensive damage along the Louisiana and extreme south-eastern Texas coasts and destroyed some coastal communities. The storm killed seven people directly; many others died in evacuations and from indirect effects.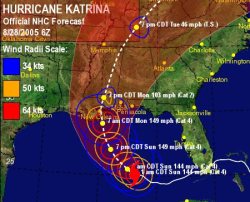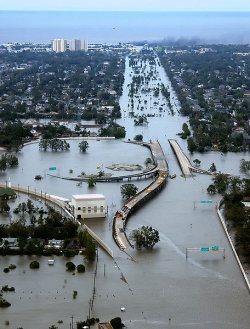 The path, the view, the flood waters and damage of Hurricane Katrina.
Hurricane Katrina formed as Tropical Depression Twelve over the south-eastern Bahamas on the 23rd of August 2005 as the result of an interaction of a tropical wave and the remains of Tropical Depression Ten. The system was upgraded to tropical storm status
on the morning of August 24 and at this point, the storm was given the name Katrina. The tropical storm continued to move towards Florida, and became a hurricane only two hours before it made landfall
between Hallandale Beach
and Aventura, Florida
on the morning of August 25. The storm weakened over land, but it regained hurricane status about one hour after entering the Gulf of Mexico. The storm rapidly intensified
after entering the Gulf, growing from a Category 3 hurricane to a Category 5 hurricane in just nine hours. This rapid growth was due to the storm's movement over the "unusually warm" waters
of the Loop Current
, which increased wind speeds.
On Saturday the 27th of August, the storm reached Category 3 intensity on the Saffir-Simpson Hurricane Scale
, becoming the third major
hurricane of the season. An eyewall replacement cycle
disrupted the intensification, but caused the storm to nearly double in size. Katrina again rapidly intensified, attaining Category 5 status on the morning of the 28th of August and reached its peak strength at 13:00 CDT that day, with maximum sustained winds of 175 mph and a minimum central pressure of 902 mbar. The pressure measurement made Katrina the fourth most intense Atlantic hurricane on record at the time, only to be surpassed by Hurricanes Rita
and Wilma
later in the season; it was also the strongest hurricane ever recorded in the Gulf of Mexico at the time (a record also later broken by Rita).
Katrina made its second landfall at 06:10 CDT
on Monday the 29th of August as a Category 3 hurricane with sustained winds of 125 mph near Buras-Triumph, Louisiana
. At landfall, hurricane-force winds extended outward 120 miles from the centre and the storm's central pressure was 920 mbar. After moving over south-eastern Louisiana and Breton Sound
, it made its third landfall near the Louisiana/Mississippi border with 120 mph sustained winds, still at Category 3 intensity. Katrina maintained strength well into Mississippi, finally losing hurricane strength more than 150 miles (240 km) inland near Meridian, Mississippi
. It was downgraded to a tropical depression near Clarksville, Tennessee
, but its remnants were last distinguishable in the eastern Great Lakes
region on the 31st August, when it was absorbed by a frontal boundary
. The resulting extratropical
storm moved rapidly to the northeast and affected eastern Canada.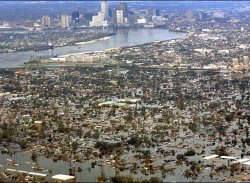 The effects of Hurricane Katrina in New Orleans were shattering and long-lasting. Deaths by state Alabama 2, Florida 14, Georgia 2, Kentucky 1, Louisiana 1,577*, Mississippi 238, Ohio 2, Total 1,836 Missing 705. (*Includes out-of-state evacuees counted by Louisiana). When final figures are known Katrina will be the most costly hurricane ever. Katrina redistributed over a million people from the central Gulf Coast elsewhere in the US making it the biggest dispora in the history of America. As the centre of Katrina passed east of New Orleans on the 29th of August 2005, winds downtown were in the Category 3 range with frequent intense gusts and tidal surge. Though the most severe portion of Katrina missed the city, hitting nearby St. Bernard and Plaquemines parishes, the storm surge caused more than 50 breaches in drainage canal levees and also in navigational canal levees and precipitated the worst engineering disaster in the history of the United States. By the 31st of August 2005, eighty percent of New Orleans was flooded, with some parts under 15 feet of water. Most of the city's levees designed and built by the US Army Corps of Engineers broke somewhere, including the 17th Street Canal levee, the Industrial Canal levee, and the London Avenue Canal floodwall. These breaches were responsible for most of the flooding, according to a June 2007 report by the American Society of Civil Engineers - Oil refining stopped so the price of petrol increased all over the world. Ninety percent of the residents of southeast Louisiana were evacuated in the most successful evacuation of a major urban area in the nation's history. Despite this, many remained (mainly the elderly and poor). The Louisiana Superdome was used as a designated "refuge of last resort" for those who remained in the city. The city flooded due primarily to the failure of the federally built levee system. Many who remained in their homes had to swim for their lives, wade through deep water, or remain trapped in their attics or on their rooftops. The disaster had major implications for a large segment of the population, economy and politics of the entire US. It has prompted a Congressional review of the Corps of Engineers and the near total failure of the federally built flood protection system which experts agree should have protected the city's inhabitants from Katrina's surge. Katrina has also stimulated significant research in the academic community into urban planning, real estate finance, and economic issues in the wake of a natural disaster. Because of the large loss of life and property along the Gulf Coast, the name Katrina was officially retired on the 6th of April 2006 by the WMO at the request of the U.S. government. It was replaced by Katia on List III of the Atlantic hurricane naming lists, which will next be used in the 2011 Atlantic hurricane season.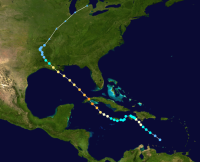 Hurricane Gustav
Hurricane Gustav was the seventh tropical cyclone
, third hurricane
and second major hurricane of the 2008 Atlantic hurricane season
. Gustav caused serious damage and casualties
in Haiti, the Dominican Republic, Jamaica, the Cayman Islands, Cuba and the United States. Gustav caused at least $8.5 billion (2008 USD) in damages.
Gustav triggered the largest evacuation in United States history. Over 3 million people fled the oncoming hurricane.
It formed on the morning of the 25th of August 2008, about 260 miles southeast of Port-au-Prince, Haiti,
and rapidly strengthened into a tropical storm that afternoon and into a hurricane early on the 26th of August. Later that day it made landfall
near the Haitian town of Jacmel
. It inundated Jamaica and ravaged Western Cuba and then steadily moved across the Gulf of Mexico.
Once into the Gulf, Gustav gradually weakened due to increased wind shear and dry air. It weakened to a Category 2 hurricane late on August 31, and remained at that intensity until landfall on the morning of September the 1st near Cocodrie, Louisiana
.
Weakening continued, and Gustav weakened to a tropical storm that evening and to a tropical depression the next day as it meandered around the south-central US. The weak system became extratropical on the 4th of September and was absorbed by another low on September the 5th.
In total, an estimated 153 deaths had been attributed to Gustav in the US
and Caribbean
. Damage in Louisiana totaled to $4.3 billion (2008 USD)
with additional damage of up to $4 billion in Cuba and $210 million in damage in Jamaica. Deaths by country Haiti

77, Dominican Republic 8, Jamaica 15, US 53,
Total 153.
Operationally, Gustav went from a tropical depression to a hurricane in 14 hours, tying Hurricane Humberto's
record of 14 hours, although this may be disputed in post-season analysis. Highest winds recorded at 150 mph.

Lowest pressure 941 mbar.
In the aftermath, the Canadian government
sent a C-17
airlifter, with a medical team, from CFB Trenton
to assist in the evacuation of New Orleans,
and two C-130 Hercules
airlift planes from Greenwood, Nova Scotia
and from Winnipeg, Manitoba.
The UK
sent HMS Iron Duke
and RFA Wave Ruler
to provide emergency assistance and assess the damage caused by Gustav. Anheuser-Busch
is providing canned water to affected residents. Russia
announced it would send 4 cargo planes with tents, construction materials, food, and essential supplies to Cuba.
Whilst there have been no named hurricanes in June we WILL be watching the barometer like hawks and listening to daily weather reports.
ALL IN ALL a force to be taken very, very seriously.
---