A+E to D Zoo

Beez Neez now Chy Whella
Big Bear and Pepe Millard
Mon 4 Sep 2017 22:57
Andrew and Edward to Dartmoor Zoological Park (Home of We Bought a Zoo)
We arrived at the Zoo Park and found the capybara living happily with some geese and ducks. These happy chubsters are the world's largest rodent weighing in at fifty five kilos. The capybara is semi-aquatic, lives in grassy wetland, close to rivers and we saw them in the wild in Peru. The eyes and ears are high on the head so they can be kept above water when swimming. They have simple webs between their toes that help with speed in the water. They live for about four years in the wild but can manage twelve in captivity. Gestation is 130 days, they have one or two young and their numbers are Least Concern on the Conservation Status.
We soon settled to our picnic before adventuring.
A nice chap en route to see a fairly dismal bear and a very shabby wolf.
A new one on us – the raccoon dog in nice, clean straw.
Glad to have a zoom lens as we wouldn't have seen these cheetahs.
A pretty Carpathian Lynx.
We passed many shabby sheds with no animals and then took in a field where Andrew rounded up the Guinea fowl.
A wallaby, a stork and a deer.
The simple joy of running back and forth across a mini-bridge.
Saying 'hello' to the goats.
Edward gives his melt-the-heart-look.
We spent ages enjoying the meerkat antics.
We watched suppertime and headed off for our own.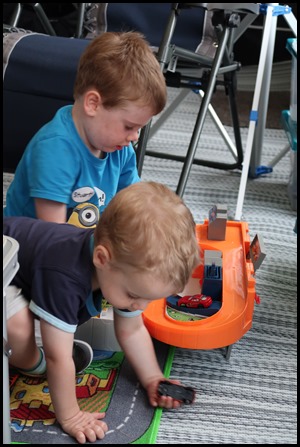 Every mouthful eaten, the boys played for a while.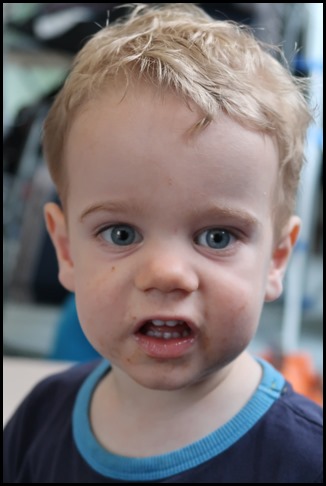 Bath time ???? Edward thinks it is.
All clean, time to settle with grandpa for some milk and Paw Patrol.
ALL IN ALL A POOR EXCUSE FOR A ZOO
QUITE A SAD PLACE
---