Moving Eva to 21

Beez Neez now Chy Whella
Big Bear and Pepe Millard
Sun 1 Jul 2018 22:57
Moving Eva to Number 21
The family members who stayed the night at Billesley Manor all met at nine o'clock for breakfast. A fun time reminiscing, chatting how the day before had been such a lovely wedding in so many ways and all too soon it was time for everyone to get on the road. We had a good journey to Eva, stopping for supplies at Tesco on the way through. Eva was on a lower pitch (number 37) so we had the perfect opportunity to move her higher on the site up to our favourite number 21. Under the tutelage of Ian (site owner), Bear undid the wheel lock, reversed the car and rather like Beez we went through the drill of connecting Eva. That done, it was time for us to act as a team for a practise setting.
Under the watchful eye of Ian, I was given instructions as to what I needed to be aware of, how to instruct Bear as to where I wanted Eva to end up. Once that was done, I had to ask Bear to move out of number 51 and as Ian took a place on the grass in the shade, I had to go it alone to get Eva two feet from the grassy edge of number 50. Not bad for a first attempt, right hand down etc, it was time for the real deal.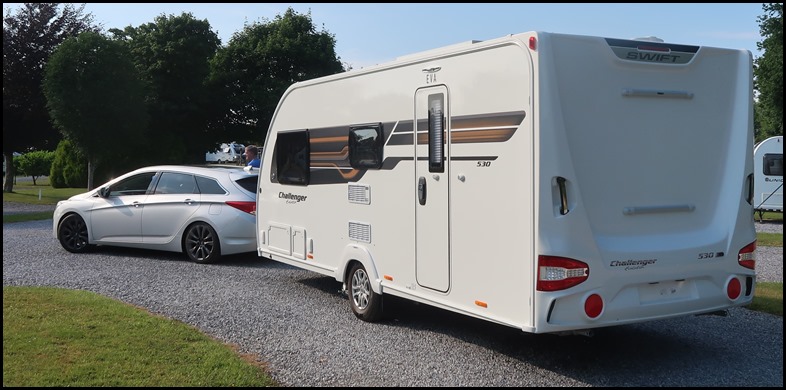 Pulling out of number 50, Bear found the car and Eva together moved easily and was soon taking the slope up past the shower block.
Ten minutes later, again under the watchful eye of Ian, Eva was in place. We then had jockey wheel lessons, lining up the wheel lock hole and general levelling instructions. That done, it was time to get Isabel erected.......
Whilst Bear got Isabel prepared for erection......I made the bed and Beds clambered in.
By eight o'clock all was done, time for a shower.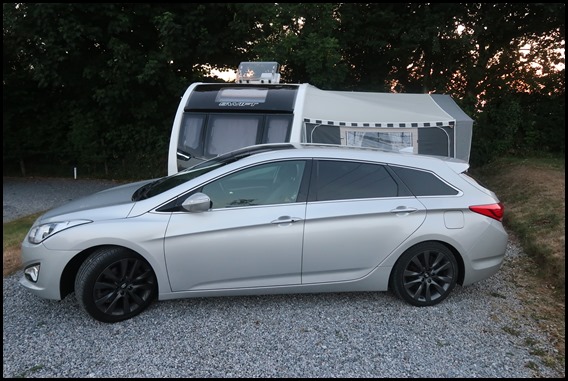 All settled for the next two weeks. Store rummage on the morrow.......no doubt a busy fortnight....
ALL IN ALL GLAD TO HAVE PRACTISED A BIT
REMARKABLY STRAIGHTFORWARD
---