Are We....... Yes

Beez Neez
Skipper and First Mate Millard (Big Bear and Pepe)
Tue 29 Sep 2015 22:57
Are We There Yet – Yes with a Frozen Surprise for Big Bear...........
This morning we were due in reception for our minibus transfer back to Nadi Airport at nine thirty. We were up, showered and packed by eight o'clock, so we sat watching the news with a cup of tea, getting to reception at twenty past nine. "Oh, we tried to ring you to say the transport was leaving early", we had reported our non-working phone last night. "I'll ring the chap to come back for you". Five minutes later we were on our way. Bags and boarding cards were done in swift order by a happy young man and colour me happy, we got to the orchid display and beyond.
Our next step is always Immigration and the Passport business. We heard a tannoy announcement saying there was a delay at the check in desk for our flight as the computer was having a coughing fit – delay wethinks....... Once again we were in the naughty queue waiting for a 'higher up' at twenty past ten. This time, it turned out that the nice people – on arriving in Fiji – hadn't entered something in all the boxes, the very nice lady who was now smiling broadly said that she had done the necessary but did we have our letter to get back in...........Like schoolchildren we found ourselves babbling at full speed, the marina were due to have it from the authorities and hand it to us yesterday morning, we had to leave without it to get here only to have our flight cancelled so when the letter comes they will email it to us. Take a breath. Bear feels confident it will be with us within the thirteen days, I will be happy when it is in my inbox and will start chasing it in a few days. All stamped out, it was definitely time to spring a visit to duty free for some medicinal fluid, then time for a snack. Sitting with a toasted sandwich we heard that our flight was overfilled and would anyone like to stay in a hotel for the night and fly tomorrow. We just shrugged, done that........... So pleased to be sitting in our seats looking out of the window. Indeed the flight was very full - all one hundred and twelve seats, delayed only fifteen minutes.
Soon up in the air and following the coast of Viti Levu.
Oh my, there Vuda Marina, I zoomed in a bit. I can see Beez. Bear had to reassure me that she was enjoying her R+R, but it still felt wrong.
We past outer islands we knew and finally Fiji dimmed into the blue.
An hour and a bit later we saw our first bit of Vanuatu.
The coast road looks unmade, no doubt better than some we've driven on. I was not to be jealous when I looked down and saw boats at anchor.
Soon our young Irish Captain had us on the ground, we bade 'farewell' to the Boeing 737-700 and bimbled in to Arrivals.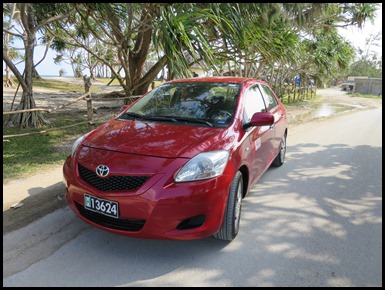 After queueing to get our Passport stamped and a good half hour before we saw our bags a nice lady hand-picked us out of the re-xray line, made a cursory look in our two hand luggage bags and bade us a nice visit. Off we went to find the hire car people. Fred sorted the paperwork and Alfredo took us out to our steed. Off we went avoiding as many of the numerous, deep pot-holes, some huge but at least they are white in the black tarmac so you do stand some chance of missing them. Port Vila itself was really busy as a cruise ship was in. We drove past the famous market that is only closed on Sunday, the rest of the week, all hours of the day it bustles, a must visit when we get settled. I stopped at our first beach and took this picture of our little car.
Very similar to Fiji with plenty of reef and even an outrigger. Then it was up the hill, we have gone budget, so no fancy views for us.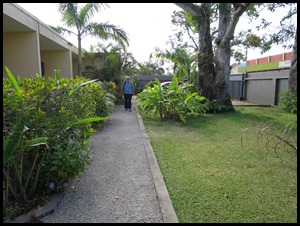 Parked behind the high gate, I walked around the back to the garden and then the front to see Bear walking by the other four apartments.
Number One, tucked at the end of the line, a lovely kitchenette with full sized fridge-freezer, bathroom with big shower. Marvellous.
Beds, exhausted was quickly trying out the six-foot wide bed as we went to find the nearest supermarket to get some vitals.
We were soon checking out of the big Bon Marche, just opposite with a weeks worth of shopping at about two hundred pounds. Less expensive than we had expected. A kilo of cheddar was twenty pounds and a bag of frozen prawns at twenty five were things we shied away from. Tinned mushrooms, packets of spaghetti and warm French bread were about the same as New Zealand or Fiji. A quick supper tonight is warm drumsticks, salad and a glass of rose. Chicken drumsticks a pound each, the salad – reasonable and the bottle of wine was five pounds. A game of backgammon that Bear fought before conceding five four, yeeha, a good start to my thirteen days, then an early night before 'tourists are us'.
Bear went for a cooling dip while I played house, arranging and re-arranging my larder and fridge. His surprise was showing him none other than..............
.
ALL IN ALL A VERY SCENIC FLIGHT
VERY SMOOTH ONCE WE GOT GOING
---