Flo Flo Delight

Beez Neez
Skipper and First Mate Millard (Big Bear and Pepe)
Mon 31 Oct 2016 23:37
A Flo / Flo Delight called Black Marlin and Bits about her sisters.
Well what a difference, over to our left is the coast of Pulau Batam, Indonesia and a tiny boat with a couple of fishermen aboard. To our right the coast of Singapore. loads of anchored chums and through the crowd a real gem.......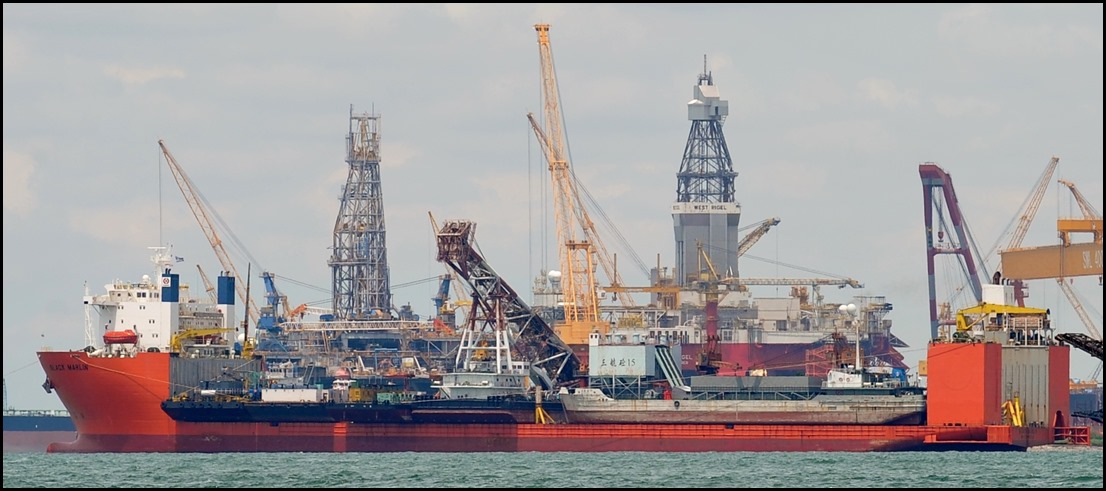 .............a terrific sight – Black Marlin.
All sorts of equipment at the front and a Chinese vessel at the back.
I found an article on a website called Amusing Planet called Heavy Lift Ships and their Impossibly Massive Cargoes
written by
Kaushik Saturday, May 05, 2012.
When you need to transport large cargo, goods, and materials from one place to another, ship is the ideal choice even though they are extremely slow. Thousands of cargo carriers ply the world's seas and oceans each year, and they handle the bulk of international trade. Then there are heavy lift ships that are designed to carry excessively large loads that even cargo ships cannot bear, such as other ships, drilling rigs or anything else too large or heavy to be easily transported on a conventional ship.
Heavy lift ships are of two types: semi-submerging capable of lifting another ship out of the water and transporting it; and vessels that augment unloading facilities at inadequately equipped ports. Semi-submerging are more commonly known as a "flo/flo" for float-on/float-off. These vessels have a long and low well deck that can go down under water allowing oil platforms, other vessels, or other floating cargo to be moved into position for loading. The tanks are then pumped out, and the well deck rises higher in the water, lifting its cargo, and is ready to sail wherever in the world the cargo needs to be transported.
The world's first heavy lift vessel was MV Lichtenfels (118 long tons; 132 short tons (The British ton is the long ton, which is 2240 pounds, and the U.S. ton is the short ton which is 2000 pounds.)) constructed in the 1920s by the Bremen based shipping company DDG Hansa. After World War II, DDG Hansa became the world's largest heavy lift shipping company. Today that title is owned by Dockwise which currently operates 19 heavy lift ships – the world's largest fleet of semi-submersible vessels of various sizes and types.
The flo/flo industry's largest customer base is the oil industry. They have transported many oil drilling rigs from their construction site to the drilling site at roughly three to four times the speed of a self-deploying rig.
In 1988, the heavy lift ship Mighty Servant 2 towed the guided missile frigate USS Samuel B. Roberts, which was nearly sunk by a naval mine in the central Persian Gulf. Eleven years later, MV Blue Marlin transported the U.S. guided missile destroyer USS Cole from Aden, Yemen to Pascagoula, Mississippi, after the warship was damaged in a bombing attack on 12 October 2000.
In 2004, Blue Marlin carried the world's largest semi-submersible oil platform, 60,000 tonne semi-submersible production rig, Thunder Horse, over 15,000 nautical miles from Okpo, Korea to Corpus Christi, Texas.
Many of the larger ships of this class are owned by the company Dockwise, including Mighty Servant 1, MV Blue Marlin, and MV Black Marlin. The company is currently building another heavy weight named the Vanguard that will have 50% greater lifting capacity and 70% greater deck area than the largest heavy lift ship now in service, the Blue Marlin. At 275 meters (902 feet) long and 70 meters (230 feet) wide, the Vanguard can lift 110,000 tonnes and travel across oceans at 14 knots.
The US$240,000,000 Vanguard, Bear was excited when she passed us (by half a mile in the South China Sea) doing 10.7 knots on our way to Belitung.
Lichtenfels (mentioned in the article).
Blue Marlin is more than 700 feet long and has 38 cabins that can accommodate 60 people. The ship also has a sauna, swimming and workout facilities. What a sight she must have been with the gargantuan rig aboard.
2004: The Blue Marlin sailed via the Cape of Good Hope in South Africa and 61 days and 16,000 miles later, the mighty ship arrived at its destination. Only a year later, the Thunder Horse platform was badly damaged by Hurricane Dennis.
The heavy lift vessel MV Blue Marlin with her deck cargo of the Sea-Based X-Band Radar enters Pearl Harbour, Hawaii, after completing a 15,000-mile journey from Corpus Christi, Texas, on January 9, 2006.
Blue Marlin in ready to load mode.
Black Marlin carrying oil rigs.
Back to today
Black Marlin's vital statistics read like an impressive CV.
ALL IN ALL WHAT A SPECIAL LADY
FANTASTIC AND UNUSUAL
---