Birthday Boy & Cakes

Beez Neez now Chy Whella
Big Bear and Pepe Millard
Tue 15 May 2018 22:57
Birthday Boy and His Cakes
We leapt up this morning, Bear opened his card, ready for an exciting day ahead. First although we are B&B at our digs, we have to go across to the next hotel for breakfast. A quick pose in the foyer and through the pleasant lighting to the dining room.
Like any master chef, a banana is sliced on to his muesli, then the man himself shows skill with chopsticks.........
The highlight of the day was seeing the Terracotta Army.
Then we went to visit the White Goose Pagoda.
We drove past one of the Gatehouses on the city wall. We are going to ride a tandem all the way round the wall in the morning. ARE WE............Yes. Oh........ We noticed our first Fire Station, I might need that for my knees come the morrow, it will be fun, just seven miles. I feel the need to mutter a bit now.
Talk about 'you never know what you'll see next' – caricatures and a Starbucks. Coffee is about the only thing the Chinese neither grow or produce.
Other than blocks of apartments and flats, this is the tallest building we have seen in Xi'an. After a busy day, we headed back to our digs. No, ours is not the fancy one, same entry gates but we are tucked in the right hand corner, similar to a Travelodge.
I'd organised Bear a birthday cake and it was waiting for him in reception.
Whilst I took a shower, Bear went back to reception to see if he could muster enough sign language to secure some matches. Success, it was time to light his colourful, fruity, chocolaty number.
Ready for me to sing, all lit and bright.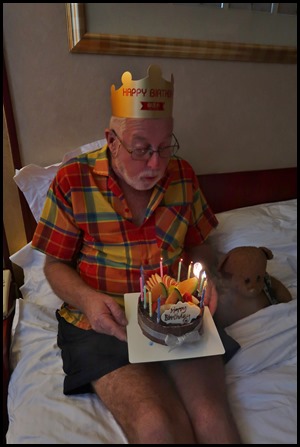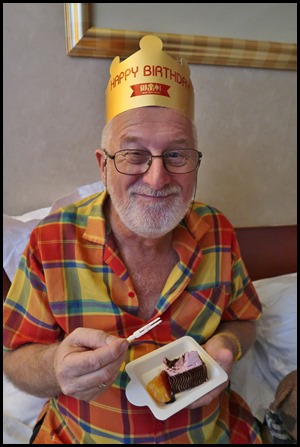 Poised, blowing, wishing and partaking.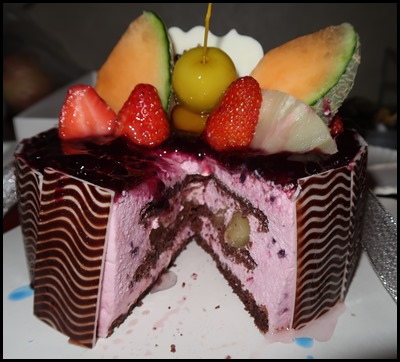 More mousse than cake with chocolate wafer edging, I was just taking these pictures when there was a knock at the door. There stood a lady porter, ashtray and matches in hand. I did my best t say thank you and neither of us smoked and the previous matches were for my husband;s birthday cake. Off she went. Bear went to shower as I was taking him out to supper, a change from hard boiled eggs nabbed at breakfast......Another knock ay the door ???
A different porter presented Bear with a birthday cake from the hotel... I was laughing so hard the picture is a bit fuzzy. I cannot eat cake so guess who is flying solo.
Later, we bimbled to another building within the gated series of hotels and found a Chinese restaurant. Birthday Boy was only allowed one glass of wine as it was a few pence shy of ten pounds, I'm still squinting at that but there you are.............
ALL IN ALL A FULL, FUN AND EXCITING DAY
A GREAT BIRTHDAY – SPOILT AND STUFFED ROTTEN
---