BBBB

Beez Neez now Chy Whella
Big Bear and Pepe Millard
Tue 15 May 2012 22:49
Big Bear Birthday Boy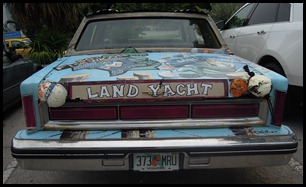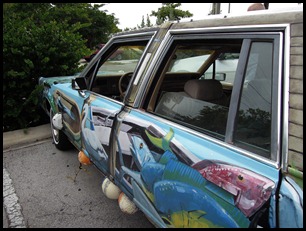 Birthday Boy had cards that had been secreted in our luggage, phone calls, text messages and emails (Thank You everyone it made his day so special) and enjoyed a slack day. At four we went in to town as a steak was the fancy. We did the hand holding bimble and wandered until Bear had chosen from the many eateries.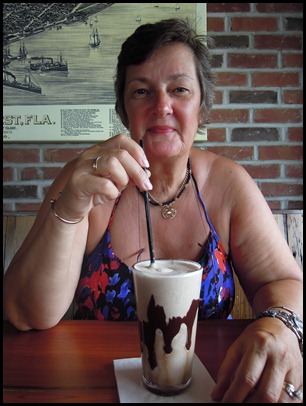 Bear chose The Admiral's Rest and was soon slipping into his first beer. I took a picture of the flags as a couple both looked our way, not thinking any more about them. My starter was to be a mudslide, careful comparison is always done to the top one ever – Jolly Harbour, Antigua. Whilst I mulled, Bear got stuck in to his lobster tail in batter. I have to say that compared to the best this mudslide scored a well deserved 10 out of 10. I had to have another one just in case it was a lucky fluke, no, perfect again. Two now is my limit (yes, I hear the tittering of disbelief) but eating as well makes me feel like I've just had a Barium meal.
Another 10 out of ten was for the batter, light, so crispy – just perfect. The lobster was gorgeous too
Next came Bear's steak. I had medallions of beef with mushroom on skewers, fries and salad. An excellent meal finished off with our first Key Lime Pie to share, it had to be done
The couple in the flag shot reemerged in our lives. The lady trotted over and asked if we were English. Yes. "I knew, it was the way you held your knives and forks." With that she took our picture (sadly without flash) and before we could say where in the UK are you from, she was gone......
We took a slow stroll back to Baby Beez, saw the booze cruise, sunset lot loading. Read a plaque to Norberg and saw a new Coastguard lady called Kodiak Island.
The sunset was a damp squib as the sky was solid gray. Rum punch will ease the punters we felt.
Well maybe just a little tiny bit of pink. Back to Beez for a nightcap and a good film
ALL IN ALL A TASTY DATE
THANK YOU
THE FOOD YOU MUPPET
IT'S MY BIRTHDAY, I CAN'T GET INTO TROUBLE
I CAN WAIT UNTIL TOMORROW
Uh Oh
---