Beez to 28/10/18

Beez Neez now Chy Whella
Big Bear and Pepe Millard
Sun 28 Oct 2018 23:57
Beez Progress This Week to the 28th of October 2018
Monday 22nd. Bear repaired some holes and dinks in the cockpit and put a backing plate in the lazarette lid ready to fit a new catch. I began cleaning the cockpit and laying the new matting. After lunch Bear made up a box of spare engine parts and I carried on as this morning, all of a sudden it was seven o'clock.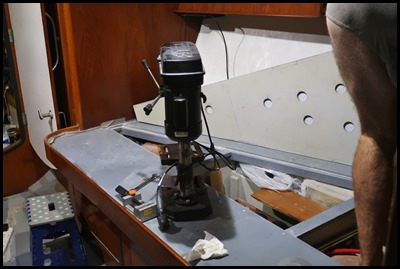 Tuesday 23rd. We stripped the bed so Bear could put his drill away underneath – the boys were none too pleased at having to sit on the dining table amongst the dust sheets. As the mattress was standing in the kitchen I took the opportunity to put a finishing coat of varnish on the bedroom walls.
We went shopping at one, a good excuse to keep Bear away from wet varnish........ We started off at the far end of town so Bear could gets parts from the Yamaha shop for the little outboard. Then we followed the usual round of Mr DIY, Tesco, Aeon, we had time for a Kenny Roger's roast chicken dinner and pick up petrol for the generator just getting the car back in time for five o'clock. Once the shopping was away we had a game of backgammon, made the bed, I finished the cockpit matting followed by much needed showers. Another late finish. After supper we settled to put in an order to Lazada (Malaysia's equivalent of Amazon) for supplies to cross the Indian Ocean such as toothpaste (ten big tubes ordered at ten tonight, arrived the next day, wow), chia seeds, my Total Fiber and other bits and bobs that we are not sure we will be able to find once we leave here.
Wednesday 24th. Bear started off this morning with the little outboard, rebuilding the carburettor with the new needle valve he bought yesterday. On initial start – nothing happened, in fact it wouldn't fire. A splash of genius, I turned on the fuel tap and hey presto, it started second pull. Sometimes it takes a mechanical mastermind.............. I'll say nothing at this point, well perhaps one word comes to mind and in fact, quite appropriate – Dipstick....... He tested the generator, the carburettor not sounding at all well. Drilling out screws, not straightforward, but after its rebuild – purrs beautiful, just beautiful. Yes dear.
After lunch and a backgammon win, growling, he climbed in the lazarette. During Beez overhaul he seems to have spent a lot of time in there.
Adjustments to the fitting.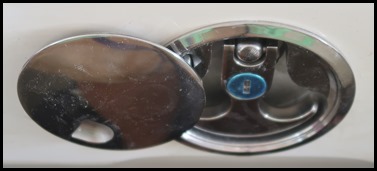 The new latch. Hoorah, this one is flush, the one he replaced was a real back-of-the-leg-biter.
Late this afternoon we watched a lady go by with a very sore beak. (Bear would find out later in the week that the owner had been off duty and asleep, his crew was playing on an Ipad – facing the wrong way when the boat ran into an anchored fishing vessel). We finished at seven, went for showers, I made Bear fish paella and he beat me at Mexican Train Dominos. Mmmmm.
Thursday 25th. Bear built a rabbit hutch for the generator so when it stands on the stern platform it has a house for when it rains, that means he doesn't use my brolly and get into trouble for it. Can you start varnishing it tomorrow. Depends how backgammon goes.....as it happens I was pushed to four all and I only just snuck the win. I finished round the door, fitted a new mat at the bottom of the stairs and had a general tidy up.
Friday 26th. Bear came in for a tool and I was alarmed to see blood trickling down his face and made him look in the mirror. Oh, I bobbed down and my glasses fell off, as I stooped to pick them up I.................GET A GLASSES GIRTH FROM THE SPECTACLES BOX. Why are you shouting at me, can you see how close that is to your eye ????? Oh and and what is a girth, I'll give you oh, and the dangly thing that makes glasses into a pelican bib, Oh. I went cleaning the stainless, there is miles of it, miles and miles.
Saturday 27th. Bear fitted the new bow thruster battery and sorted his tool shed. I put wood dye on the newly built generator hutch and while that dried I cleaned the barometer. After lunch Bear carried on rummaging in the tool shed and somehow this tardis absorbed everything and before you ask, yes, I know where everything is, the thought never crossed my mind.........., I put the first coat of varnish on the hutch and the fourth on the hand rails.
Not being able to get to sleep for the last two nights proved fruitful. Beez brass was woefully dirty and tarnished. Although a mucky pink job, it is rather rewarding to see the shine appear. Today the final once-over and all done and ready to go back up when the 'freshen up' coat of varnish has been completed.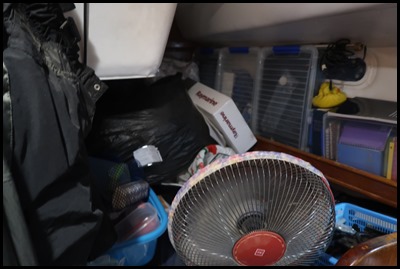 Sunday 28th. Breakfast in bed with an episode of Shadow Lines. Finished tidying in the desk YAY, I have my desk back. Oh it's yours is it ??? Navigator's prerogative. Huh. Go huh somewhere else. The rest of the office is not as bad as it looks. The fan was soon standing on the desk and the rest of the stuff is the office bedding, my empty storage containers and two cases for Antigua.
Now that Bear's tools have vacated the en suite, I could clean, finish lining the final shelf to be done and YAY we have another room back. Oh there you are, I was calling from the door, couldn't see you, thought you'd vanished and I find you in here – forgot we had such a big bathroom.
As I left the office I rummaged in a couple of bags, one held the flags we had brought with us back from the UK, silly me. Nothing for it, settle on the bed, listen to a good audiobook whilst sorting and labelling. One box was filled with 'we aren't going there ever again', another box was Caribbean and 'very likely to visit again and the final box with the 'Q' flag, a few that didn't fit in the first box and all countries to be visited in 2019. Not a quick job as it turned out. When complete, Bear made me a cup of tea, promptly beat me at backgammon before showering and heading off to a 'treasures of the bilge' inter-boat selling do. I set about stripping the edge of the desk, back of the office chair and seam. The smiling skipper returned just after seven having made fifty two pounds and got rid of some bulky objects. So I should say good boy, oooooooooo yes please, have butter chicken and rice instead. Huh.
ALL IN ALL A REAL PUSH FORWARD
THINGS ARE REALLY COMING TOGETHER
---