Taxi on Santo Antao

Beez Neez
Skipper and First Mate Millard (Big Bear and Pepe)
Wed 7 Jan 2009 21:00
The Taxi
We arrived in Porto Novo just before 09:00 and met a swarm of "thread-bares" (the nickname we gave one of the "helpers" on Boa Vista), who offered us tours, hotels, deliveries or just about anything to earn a few bob. We ran the gamut, walked out of the port, nearly impaled on a reversing wire-truck who was fighting to find first and not realising he was going backwards. At this point I looked up to see if there was a film crew, in case I was in a comedy or a 'you've been framed' programme. Bear, who thoroughly enjoys all this malarkey was grinning from ear to ear - up the hill we trotted to the Tourist Information office. We were told a taxi mini-bus would charge about £80.00 for the two of us, to have a tour with photo opportunities, we were scooped up by a taxi - Mercedes - for much, much less - worth this blog to itself !!!!!! NO that it not a blurry photo, that is a huge crack in the windscreen and our driver Sylvester. As soon as he had put us in the back, we were off to the petrol station to put a egg cup of fuel in, the needle barely moved to register zero.
Bear had a door that took our memory back to our taxi to Volubilis in Morocco, these poor Mercedes have a long, arduous life. My door, I had no door handle, the lock was a nail and my window was stuck open two inches. The third photo in this group just shows the 'for sale' sign in the right of the windscreen ???? There was I thinking it should be put down. As we rose steeply up into the clouds, it became so misty, Sylvester had to lean out of the drivers window to see 'a little clearer'. The rain when it began came in through my side and when he wanted to check the rear tyre, he opened his door to lean out 'to get a better look' as we were driving around the hair-pins. I gave one of my "stop a speeding train" looks to Bear and pulled out a few of his nasal hairs. "I would have words later" I said. I may have chosen to abandon the vehicle and perform my first time ever at hitching, BUT I couldn't get out. More chorteling from my Skipper.
From a distance and at my kind angle, I thought it was worth asking the price. "£12,000", Sylvester said proudly, not bad considering the mileometer read 434,232 AND it was in MPH.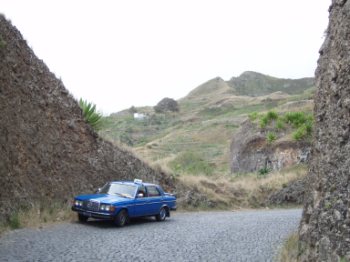 Sylvester, doing his no-English best to explain his island. The car looking cute with some of the terracing behind it. My first sight of a dust-cart EVER on Cape Verde, the picture is as clear as my window glass allowed !!!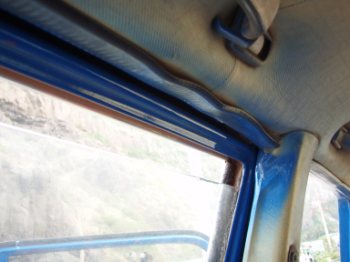 My window, as I have mentioned, is stuck open. You can see that when it had some re-spray work done - you can see from the "upholstery" colouring, it must have been stuck for some considerable time. The interior light. Bear - looking smug, was fine, he had the Lord on his side for protection.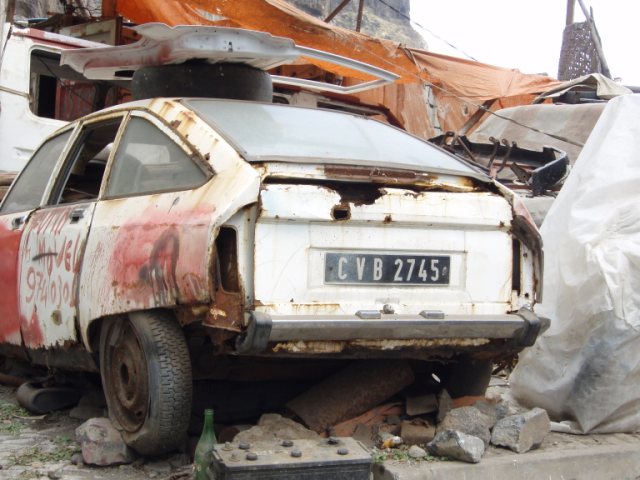 I saw this Citroen for the 'one careful owner collection' actually in a car repair yard. So there is a chance for our taxi yet.
Just a few pictures of the non-taxi type of our day out. A atypical healthy looking rooster, the ones on Mindelo look very scrappy by comparison, a cane built house, High Street, Ponto do Sol and the town square, with Bear sitting next to the empty fountain. The mountains behind were very sheer.
All in all an interesting journey I was pleased to have survived.
---