Jagdish Temple

Beez Neez now Chy Whella
Big Bear and Pepe Millard
Wed 24 Apr 2019 21:57
Jagdish Temple
We can see the Jagdish Temple
steeple (seventy-nine feet in height) from the rooftop seating of our digs, just a ten-minute bimble away. The temple has been used as a house of worship continually since 1651 when it was
built by Maharana Jagat Singh I. We took the side entrance nearest our hotel and found a chap sweeping.
Errrmmmm not certain about the false leg, not sure what the monkey is doing so I was pleased to get to the gate in the corner and see a little girl next to a mural.
Through the gate, past a shrine and we looked up at the steeple.
A splendid example of Nagar architecture, decorated by beautiful and ornate carvings. It is said that the temple cost the Maharana a million and a half Rupees way back then.
The choir was in full swing when we arrived and plenty of smiles as we clapped and danced along for a while. No pictures allowed inside so this is what we saw as we bimbled about on the outside.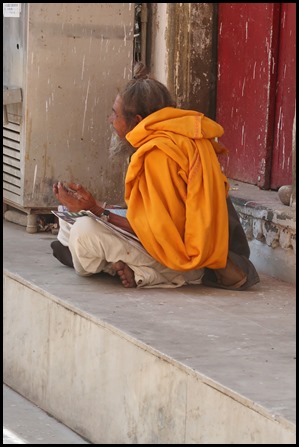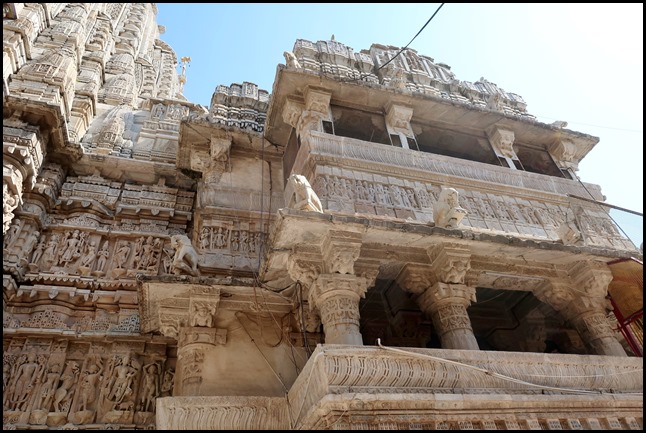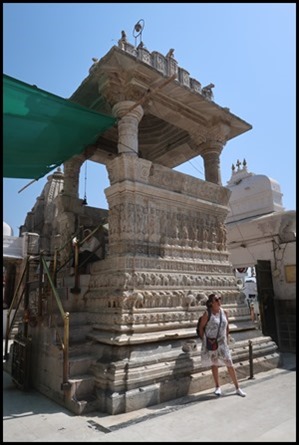 We stood at the main entrance and each side of the gateway elephants being used as shade.
Later, we passed the thirty-two steps leading up to the main entrance.
ALL IN ALL LOVELY, DETAILED CARVINGS AND GREAT SINGING
THE TEMPLE SEEMED SO BIG IN SUCH TIGHT, LITTLE STREETS
---