Kingsbury Supper

Beez Neez
Skipper and First Mate Millard (Big Bear and Pepe)
Tue 12 Mar 2019 23:57
Supper at The Kingsbury Hotel
After our walk along the front and sunset at The Galle Face Kerri brought us to The Kingsbury for a buffet supper. Parking attendants took the car away to be parked and we took in the foyer with elegant chandeliers.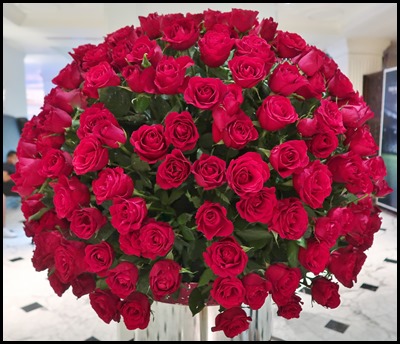 The fresh rose displays were stunning.
Wow, as Kerri checked us in I saw just one side of the sweet selection, ice cream fridge beyond.
En route to our table I had to have another look from a different angle. In the far corner (right) were huge servers one held hot chocolate pudding, the other bread and butter pudding........
We were the first to arrive (Harri has to be at school by seven so an early supper), settled in a quiet corner.
Starters.
Seafood starters, soups and breads at the far end.
Bits to add to the mains. The mains room was huge and food covered three walls. On the far wall a massive lump of pork, crackling and apple gravy. There I went and found some plain rice.
Other than my little bit of pork and rice I was good and accompanied it with fruit, beetroot and one king prawn but I was a real baddie at sweet time. Well, they did have my favourite coffee ice cream with chocolate sauce, hot chocolate pudding, coffee mini sponge and chocolate mousse – so I had to have some of each......
........and let's face it, the good stuff simply didn't hold the same appeal.... It costs anywhere between eighty-one to fifteen hundred pounds a night to stay here but the eat-all-you-can-eat buffet is about twelve pounds a head, very good value.
One of those floor to ceiling fish tanks in the hall, shame to see a Nemo with no anemone to fuss about in, but the fish did look healthy.
Waiting for Kerri's car to appear I went to explore the fountain.
The main entrance and looking up at the digs.
The planters. Back to our digs after a thoroughly good day.
ALL IN ALL SUPERB CHOICE
VERY DELICIOUS AND VERY ENJOYABLE
---