Pan and Steel

Beez Neez now Chy Whella
Big Bear and Pepe Millard
Sat 30 Oct 2010 22:57
Pan and Steel 2010, Queen's Hall, Port of Spain, Trinidad
For the past ten years Moyenne has been creating and performing their brand of Caribbean Jazz (not truly our cup of tea - but talented non the less). The group's signature album New Hope incorporates elements of calypso, Cuban son and bossa nova to create compositions that express what pannist Earl Rodney describes as - "the African experience in the Americas". Moyenne was founded in 1998 when pianist Chantal Esdelle joined her friend steelpan player Glenford Kevin Sobers. Esdelle had returned to Trinidad and Tobago after graduating with a degree in jazz composition from Berklee College of music while Sobers had spent several years touring Asia with a contemporary Caribbean band. The two were anxious to perform and Esdelle was clear that it should be their mandate to create and perform their own work and that the music be representative of their Caribbean experience. They were soon joined by percussionist Donald Noel. The trio was officially launched in June 1998 and began to perform work from the standard jazz repertoire and Esdelle's existing Caribbean jazz portfolio.

During this first year Esdelle produced several independent presentations that featured other local artists and Moyenne. After one of these many presentations the group was invited to work and perform in Dominica, an experience that led to the creation of one of Esdelle's most recognized pieces, "Love Changes." They were also invited to perform in Boston, a trip that gave them the joy of performing with another of Esdelle's friends, bassist Daniel Day of Surinam. By 1999 the group was ready to record and did so under an independent company and label, "The Ethnic Jazz Club." The album New Hope, in addition to the original Moyenne trio, features bassist Moses Auguste of St. Lucia, and drummer Sean Thomas, guitarist Theron Shaw, and flautist Michelle Marfan of Trinidad and Tobago.

The album has encouraged the most notable festivals in the region to include Moyenne in their line up. Moyenne's festival appearances include the Havana International Jazz Festival, the Grenada Spice Jazz Festival, the Trinidad and Tobago Steelpan and Jazz Festival, Pan Ramajay, and Jazz Artists on the Greens. As a result of Esdelle's affiliation with the smooth jazz station 100.5WMJX where she produces and hosts the Chantal Esdelle Caribbean Jazz Hour, Moyenne has even been invited to open for Kenny G for his performance in Trinidad and Tobago. The group's resident bassist for these performances has been Douglas Redon, a steelpan player, arranger and composer in his own right. At various times other musicians have performed with Moyenne including pannist Jason Baptiste, pannist Duvonne Stewart, percussionist Tamba Gwindi, and drummer and pannist Darren Sheppard. The Caribbean jazz repertoire of Moyenne has extended to include compositions by many of the musicians who have shared in the Moyenne experience. Compositions by Glenford Sobers, Douglas Redon, and Jason Baptiste have added to the diversity of the band's repertoire. Moyenne is looking forward to recording more of their work and presenting it in their next album Imbizo Moyenne, which will be produced and released in 2010.
Being founded in the early months of 1997 and featuring prestigious Cuban musicians, ''Habana Ensemble'' shows a series of new elements approaching the musical and aesthetic spheres becoming different from other Cuban groups. The fact of being scholars of Irakere, under the direction of the famous jazziest Chucho Valdés allows these young talents to get maturity mastering their instruments and being, on the other hand, examples of great virtuosity at Latin Jazz World. Using the individual skills of each member, Habana Ensemble tackles in its repertoire masterpieces of Classic Jazz and Cuban popular music.
They achieve a contemporary sound that makes them authentic in each of their performances.

Under the leadership of César López, saxophonist boasting high professional level (ex-member of Irakere), named by the critic as the Cuban Charlie Parkes; Habana Ensemble is adamant since its early years about showing to the public its versatility and performing strength, holding an ample repertoire conformed by boleros, salsa, instrumental pieces, congas, and versions of some standard jazz where improvisations play a decisive role in each one of the members, this fact joins their great sonority to enhance their musical prestige.

To express feelings and emotions transcending upon the most universal language, the music, is the greatest success of Habana Ensemble. It is done through a study of the Cuban musical history and the contributions that have been made in the last twenty years achieving a defined sonority and style before an avid and expert public. This fact allows them to participate at national and international Festivals also sharing scenarios in Venezuela, Barbados, Peru, Colombia, United States, Brazil, Argentina and Mexico, being acknowledged with critic appraisal and public acceptance. "Habana Ensemble" has shared the stage with: Víctor Manuel, Danny Rivera, Washington Ballet, Compay Segundo, Spiro Gira, Marcos Miller and Richard Egues. Among the luminary Cuban musicians, César López was, due to his authenticity and talent, the most revered artist in 2003, as guest of unique concerts honoring remarkable personalities. In the first case he was invited for the famous jazzist Chucho Valdés to participate at the concerts offered by him at the world-wide known Ronnie Scott celebrating the 30th anniversary of Irakere Group, created by Master Chucho Valdés and in the second ocassion he was invited to participate in a gala offered at National Hotel of Cuba for the 96th anniversary of the late Compay Segundo. César López and his group Habana Ensemble were the special guests for the Japanesse Trio Fumio Karashima, outstanding jazzist who performed in our country as part of a wide schedule to celebrate the 75th anniverasry of the relations between two archipelagos, as japanesse Embassy announced in Cuba.




César introduced a sixteen year old local lass, Alicia (he had met her when she was eight), quite incredible
Another important experience for César was the fact of being protagonist of the major musical event of Cuba that year, we are talking about the concert of the famous jazzist Chucho Valdés and the Spanish singer Diego El Cigala, reaching sonorities hard to forget. Many witnessed a flood of feelings, good music and passion of each member in that concert and although it`s a reality for everyone that César is a peerless musician, this experience simply launched him to fame forever. To add more spice on June of the same year, as it was forseen by Master jazzist Chucho Valdés, César López was the guest artist of the concerts at the Ronnie Scott to honour the 30th anniversary of Irakere foundation. During an entire month César López was presented by Chucho from Monday to Saturday at the famous club in England and this young and peerless musician and his saxo showed the sensibility and professionalism as permanent features of him. On the other hand, a magic air flooded over the English audience and it also happened in Havana when in Berbican Theater, Diego el Cigala, Chucho Valdés, Bebo Valdés and César López were present to delight a demanding audience. Little more than ten minutes was the English public clapping and acclaiming such peerless staff which mixed to an excellent music performed an unforgettable night. 2005 was an important year for César López, who besides playing international dates, recorded a new CD for Bis Music , where the high quality and excellence are definitely present. 2006 Cubadisco Award for his CD Andante. Concert at Amadeo Roldán because of César López y Habana Ensemble´s 10th anniversary with the participation of the Havana Chamber Orchestra conducted by Maestro Iván del Prado, made up of strings and fusioned with the group it was performed anthological songs from the Cuban Popular Music, recorded alive in CD and DVD. This outstanding Cuban musician has been given the Medal of Friendship in Japan MINNON-2007. Virtuosity, originality and above all, the desire of offering a musical project having a high aesthetic content, are the main features of Habana Ensemble, Cuban musical group that is already occupying an important place in the Latin Jazz's history. This night we saw a genius, the drum solo and bongo solo exquisite.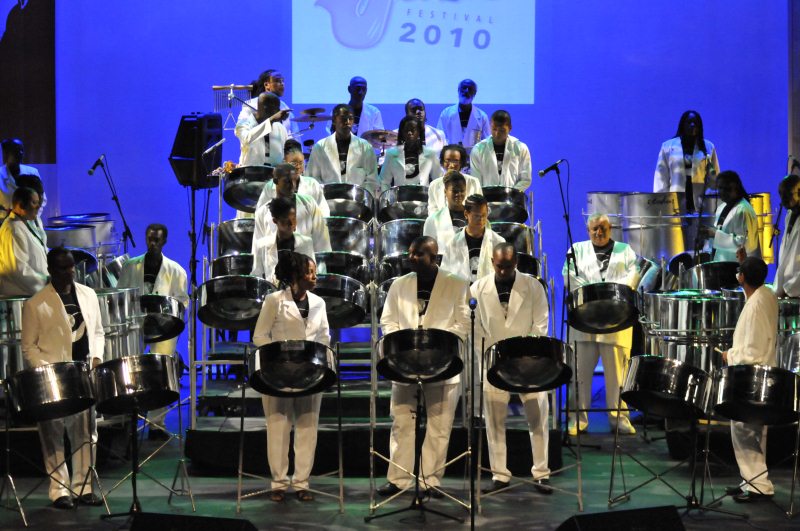 Exodus as always were brilliant
Exodus had a guest singer, he was excellent, but dodgy shoes
A lady with a belting jazz voice
Behind the bands talented organist, the bass pans held together with 'airy string'.
A tribute to Ray Holman, born 1944, began with the Invaders and known for his musicality and subtle nuances as a composer
ALL IN ALL A GREAT NIGHT OUT TRINIDAD STYLE
---