Parc des Mamelles

Beez Neez
Skipper and First Mate Millard (Big Bear and Pepe)
Sat 11 Apr 2009 23:28
Parc des Mamelles
We decided to stop at the animal park as it's usually the only time we get to see parrots and as they are Bear's favourites - he is not allowed one until after Australia because of immigration rules - we thought a couple of hours bimbling would be nice.
This was a good start, the raccoon having a nap and only his tail showing, but then obliged by going for a drink. These mongooses had taken apart their heat lamp, the bulb was on the floor outside, so they had to huddle.
Looking at this cheese plant I realised I had a budding David Attenborough with me, I knew I shouldn't have let him carry the pamphlet. The cheese plant with all its root binding.
Iguana indoors and a few outside in the sun, our first parrot.
Next,the cafe for a free rum punch - we were so glad we were sitting down for it - NOT for the faint hearted. This chap was in the corner, I took a picture and he promptly went on strike, then condescended to smile.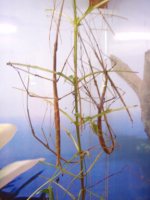 Every time I went to picture this chap he began pruning - so much so I got fed up and moved on to the stick insects who were happy to sit still.
Lizard, tree frog and crapaud - I still wouldn't want that as a name.
Termites, stag beetle and a stark reminder to us yachties not to take cockroaches lightly. Their display was in a toy kitchen, a reminder to remove all packaging before taking it aboard. It's the eggs you know. Thank you Captain.
Looking at what this parrot had done to his nest box made me think "Me teak, Me Teak", then he hung around literally when I wanted to photo the blues, finally he got out of shot, but did he shriek or what.
All too tiring and too much for some.
We had thought the £12 entry a bit steep not realising it included a wander about in the canopy. At least it gave me a change of view - not seeing 'his nibs' naggers in the vice.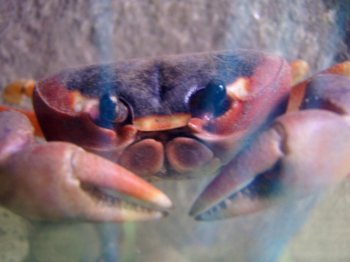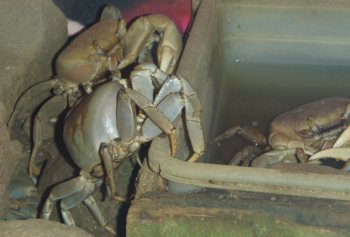 My favourites at a regional meeting, time for a dip and a drink before main conference.
I had said how hard it was to picture things that move fast, so HE kindly acted as a tortoise whisperer, then took the role too seriously, I snatched the pamphlet from him at this point.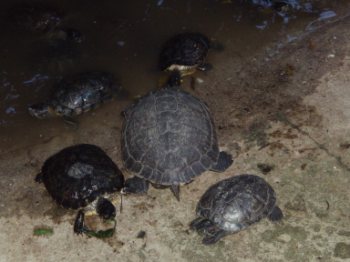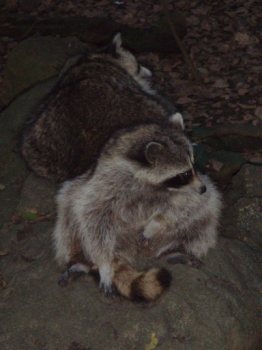 I make no comment. The terrapins had a warning not to get fed up with them as pets and chuck them in a pond where they change from little cuties into full sized snappers. Back to pruners.
Bear wanted to know who had the better chance - the big butterfly or the gecko. Time for a quick "one careful owner", an ice cream and hit the road back. The distinct lack of any photos of me was due to 'out of focus'. I'm saying nothing, I'm staying absolutely silent in fact - I'm in enough trouble as it is and no more pain is required.
Pepe reminds Bear he is a "Passport murderer".
See Bear wince as he remembers he has to spend his nights in the vice.
Poor Bear, Poor Bear.
ALL IN ALL a great first day of exploring.
---