The Sea Plane

Beez Neez
Skipper and First Mate Millard (Big Bear and Pepe)
Tue 5 Aug 2014 22:57
The Sea Plane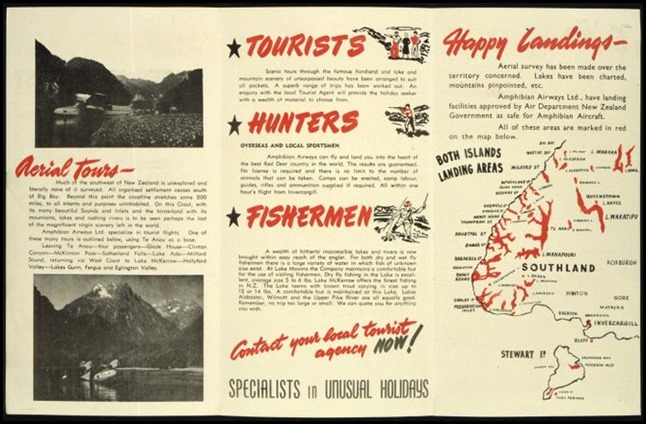 Amphibian Airways Ltd: Adventure in the great southwest. Amphibian Airways Ltd., Invercargill New Zealand, specialists in unusual holidays.

Alexander Turnbull Library, Wellington, New Zealand.
The model of the sea plane hanging in the museum.
Her story hanging in our hotel the South Sea.
Islanders remember the amphibian aircraft service with affection, "The landing was of great moment for the Island people" the Southland Times wrote of its first flight to Oban, "and almost every resident was gathered on the beach." Regular services to Stewart Island were inaugurated on the 1st of October 1951. By the late 1950's there was a Monday, Wednesday and Friday twice-daily scheduled service, and an occasional charter flight at other times.
The District Nurse Sister Sinclair told of how the "amphib" – and her new Land Rover, had transformed medical emergencies. Prior to the "amphib" an emergency trip to Invercargill was usually a four-hour ordeal on the fo'c'sle on the deck of a fishing boat.
The Widgeons were used to service Fiordland as well as Stewart Island and were an important link in exploring the area and in the crayfish boom of the 1960's.
ZK-AVM made national news on the 24th of October 1968 when a landing at Halfmoon Bay went wrong and "Its in the Bag" Selwyn Toogood had to be pulled out of the water. No-one was hurt, ZK-AVM was returned to Invercargill on the ferry, Wairua the next day and prompt action in dismantling and washing everything to get rid of the salt saved the airframe. The aeroplane was back in service by Christmas.
Flying as a passenger in the "amphib" was fun. You entered by a hatch in the rear of the fuselage. In the main cabin four small bucket seats faced each other, each with a small window that gave an excellent view. If you were lucky you got to sit next to the pilot.
Landing on or taking off from the water was the highlight of the flight and was probably he most skilled part of the operation for the pilot.
Onlookers soon learned to turn the other way as the aircraft manoeuvred on the beach, to avoid a blast of sand in the face. ZK-AVM was a familiar sight on Stewart Island until the construction of the airstrip and the introduction of the first Islander.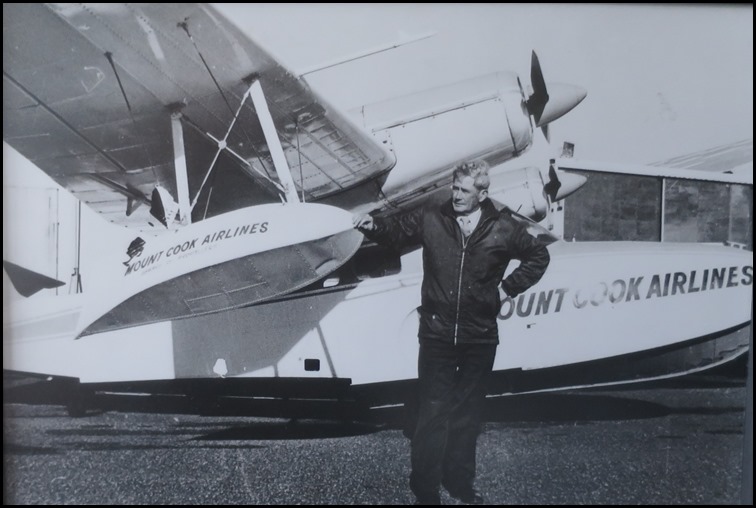 ALL IN ALL A REAL TREAT OF A STORY
INTRIGUING AND FUN
---